January 5, 2009
0

found this helpful
Best Answer
I was in a Nursing home for a bit recovering from an accident. I noticed that the residents really enjoyed and talked about all the time, their garden. The facility built a raised garden so the wheelchair residents could reach, and the others had a regular garden. They LOVED it!
During winter month, or if a garden isn't available..use pots. The then can take care of it, and you can help when you visit.
Some of the ladies really enjoyed scrap booking. Their family/friends would bring in pictures and they would use stickers, glue and construction paper to make little story or scrap books with the pictures. They loved to work on them and show them off. You could even do collages with or without pictures, or using cut out pictures from magazines.
See if your area has an art center...see if they are willing to donate their kiln to fire some homemade pottery, or better, have them do a class with the residents, paint the pottery and they have a keepsake.
Remember, anything you can do with them, is always the best!
By guest (Guest Post)
January 5, 2009
0

found this helpful
Best Answer
I would contact an organization for the blind. There must be some sort of governmental agency that covers that condition. Maybe you can have a blind person come to show your mom how to crochet or knit by feel.
Oh, I went back and read that your mom cannot use her one arm at all. I'd try to find a way for her to do things she always loved. Was it gardening? Was it cooking? Can she teach someone else how to do something? I think we feel best about ourselves when we are helping others to do something. Try something that will make her not feel useless. She sounds like she is similar to myself. I do not like crafts or busywork. I like to do things that make money or help others.
Her mind is good. Ask for her ideas. There is no one formula that will fit each person as in a nursing home. (This part is for people working in homes.) Each person is an individual and you cant find one idea to fit everyone. One size does NOT fit all. As a former teacher, I would say eash elderly person has the same rights as anyone else and that is to be treated individually. Your plan has to be catered to each person just like a teacher has to meet the pupil where the student is in his/her formation. You have to find the person who lives inside that elderly body and further develop its potential. Its NOT used up. Elderly people need to learn new things. That is good for the brain and its good for keeping us young.
I studied nursing home administration in graduate school. When I read what those of you who work in nursing homes have written, I feel as if you want a quick and easy way for YOU to accomplish your goals. But that will not be the case. YOU will need to do the work of finding what motivateds each individual person in your care. You will need to get to know them as people.
Warm regards and good luck to all. I care.
By guest (Guest Post)
January 8, 2009
0

found this helpful
Best Answer
I work in a retirement community in Vancouver WA as a kitchen assistant but I am slowly working my way up the ranks and this is a very interesting topic for me. Our activities director is kind of stuck in a rut and our residents end up doing the same kind of things every week. So these ideas are wonderful!
I know how difficult it can be for someone who was active their whole life to be confined to a room with nothing to do so my suggestions are as follows.
Firstly consider the kinds of things she liked to do before her accident and see if there's any way you can modify or simplify them. Such as gardening. Get her some dwarf fruit trees that she can plant in a pot and water and tend to with her one hand.
Help her find a buddy. Someone whose mind might be going but are still physically ok is PERFECT. They can help each other a lot. The mind and the body. Don't force it but help her make friend if you can.
Encourage her to get involved in whats going on where she lives. Even if she cant make her bed or wash dishes she can still voice her opinions and be an active human being.
Ask her what she misses doing and see if you can come up with a creative solution for her to continue doing it! If she gives you things she'd like to do but you cant think of any solutions I'd LOVE to help so just email me! Floyd0841 AT Yahoo.com <3 Meghan
December 30, 2009
0

found this helpful
Best Answer
I have been and Activity Director for the past 5 years. Here are some activities you could have you mother do and with others even if they aren't blind. Place several different items in a bag. Blindfold the resident taking the turn, have them to pull out one item at a time and try to identify it by touch. Keep track of how many they get right and separate the ones they didn't get, then take the blindfold off and let them see the wrong ones. Add or subtract items for the next person. Another is to get a couple of bags of cotton balls.
Open the bag and place on a table. Using a spaghetti spoon or large spoon, a large bowl or bucket, blindfold the person and see how many cotton balls they can get in the bucket. These games they don't have to see nor have use of both arms, and everyone is on equal terms. Something else I do, I have a large bulletin board that I post pictures of the resident on. I use scene setters for different occasions/holidays and take pictures of each resident, they love seeing them on the board, and so does the family. Add to their look, ex: using a western theme, put a cowboy hat & bandanna on the resident.
Usually there is a holiday each month of some kind, but if not come up with your own, Western Day, feed them barbecue and beans, Luau Day, Fun in the Sun- take a small patio umbrella, a camp chair, some beach towels, beach balls, cooler, summer hats set up a beach scene, give them snow cones. If you are half way decent with a camera, make your own glamour shots. Best done on day the beauty shop is open and the ladies just had there hair done.
I bought 6 different pieces of material 1 1/2 yards each. Put them around them like Sr. picture back in the 60's and 70's were done, make-up and add some jewelry, find good back drop, I use all kinds of plants, and you got it.
Have fun with it. Tell the resident " Come I want you to do this with/for me" and 99% of the time they will. If you ask them if they want to 99% of the time they will say no.
February 1, 2010
1

found this helpful
Best Answer
My Mom is blind also from strokes. She cross-stitched and can not anymore. She has made some 50 blankets since blinded in 2 years. They are tie blankets or no sew. I buy and cut and pin the pieces together then she takes the pin out and ties them she has made these for family and friends.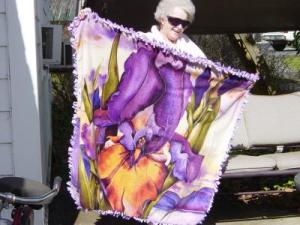 May 21, 2017
0

found this helpful
Great idea! My Mom can't hear very well, and this would give her something to do that would make her feel accomplished!!
By guest (Guest Post)
December 23, 2008
0

found this helpful
My grandfather left a box of handwritten poems when he died. Some were in pencil and I haven't been able to decifer them all. So when I befriended a very frail elderly woman who had written a number of poems over the years, she helped me transcribe some of her favorites. I printed the poems from my computer with appropriate clip art and gave the printouts to her. She was thrilled. Her family members and friends received copies on the day of her memorial service.
By guest (Guest Post)
January 4, 2009
0

found this helpful
I've applied for a position as an Activities Director and though I have some ideas, I would like hear, what other Directors are having success in for their clients. I believe in lots of stimulation for the mind and body, so I look forward to reading your ideas.
Thank you,
Gwen C.
By guest (Guest Post)
January 5, 2009
0

found this helpful
I am wondering if there is a way that your mom can help clean her room or her bathroom? Perhaps that is something she has done in the past in her own home.
The other idea is a craft that can be used as a money maker for the home. Perhaps she can use old greeting cards to make gift cards. They could be sold in sets of 10 or 12. Can she use brightly colored magic markers to make gift cards or greeting cards to be sold. She needs to feel that she can still work and earn money.
Can she cook? Can she make cocoa mixes to be sold at an event? This doesnt require the use of a stove. There are soup mixes and other mixes to be sold in a jar.
Let her fold her own laundry.
Good luck
January 5, 2009
0

found this helpful
Christine, you said that your mother is legally blind, but can she see at all? Large pieced jig saw puzzles may be possible and entertaining. An adjustable angled drafting table could give the best angle for light and be easier on her eyes and arm.
And how about this? With assistance, a one on one or group activity could be to go to the Thrifty Fun Web site, anytime, and go over the requests. Most older people are full of advice and suggestions. Some of the best suggestions and recipes for fixes are the tried and true. As a group activity, it could spark many stories and discussions. I can see it becoming a favorite part of a day. We all like to solve problems and be useful, don't we?
January 5, 2009
0

found this helpful
I worked with seniors in a personal care home for several years. Most older people are tired of being treated as if "they" need to have their lives run for "them". First of all...stop refering to seniors as "them" and "they"....each person is an individual person who just happens to be older than you are....ask your aunt what she would like to do....after all, she still has a brain!!! Suggest playing cards, going to bingo, having a meaningful conversation with an interesting person....seniors like to do the same things non-seniors like to do!! As for the cards, you can get specially marked cards for sight-challenged people.
January 5, 2009
0

found this helpful
Christine, as for you and your Mom, when my Mom lost her sight, and was in a wheelchair, I bought her a tape recorder and we sat for hours talking about her memories; family memories, school memories, memories of friends and jobs and so many other things! You will never have this time with her again, so treasure it. I transcribed all her memories into books for my kids, siblings, and other family members. My Mom didn't sleep very well, and sometimes would sit up for hours. The tape recorder gave her something to do, which she knew was valued and would be treasured forever. Make sure you buy lots of extra tapes!
By guest (Guest Post)
January 5, 2009
0

found this helpful
Can you get your mother a laptop computer? There are speaking programs that will read a webpage to her. With her limited one hand she could use the mouse. Typing on the keyboard could be difficult if she did not touch type before.
There are programs which will make the works on the screen very large. I don't know how limited her sight is. There are braille keyboards as well.
Someone posted about playing with dough. Perhaps you could make some bread dough, let her do the kneading, let it rise and do a little baking. She can give the home-made loaves to others in the home.
You can try many different recipes, and maybe even get others involved to bake bread for the homeless. That's just off the top of my head, I'll probably wake up in the middle of the night with a brilliant idea! LOL!
Best wishes, honey and God bless you for caring so much.
By guest (Guest Post)
January 26, 2009
0

found this helpful
I am an activities coordinator, in a assisted living facility. One idea that came to mind is reading the newspaper, current events, books that may hold history or the past for her. Also you could get a group of the ladies at the home and bring a lunch and sit around the table and talk, share stories do word puzzles out loud EX: I see something in the room that is blue has four letters. Let them guess and encourge them to call out what the letters are. For those who get it right offer a prize at the end of the game who has the most points.
By guest (Guest Post)
February 26, 2009
0

found this helpful
I'm the assisted director at an assisted living home and my aunt had a stroke and lost the mobility in her right arm and is wheelchair bound and at our facility. We do plenty of activities to fit the needs of our residents, just focus on what your mom liked to do and come up with things to do around that. My aunt loved to bake so I help her with the things that she can't do. Anything to make her get some independence back. The little things are what matter the most. God bless.
November 8, 2009
0

found this helpful
Call your local department store and ask if a few of the cosmetic girls would spare some free time and give some make overs to some residents who are able to go.