This adorable doll-faced, heart, Christmas tree ornament is easy to make and a great gift for kids. It only requires some paint, ribbon, glue and a cheap wooden heart. Well maybe a pencil and some doll hair too, but that's it!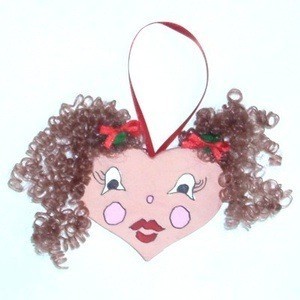 Approximate Time: 20 minutes
Supplies:
wooden heart - 3 inch tall, 1/4 inch thick
peach acrylic paint
red acrylic paint
white acrylic paint
black acrylic paint
paintbrush
curly doll hair - 8 inches long, two small sections
green ribbon - 1/4 inch thick, 1 foot long
red ribbon - 1/4 inch thick, 1 and 1/2 feet long
hot glue and glue gun
pencil
Instructions:
Paint the heart peach and let dry.
Use a pencil to lightly sketch the face from "Picture 1" onto the heart. Paint the nose and cheeks pinks, the lips red and the eyes white. Let dry.

Go over the face and outline the shapes with black paint. If you have a hard time doing detail, you can cheat and outline the shapes with a black, Sharpie pen. Let dry.
Make two small sections of hair. Take one section and pinch the hair together, about one inch from the end. Use a green ribbon or chenille stem to make a "ponytail", as shown in "Pic 2".

Tie or buy a tiny red bow. I included extra red ribbon in the instructions in case you want to tie your own, since it wastes length when you have to cut the ends even. Glue or hot glue the red bow to the green ponytail holder. Repeat process with second section of hair. Let dry.
Make a small line of hot glue on the thin upper edge of the heart, on the upper curve of the heart top. Press a ponytail of hair into the hot glue and hold for a second. You want to glue not only the inch of hair to the heart, but the stable ponytail holder too. Repeat with second ponytail. Let dry.
Use about 1/2 foot of red ribbon to tie into a large loop. Use hot glue to glue the ribbon to the top of the heart. Let dry. You now have a cute, doll-face Christmas tree ornament!
Notes:
I made the back of the heart look the same as the front, so regardless of which side you look at, you see the face. However, you can also paint the back of the heart the same color as the hair and make it look like the back of the head. If you do want to make the back of the heart look like the back of a head, remember that it now gives you a perfect place to write a little message and sign your work.
By Aysha from Boise, ID