I originally purchased two flat sheets and made a duvet to match the bedroom drapes. We sold our 3-bedroom home in 2008 and moved into a 2-bedroom apartment. I acquired another comforter at a garage sale, and no longer needed the duvet.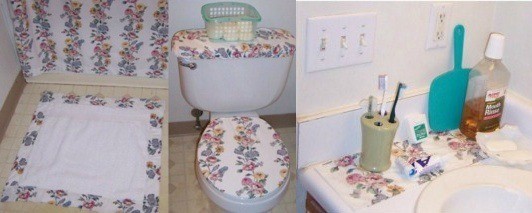 I didn't have the heart to throw it away, so I cut all the seams and made a shower curtain. I use a cheap liner for inside the bathtub. I had one remaining bed sheet and didn't know what to do with it. Then I posed the question to the ThriftyFun community, and several folks gave me all kinds of ideas.
I was finally determined and set my mind to finishing this sewing project that I put on the back burner. The bathmat sewing instructions said to use two worn out towels, but I decided to buy a new towel at the dollar store. I didn't have the heart to cut the towel into sections and instead doubled it over and sewed the sides. I ran into problems sewing on the border probably because I decided not to cut the towel as the instructions had indicated on the website.
The toilet tank lid and the seat cover said to add 2 inches all around. But I modified the pattern and added 3 inches and also sewed the 1/4 inch elastic onto the fabric instead of sewing the casing, and then threading elastic through the casing with a pin.
I would greatly appreciate your feedback.
Source:
By Marjorie from Lewiston, NY
Editor's Note: The original request is archived below.