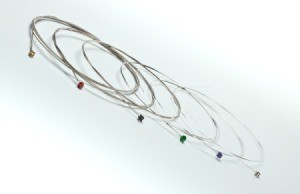 Do you have an ideas to reuse old, worn out guitar strings?

Answers

February 5, 2003
0

found this helpful
Best Answer
Here are some uses I have found for using my old strings:
I used them for cutting cheese. They also are the best cutter for homemade soap, whether you bake it yourself, or buy a large soap loaf.
You can also use them for cutting rolls of cookies or cinnamon.
To make the strings safe without hurting fingers, my husband secured them to wooden dowels.
By zechaeriah (Guest Post)
August 16, 2004
1

found this helpful
Best Answer
There should definitely be a place to mail your old and broken strings to set up by guitar string manufacturers. As a musician I'm very bothered by much of the ethics of guitar manufacturers in general, but this one is a biggie.
By just someone... (Guest Post)
May 14, 2008
0

found this helpful
Best Answer
A really simple use too is the old fashioned pick necklace. You put a hole into an old pick, use an E string and slide it through the pick. I had mine for a while.
By Les McDonald (Guest Post)
April 4, 2004
0

found this helpful
I cut them into 10 inch pieces ( tops and bottoms ), then stick them into a wine bottle CORK.
Hotglue the flat end of the cork to an old CD..
Hotglue a couple of guitar picks together so they look like butterflys and then hotglue those to any of the strings..
Makes a beautiful center piece, especially when the sun hits it..
By SaveTheEarth (Guest Post)
August 9, 2004
0

found this helpful
PLEASE! Recycle them to help cut down on new destructive metals mining in the mountains. The string manufacturers/distributors should be taking the lead on this one. "Enlightened" musicians toss out tons of this metal annually. Can we do better? Or are we too busy getting loaded?

August 17, 2004
0

found this helpful
We could start a letter writing campaign asking them to provide for or recommend how to recycle our strings. Here is the contact form for Gibson
www.gibson.com/.../contact.html
and Martin's contact page.
www.martinguitar.com/.../index.html
- Susan
By Nancy (Guest Post)
September 13, 2006
0

found this helpful
I would think you could use them for beaded projects, like jewelry, mobiles, etc. If I think of anything else...I'll post again.
By Arthur (Guest Post)
October 17, 2006
0

found this helpful
some scientists estimate that many metals we use for day to day things will be exhausted in 50 years. Recycle aluminum cans, guitar strings, everything you can!
By ShadyWilbury (Guest Post)
January 20, 2008
0

found this helpful
The project which sends used strings to musicians in South America is called the Second Strings project.
www.secondstringsproject.org
By Tom Sturges (Guest Post)
February 27, 2008
0

found this helpful
Make some kinda mini instrument that you can attach to your acoustic guitar and have sympathetic strings!
Answer

this Question