February 12, 2011
0

found this helpful
Depends on if they are small scrap type pieces of fabric or if they are by the yard. If they are 1 yard or more, most thrift stores will take it. If it is smaller pieces ask around and see if there is a group that makes quilts for the homeless, or for kids in hospitals or there is a group nationwided, I just don't know what the name of it is that makes baby quilts for a certain organization. I think the group might be called Baby Linus, but I'm not sure.
February 13, 2011
0

found this helpful
How about donating it to the Art's & Craft's dept. in the nursing home. They have alot of women & men that like to do crafts with it.
February 16, 2011
0

found this helpful
Advertise on Craigslist. Donate them to a nursing home. Many times fabric can be used in many crafts. We also love figuring out ways to use it too.
Wish you were closer I'd take it off your hands.
Gem
February 16, 2011
0

found this helpful
The Relief Society organization of the Church of Jesus Christ of Latter-day Saints is always looking for fabric to make quilts for charities. Here is a link where you can type in your zip code and find someone you can contact. Good luck!!
http://lds.org/ … es=meetinghouses
February 20, 2011
0

found this helpful
I recently donated all kinds of fabric including curtains to the local senior center in Westminster (Orange County, CA).
November 9, 2014
0

found this helpful
I have several blouse and shirts I want to find a second life for. I think these merit better than being hacked apart into cleaning rags so I wonder where or what I can do with them. All are cotton and clean. Some of course have the usual wear and tear.
Please know I am open to all ideas. :) Attached is but a small sample of my old friends.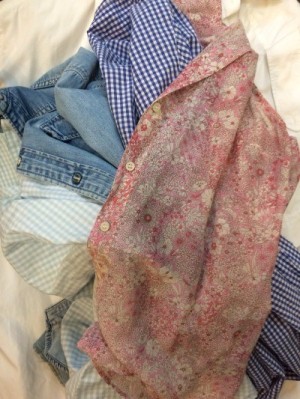 May 27, 2015
0

found this helpful
Hello!
My name is Kalyn Sheahan. I am currently volunteering for a non profit charity called the Quilted Love Project. We have an event on July 25-26. People will come out and decorate 16x16 in squares which will then be sewn into quilts and distributed to the homeless population in Downtown Los Angeles! We are looking for ANY fabric (not stretchy or luxurious), art supplies, and even sewers for the actual event as they will be sewing as fast as the squares are being completed. If you would like to help please email me personally and I can come pick it up! I'm in West Hollywood. Thank you for your time!
Kalyn S.
KalynSheahan AT gmail.com
Www.quiltedloveproject.org
November 14, 2015
0

found this helpful
Hi Kalyn, my name is Olivia. Years ago I had a dog collar business with my best friend. We just cleaned out some bins that are full of fabric. I currently have 3 trash bags full of great fabric and wanted to try see if I could donate for a good cause. Are you still accepting fabric donations?