January 31, 2011
0

found this helpful
Best Answer
When I was living at home, I'd shovel a path and a little area for my dog to do his business. I don't know how practical that would be for you, but perhaps it's an option.
January 31, 2011
0

found this helpful
Ditto with mrs.story about shoveling a path. It may not be convenient for you but it's doable and I know first hand from having lived sixteen previous Michigan winters with a resident seven pound poodle that it's better to make the effort to shovel rather than having the potty happen in your home. ;-)
January 31, 2011
0

found this helpful
My dog does this too. She can't stand to go potty in the snow, sleet or cold mud. Doesn't matter if we shovel a path or not, her 'footies' are still too cold & she doesn't want to squat-can't say I blame her! Lol! She can be pretty frustrating in the winter, a lot of times I'm the only one who can make her go,using my no-nonsense voice on her (she knows everyone else isn't serious), but she looks completely pitiful & abused the whole time!
We are just beginning to get the sleet here in Tulsa, from this big storm coming in, so I imagine she will have her legs crossed most of the next few days!
November 19, 2011
0

found this helpful
I'd like to know what to do too, because I have a 4 month old Catahoula/ Lab cross whom I had pretty well potty trained until the ground froze. Now she would rather poo in the bathroom and pee wherever. She has a spot over in some tall grass, but she has to cross our frozen driveway to get to it. There's something about frozen mud that she really doesn't like. I know its cold, but so is the rest of the ground. What do I do?
She's the one on the left, Louie is the one on the right.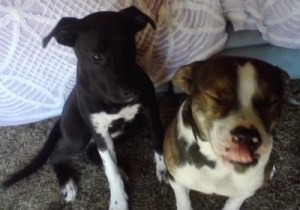 November 19, 2014
0

found this helpful
Sorry its not an answer, but a concern. My 4 year-old toy poodle won't go potty in our new apartment. He always went on potty pad at our old house. He refuses to do it at the new place. Its really cold here, and when I walk him he barely moves. Most of the time, I have to carry him back, because he's shaking so bad. This isn't his first winter. Its just the first one he's refusing to use pads & hides when I try to get him outside.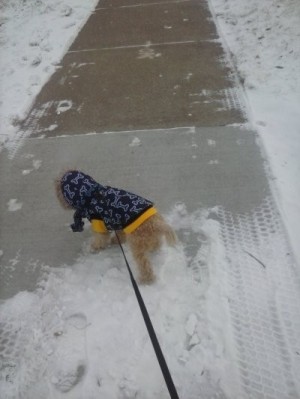 January 22, 2016
1

found this helpful
Ok everyone here is the solution, Grab a tarp from your local hardware store and you will need 4 stones, cinder blocks or anything around the house to hold down the corners. Place on ground before it snows. Place close to the door you let your dog out side. then when it slows down on snowing or even stops, you can uncover the tarp and you have fresh green grass for your puppy to poo!!!!
January 4, 2017
0

found this helpful
Our dog didn't have an issue going on snow last year but this year he does. We now have completly frozen ground, 4 feet of snow, no grass anywhere, and -40 C. Our dog hasn't pooped in 3 days and I am very worried. This "solution" wouldn't work here because the tarp would be covered in several feet of snow and frozen to the ground.