By Bellevilleannie (Guest Post)
January 30, 2008
0

found this helpful
You need to find out what is causing this to happen. It could be a virus, bacteria, etc., you need to find out what causes it in order to treat it. It could be something simple or something life threatening, best to check it out at the vet.
January 30, 2008
0

found this helpful
Clear, foamy vomit (like a frothy egg) usually is an indicator of colitis. A viral or bacterial cough, however, could also cause vomiting.
If coughing/vomiting continues beyond 24 hours and/or if you notice a runny stool, take your dog to the vet.
In the meantime, put your dog on a very bland diet, consisting of cooked rice and a tablespoon of yogurt (small portions, 3-4 times a day)
I do recommend you at least call the vet, however. A phone call is free.
January 30, 2008
0

found this helpful
Your dog could just have a tonsillitis. Does it scoot his hiney on the carpet?
January 30, 2008
0

found this helpful
I would say take your dog to the vet.
This happened to my dog years ago and my dog was poisoned by hunters.
My dog had foamy vomit too.
January 31, 2008
0

found this helpful
My dog had a serious bowel obstruction (twist) which can be fatal
I suggest calling the vet at the very least
By jocelyn (Guest Post)
January 31, 2008
0

found this helpful
I just got a puppy a few days ago took her to the vet and found out she has kennel cough.Get your dog to the vet now!(my puppy was doing the exact same thing)
February 1, 2008
0

found this helpful
If this is an ongoing thing he has to go to the vet! If its only rarely or once in a while, try a teaspoon of cooking or olive oil.
Could be he's choking on a piece of his rawhide chew?
By Dog lover (Guest Post)
February 2, 2008
0

found this helpful
In any case, that you have to ask, ask a Vet. The first call may be the last.
February 2, 2008
0

found this helpful
Sounds like kennel cough; he coughs until he gags and then vomits. Take him to the vet. He probably needs antibiotics, sometimes cough syrup can help, but check with the vet before giving him anything.
February 4, 2008
0

found this helpful
My puppy did the same thing. I took the rawhide away and haven't had any problems
February 6, 2008
0

found this helpful
hey people, thanks for the comments... most were from people that I would call overly worried. "omg, go to the vetttttt! Well in my opinion vets suck ! 99% of them are just about the money and they tell you more things are wrong with your pet than there really is. I know there are times when vets are needed but thats not what were talking about here. Heres what I did, I read post from this site, and tried one that sounded good that made sense.
It worked wonderfully. Dogs are doing great and there as happy as ever. What did I do? you ask! I gave my dogs 1 vitamin c 500mg 1 garlic 500mg and 1 enchinacea 125mg... thats it. one time by the next morning they were not hacking or votiming at all. saved me a 100bucks just from a office visit right there! not to mention shot fees or other fees they would of had. So the next time I need a vet, Ill look online first! Thank you
March 12, 2009
0

found this helpful
Don't take this lightly! My dog began doing this for two days and I thought maybe she just ate something bad. On the third day when I came home at night, I found her DEAD in my kitchen! I had an autopsy performed and she was negative for parvo. The vet said she had a swollen liver and an engorged gallbladder. When I asked what caused this she said it could be a severe form of acute hepatitis, possibly a bacterial infection from which she could not recover, or possible accidental ingestion of a poison. I beat myself up for not taking her to the vet.
This was a ten year old dog in perfect health only days before. I had raised her since she was a 12 week old puppy and my heart is broken. Often dogs might vomit a little which happens to almost every dog at some point. If your dog continues to do this for more than a few hours, don't take a chance and risk losing your beloved companion. Better to shell out the cash for an exam and it be nothing than to lose your best friend.
And 99% of vets are not in the business to take your money or defraud. They are there to help animals. The majority of vets make under $85K and could make a lot more money than that with 7 years of college! The internet is a great resource, but there is also a lot of misinformation from so-called experts as well. When you want an expert opinion, hire an expert! Call the vet.
Lastly, NEVER feed your dog garlic in any form. It is poisonous to dogs. See the article at www.petsbynature.com/Garlic.htm which has research supporting this claim by veterinarians and researchers
July 23, 2009
0

found this helpful
This was one of the symptoms my dog had before she died. She had a condition called mega esophagus where the esophagus could no longer send food or fluids to her stomach. The fluid got into her lungs and she contracted pneumonia. Unfortunately her little body couldn't fight it off. Please don't take this symptom lightly. It could indicate a much more serious problem.
May 8, 2010
0

found this helpful
My little Pug had a few area's where she had spit up a foamy vomit. I though her stomach was up set. Then she was straining to have a bowel movement. As well as seeming as she was extremely tired. Almost like she couldn't walk back to the house. So I picked her up and carried her. We went to my mom's for Easter, for only three hours. She didn't come to greet me when we came home. She was sitting in the living room...kind of in a daze. I laid on the floor with her all night. I feel to sleep for a little while, and when I woke up; I didn't see her. Some how, she struggled to the kitchen. She was laying almost where she laid waiting for me to come home. Looking up at me, laying close to her was a foul smelling runny stool. I picked her up and held her and talked to her; waiting for my son to get home and the vet to open. I got her there; but all to late. She passed within 15 min. I wish I would of taken her as soon as she started acting different. It all started when she wouldn't sleep in bed with me. Like she was to hot or something. Even though the fan was on.
For what ever reason, I never researched any of this, until after the fact, and now I must live with myself; blaming myself...that I only got to have little Puggie Pie, Snookie, Amber Bamber for ten years.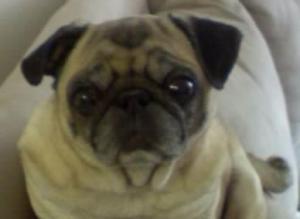 September 14, 2010
0

found this helpful
My Westy all of a sudden got disoriented. I passed it off for her being deaf because she has had chronic ear infections. Then she ate a potato that dropped on the floor, not a small piece and started heaving and choking foam and slime. We took her to the Er and they gave her stuff to relax her stomach and said she had swallowed the potato. She didn't get better. She pooped out the potato and continued with the foam, became listless and depressed. It seemed she was starring into space. I brought her to the vet. He did blood work and she had a high white blood count at that time, probably from the potato inflamming the esophagas on the way down. She had exploratory surgery as her condition worsened. The vet thought her uterus might be infected. he took it out but it was healthy, he reduced a hernia and sent her home on an ID diet. She threw up foam after trying the Id diet, for a few days and back to the vet for an Iv push, and he put her on rest by sedation and started her on strained meat baby food. She kept it down but went from 18.5 lbs to 13.5 lbs.
She got to a point where she could return home, started barking again but eating was problematic. I called Dr. Harvey on line and he said to give her Kefir, like a yogurt. I got something similar. She stopped vomiting. I cook chicken and cut very very small, add mixed baby food, broth and Dr. Harvey veg to bowl product and so far so good. I feed her several small meals. Thankfully I am off work for an injury so I can take extra good care of her.
My guess is she was poisoned. I am almost positive as I have a sicko neighbor but very hard to prove. Also it could have been fertilizer for the garden as she loves investigating the gardens. She is still alive and I am grateful, and sometimes still acts sick but still able to feed her, her appetite is excellent and I can only hope for the best. I pet her to sleep every night and don't care who doesn't like it. She is like my child. I am going to start staking her out and not giving her the run of the yard for safety and prevention of sick people out there. I am praying for her. She is 8 yrs old and very sweet.
I am into holistic pet health but have had to rely on the vet. He did a good surgical procedure but that wasn't the problem but didn't hurt her. I think when you love your pet you have to investigate all possibilities and get a book on pet health and holistic nutrition. You don't have to do 100% but will learn a lot and can incorporate a healthier plan. I never thought my dog would be in this shape.
I don't even walk her where yards or parks are sprayed. She has allergies also but don't want to give her steroids.
Actually that is what started her seizure like activity, her first steroid shot, so who knows? No more Rx's and no more free roaming in the yard. No more fertilizers in the back yard where she plays either.
She sticks her nose up at the Kefir at times but if I put her food on it, she licks the bowl clean. Breakfast time is a very small amount at first then I wait a half hour and give a little more.
If you don't have a healthy bowel, you will be unhealthy and that is for everyone, pets and people.
Good luck.