Homemade Christmas Angel Crafts
Angels are a popular craft motif no matter what your crafting medium. This is a guide about homemade Christmas angel crafts.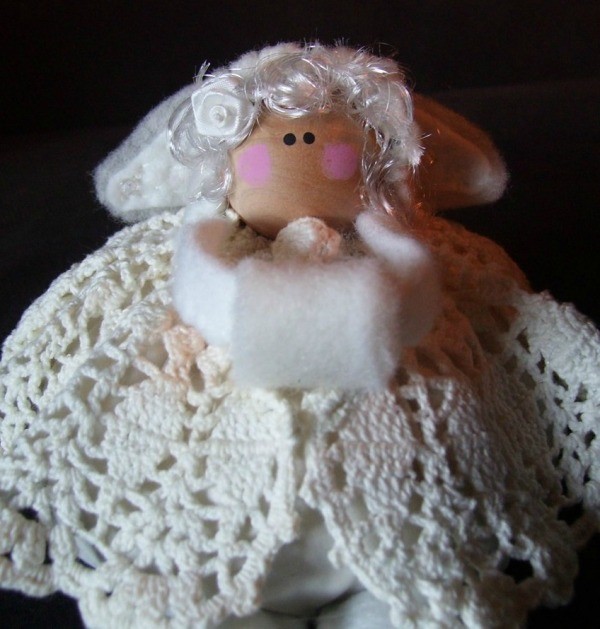 Filter

: All Articles
Sort

: Relevance
Make a miniature angel and add some festive cheer to your Christmas decorations. Your guests will love this little darling! With her feathered wings and cute smile she is ready to sing some Christmas carols.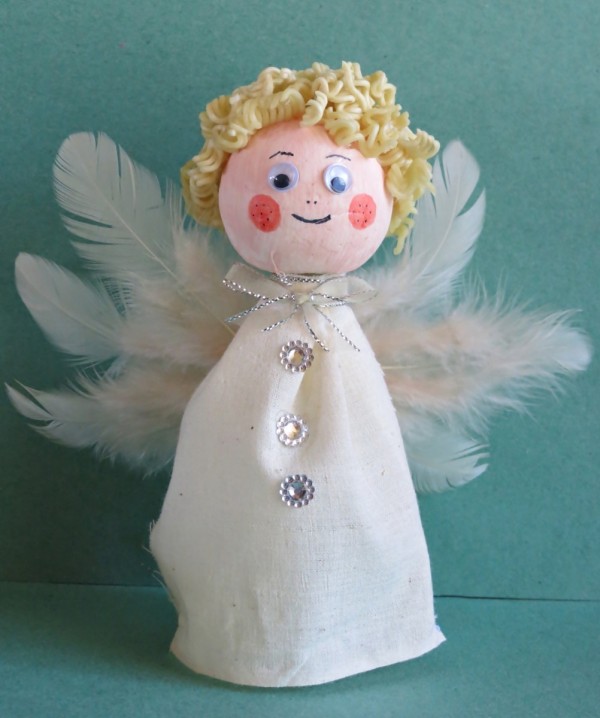 The idea when making this angel was to create a decoration only from scrap material. I rummaged through my craft supplies and found a twig ball that I had used in a floral creation a number of years ago. I also found some red and white leftover felt; flesh-colored acrylic paint; left-over pieces of a net curtain; one pair of wiggle eyes, floral wire, and half a tin of rich gold spray paint. I started racking my brain, and decided to try and see if I could turn these items into a delightful little Christmas angel, without having to buy any additional supplies. Here is the end result!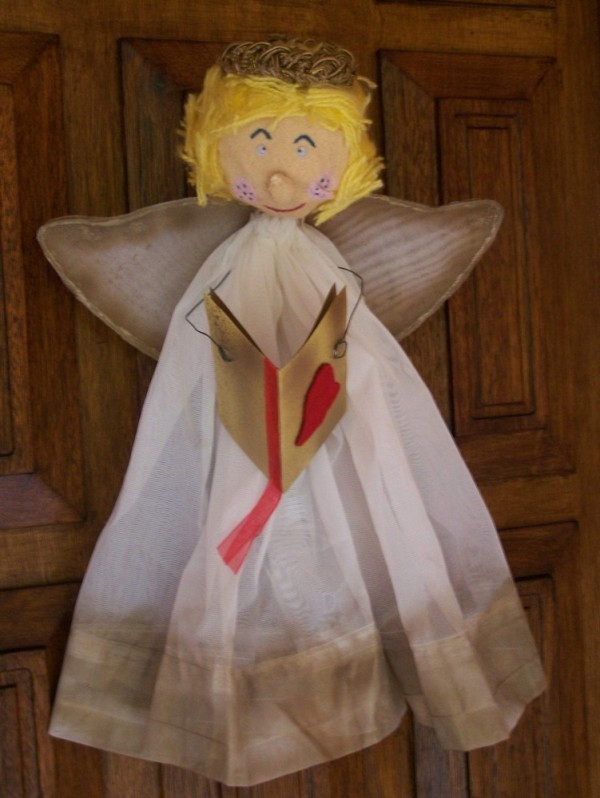 Approximate Time: 2 hours
Supplies:
a twig ball ~ see http://www.save-on-crafts.com/ for a possible supplier.
one pair of wiggle eyes
floral wire and floral tape
I had these at hand, but see http://www.save-on-crafts.com/ for a possible supplier.
one piece of white felt
left-over pieces of white net curtain
elastic band, sprayed with the gold spray paint
left-over red ribbon
paintbrush
pair of pliers
needle and thread
a pencil
one small round bead
flesh-colored acrylic paint
one small piece of red felt
yellow wool, cut into short strips
piece of cardboard
quick-drying rich gold spray paint
pair of standard scissors
quick-drying glue
few sheets of old newspaper to protect the working area
acrylic paint or koki pens to add facial detail
a piece of fishing line
Instructions:
Glue the pencil to the twig ball and let it dry thoroughly.
Using the needle and thread, cover the ball with the white felt. Cut small strips from the felt as you sew it around the twig ball, to make it easier to shape the felt around the ball.
Paint the front part of the felt-covered twig ball and the area around the pencil with the flesh-colored acrylic paint and let it dry thoroughly.
Use 19 inches of floral wire and bend it into an angel's wing. Twist the one end around the other end where the two ends meet, and cover the whole wired wing with floral tape. Use another piece of 19 inches of wire to make the second wing.
Spread glue onto the tape-covered wire wing and glue the wing onto a piece of the net curtain. Let it dry thoroughly and then neatly cut off any protruding edges. Cover the back side of the wing in the same manner.
Repeat step 5 with the second wing.
Spray paint the wings with the gold paint and leave to dry.
Use the needle and thread and a small piece of white felt, and cover the small bead with the felt.
Paint the felt-covered bead with the flesh-colored acrylic paint and let it dry thoroughly. This will be Arielle's nose.
Glue the strips of yellow wool in place to make Arielle's hair. Leave to dry thoroughly, and then glue the elastic band on top of her hair to make a small halo.
Paint two pink circles for cheeks and a red mouth. Glue the nose and wiggle eyes in place. Add a few freckles with a koki pen once the cheeks are dry.
Use 19 inches of wire and twist it around the pencil to make the arms. Add a drop of glue to keep the wire in place. Bend the wire to make elbows, and make small loops at both ends of the wire to make the hands.
Cut two long pieces from the net curtain. Spray paint the bottom of each piece with the gold paint and let it dry thoroughly.
Thread each piece at the top with a tacking stitch and gather the frills together. Glue one piece on the pencil at the front of the angel, and the other on the pencil at the back of the angel, to form the front and back of the dress. Leave to dry thoroughly.
Glue the wings in place at the back of the dress.
To make the songbook, cut two pieces, each sized 4 inches x 5.4 inches, from the cardboard and spray paint them on both sides with the gold paint. Let them dry thoroughly, fold each piece in half and glue the pages of the songbook together in the middle where the folds are. Finish it off by adding a little piece of red ribbon in the middle of the songbook. Cut a bell from the red felt and glue to the front of the song book.
Glue the song book to the angel's hands.
Add a piece of fishing line around the neck to hang the angel.
Photos included:
Photo 1: Make the angel's head.
Photo 2: Make the angel's wings.
Photo 3: Use wire and twist it around the pencil to make the arms.
Photo 4: Make the songbook.
Photo 5: The completed angel.
By BessieBessie from Pretoria, Gauteng
Made from bits and pieces of old clothing, cloth, and a few craft supplies this angel could adorn your door or Christmas tree. She may have been made from recycled items, but she still has a sweet smile upon her face and an air of elegance about her.
This heavenly kitchen angel makes a nice little gift for family and friends. I have made several of these and they were a big hit. You could also make several to adorn your tree at Christmas or use to adorn packages.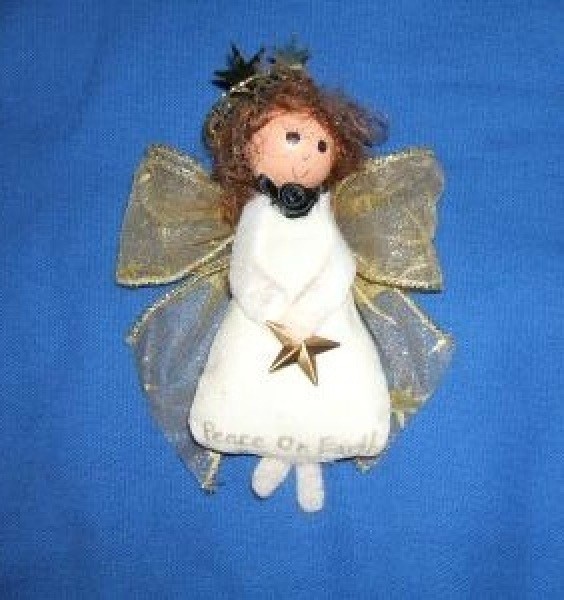 I like making a craft now and then where I use only what I have on hand, so it helps to keep my scrap pile under control. I attempted to do just this when wanting to make a Christmas present for a friend.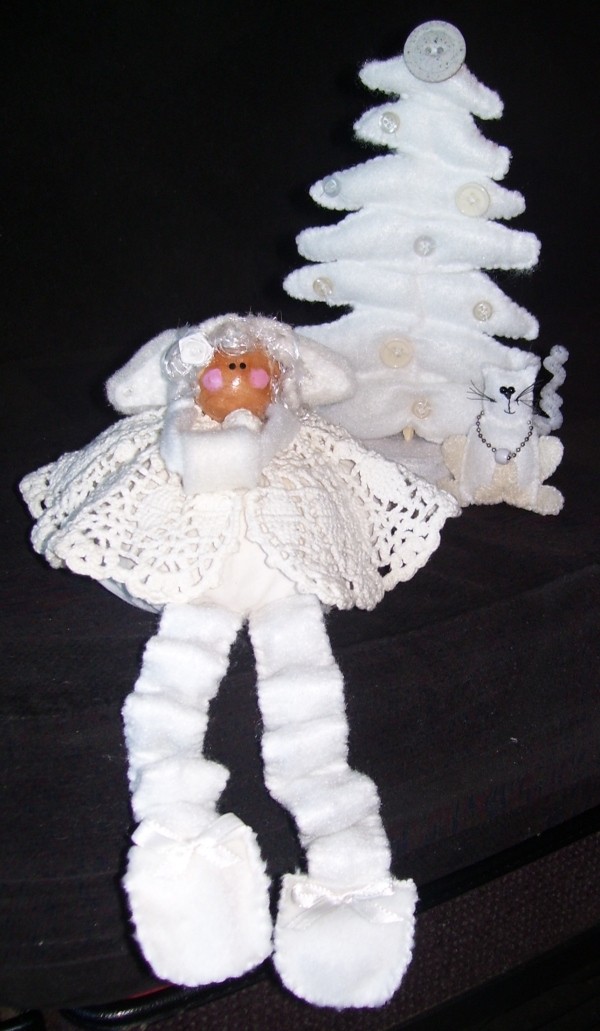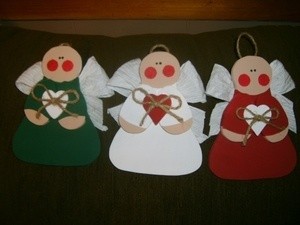 These are so sweet and easy! Just cut out a shape from paper (body and head), this is your template. Cut out two ovals of appropriate size for arms; wings are paper twist ribbon. They are approx. 6 inches high, can be personalized, hung on tree, used as fridge magnet. Or even make a garland! You can make many at a time. Cheers!

By 1027debbie from Nova Scotia
Related
© 1997-2016 by Cumuli, Inc. All Rights Reserved. Published by
ThriftyFun
.
Page
generated on August 21, 2016 at 9:11:56 PM on 10.0.0.143 in 2 seconds. Use of this web site constitutes acceptance of ThriftyFun's
Disclaimer
and
Privacy Policy
. If you have any problems or suggestions feel free to
Contact Us
.