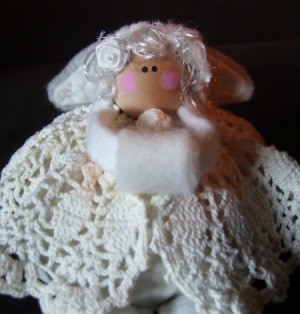 Angels are a popular craft motif no matter what your crafting medium. This is a guide about homemade Christmas angel crafts.
Ad
---
Solutions: Homemade Christmas Angel Crafts
Read and rate the best solutions below by giving them a "thumbs up".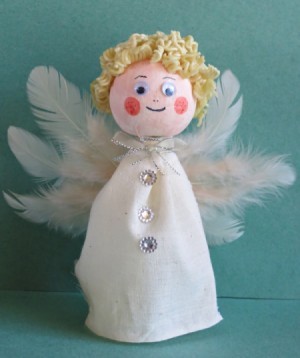 Make a miniature angel and add some festive cheer to your Christmas decorations. Your guests will love this little darling! With her feathered wings and cute smile she is ready to sing some Christmas carols.
The idea when making this angel was to create a decoration only from scrap material. I rummaged through my craft supplies and found a twig ball that I had used in a floral creation a number of years ago. I also found some red and white leftover felt; flesh-colored acrylic paint; left-over pieces of a net curtain; one pair of wiggle eyes, floral wire, and half a tin of rich gold spray paint. I started racking my brain, and decided to try and see if I could turn these items into a delightful little Christmas angel, without having to buy any additional supplies. Here is the end result!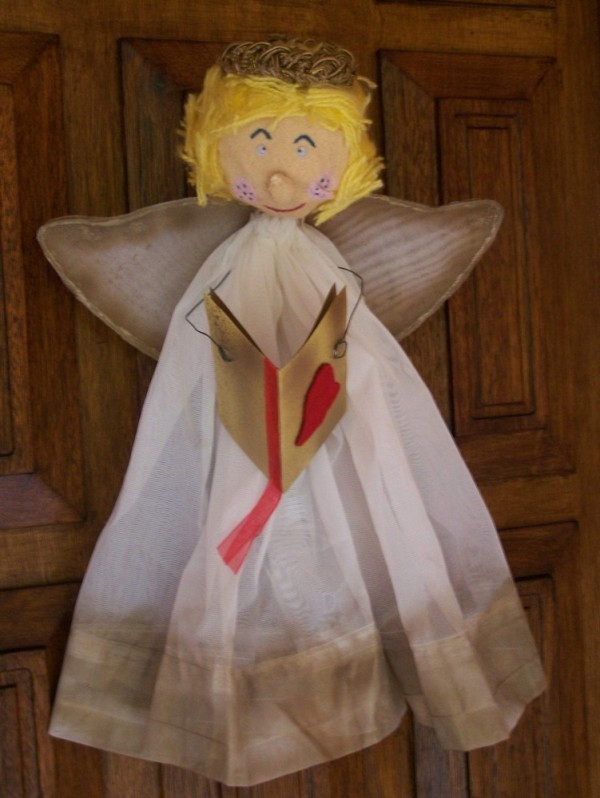 Approximate Time: 2 hours
Supplies:
a twig ball ~ see http://www.save-on-crafts.com/ for a possible supplier.
one pair of wiggle eyes
floral wire and floral tape
I had these at hand, but see http://www.save-on-crafts.com/ for a possible supplier.
one piece of white felt
left-over pieces of white net curtain
elastic band, sprayed with the gold spray paint
left-over red ribbon
paintbrush
pair of pliers
needle and thread
a pencil
one small round bead
flesh-colored acrylic paint
one small piece of red felt
yellow wool, cut into short strips
piece of cardboard
quick-drying rich gold spray paint
pair of standard scissors
quick-drying glue
few sheets of old newspaper to protect the working area
acrylic paint or koki pens to add facial detail
a piece of fishing line
Instructions:
Glue the pencil to the twig ball and let it dry thoroughly.
Using the needle and thread, cover the ball with the white felt. Cut small strips from the felt as you sew it around the twig ball, to make it easier to shape the felt around the ball.
Paint the front part of the felt-covered twig ball and the area around the pencil with the flesh-colored acrylic paint and let it dry thoroughly.
Use 19 inches of floral wire and bend it into an angel's wing. Twist the one end around the other end where the two ends meet, and cover the whole wired wing with floral tape. Use another piece of 19 inches of wire to make the second wing.
Spread glue onto the tape-covered wire wing and glue the wing onto a piece of the net curtain. Let it dry thoroughly and then neatly cut off any protruding edges. Cover the back side of the wing in the same manner.
Repeat step 5 with the second wing.
Spray paint the wings with the gold paint and leave to dry.
Use the needle and thread and a small piece of white felt, and cover the small bead with the felt.
Paint the felt-covered bead with the flesh-colored acrylic paint and let it dry thoroughly. This will be Arielle's nose.
Glue the strips of yellow wool in place to make Arielle's hair. Leave to dry thoroughly, and then glue the elastic band on top of her hair to make a small halo.
Paint two pink circles for cheeks and a red mouth. Glue the nose and wiggle eyes in place. Add a few freckles with a koki pen once the cheeks are dry.
Use 19 inches of wire and twist it around the pencil to make the arms. Add a drop of glue to keep the wire in place. Bend the wire to make elbows, and make small loops at both ends of the wire to make the hands.
Cut two long pieces from the net curtain. Spray paint the bottom of each piece with the gold paint and let it dry thoroughly.
Thread each piece at the top with a tacking stitch and gather the frills together. Glue one piece on the pencil at the front of the angel, and the other on the pencil at the back of the angel, to form the front and back of the dress. Leave to dry thoroughly.
Glue the wings in place at the back of the dress.
To make the songbook, cut two pieces, each sized 4 inches x 5.4 inches, from the cardboard and spray paint them on both sides with the gold paint. Let them dry thoroughly, fold each piece in half and glue the pages of the songbook together in the middle where the folds are. Finish it off by adding a little piece of red ribbon in the middle of the songbook. Cut a bell from the red felt and glue to the front of the song book.
Glue the song book to the angel's hands.
Add a piece of fishing line around the neck to hang the angel.
Photos included:
Photo 1: Make the angel's head.
Photo 2: Make the angel's wings.
Photo 3: Use wire and twist it around the pencil to make the arms.
Photo 4: Make the songbook.
Photo 5: The completed angel.
By BessieBessie from Pretoria, Gauteng
Made from bits and pieces of old clothing, cloth, and a few craft supplies this angel could adorn your door or Christmas tree. She may have been made from recycled items, but she still has a sweet smile upon her face and an air of elegance about her.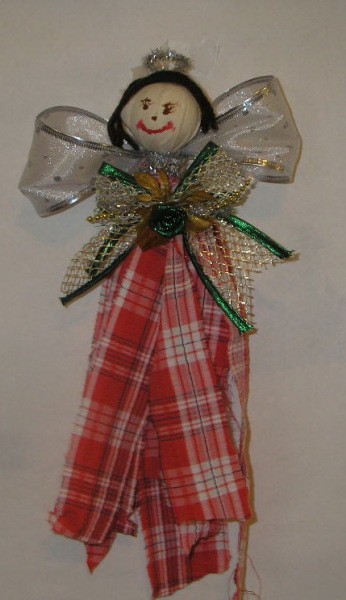 Approximate Time: 20 minutes each
Supplies:
1- 1 and 1/2 inch Styrofoam ball
2 bread ties
1 piece 5 inch by 5 inch cream or white fabric scrap
1 red plaid shirt ripped into 2 inch wide pieces
1 chenille stick
5 inches of 2 inch wide wired ribbon
red paint
brown paint
paintbrush
10 inches of black or brown yarn cut into 3 inch pieces (for hair)
white glue
1 fancy Christmas bow
Instructions:
Take the plaid shirt and remove all the buttons, collar, sleeves, hems, and button holes by cutting them away.
Make 2 inch cuts and tear from top to bottom. (You can use the entire shirt and make several angels.)
Take the Styrofoam ball and put the 5 inch by 5 inch fabric around it securing it with a bread tie. There will be a little creasing, but that is alright.
Try to find the area with the least amount of creasing to use as the face.
Next take a chenille stick and start about 3/4 down the length of it and wrap it around the bottom of the piece you just tied off with the bread tie.
Leave one end hanging down, but bring the other end up and around the back to form a halo. Point the remaining end straight down.
Take 4 strips of the plaid material, about the same length, and find the center. Holding the strips in the center use the chenille stick to tie it in place by bringing it up and around the neck area securing it to the neck.
To make the wings simply fold both ends of the 2 inch wired ribbon in half and tie off with another bread tie.
Now take the wings and tie them to the neck area using the left over tie ends you used to secure the ribbon. Firmly push it down so it isn't showing.
Next take the yarn and cut into several pieces and attach to the head with a little white glue.
To add a face, squirt out a tiny bit of brown paint and using the back of your paintbrush dab a little paint around forming the eyes, lashes, and brow. Using the red paint and the back of the paintbrush dab on small circles to form a smile.
Trim any excess threads or material that is too long from the angel's dress. Now you can add a decoration such as the pretty bow I have added. Hang the angel on your door as a door decoration or use it on your tree as an ornament.
Suggestions:
If you would like a change the look of your angel you could add another chenille stick and form arms to hold a songbook made from paper. Simply find the center of the chenille stick and using the back of the angel's head as a guide begin by making a full crossover of the chenille stick from back to front and then bend the ends up to form the hands. For the songbook simply fold a small piece of paper stock in half and use tea to stain it. Gently dab it so it isn't too wet. Allow it to dry, attach it to the hands with a bit of glue and you have a lovely song book for your angel to hold.
By Gem from Gordonsville, VA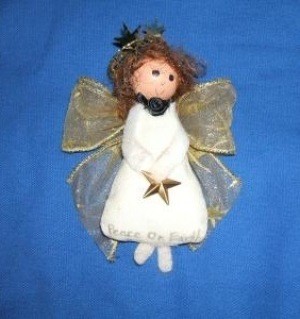 This heavenly kitchen angel makes a nice little gift for family and friends. I have made several of these and they were a big hit. You could also make several to adorn your tree at Christmas or use to adorn packages.
I like making a craft now and then where I use only what I have on hand, so it helps to keep my scrap pile under control. I attempted to do just this when wanting to make a Christmas present for a friend. I loved the results and made a larger version which is the project you see here. I was thrilled with the all white effect, but you can make one using colors and perhaps, a green tree. You can also adapt this project to make any size angel you would like. Just choose the appropriate size wood ball for the head to fit the size circle you are using for the body.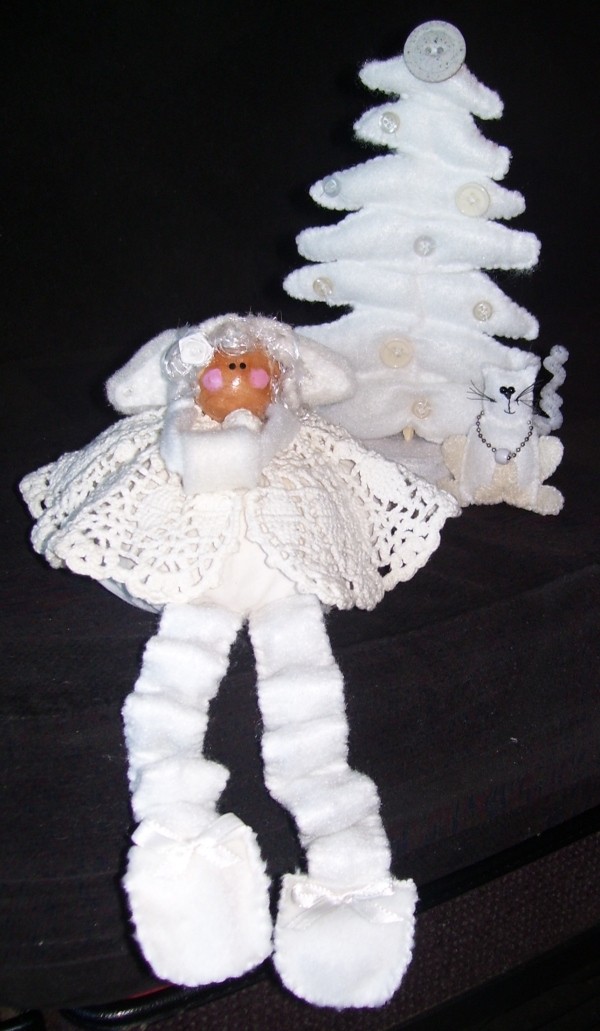 Approximate Time: Time will vary
Supplies:
soft white material
white felt
batting
6 white pipe cleaners
glue
needle, thread, and pins
1 1/2 inch wood ball
bits of white doll hair or white yarn
trims and decorations of your choice
16 oz. dried beans, such as pinto
dab of black and pink paint
wood stick, such as a fireplace match, for the tree
Instructions:
Angel Directions:

Cut a 12 inch circle from white material.
Make a running stitch all around outer edge and pull to gather, leaving opening approx. an inch wide.
Pour 16oz. of dried beans inside gathered circle. (I used white pinto beans). Lay a small circle inside pouch, on top of the beans to help contain them.
Stitch around gathered opening to secure well.
Glue wood ball on opening of gathered circle with beans. Allow to dry completely.
Cut hat from white felt or flat type batting.
Sew small amounts of hair along rounded edge brim of hat, using white thread. Wait until the hat is glued on to the head before trimming any hair. Put aside.
Cut 4 strips of white felt 12 inches long and 1 inch wide for legs.
Take 2 pipe cleaners and twist them together. Bend the ends into a small loop so the sharp wire on the ends does not stick out. Repeat with other 2.
Take one set of twisted pipe cleaners and lay it between 2 of the 12 inch strips. Pin all edges. Whip stitch all edges closed with pipe cleaner inside.
Cut out 4 foot pieces. Take 2 and lay 1 leg strip in between about 1 inch inside. Whip stitch the foot together. Repeat for other foot and leg. Put aside.
Cut a strip from white felt 10 inches long and 1 inch wide for arms. Fold in half and pin. Whip stitch all sides closed.
Lay center of arm strip to center of back of head at neck. Lay the strip flat on body and pin to body, bring ends of arm strip to the front. Stitch arms to body securely, stopping just in front of face on both sides.
Bring ends of arms together in front to form a loop and stitch the ends together.
Lay the center of the flat end on hat (with hair on the inside) in the center of the back of the head, as you did the arms. You want the hat to cover the arms in back. Stitch the flat end of the hat to the body bringing each side around the sides of the head. Fold hat back and run glue around the inside edge at the top of the hat. Flip hat brim forward and press hat to face and hold until glue is set. You can wrap a couple of rubber bands over head and hat to hold firm while glue sets.
Cut a strip from batting 6 inches long and 1 inch wide. Wrap around hands in a roll for muff and glue end. Clip with a clothespin until glue sets.
Cut out wings. The wings in this project have a layer of batting between. If choosing to add that layer, cut a wing shape from batting, slightly larger. Put wing pieces together and stitch edges with white thread. Make stitch lines all over wings, sewing on small clear or white beads in the process.
If wanting a halo, take 2 white pipe cleaners and twist together. Make a loop at one end for halo and bend it forward so it will sit on top of head. Measure long end against the angel's back and cut off excess. You will be laying the wings on top of the halo stem so you don't want it any longer then that. Stitch halo stem onto back. Lay wings on and stitch into place.
Use a ball top straight pin or the end of a paint brush and dip into black paint. Make 2 dots for eyes. Brush a little pink paint on for cheeks. When dry, give the face a coat of clear nail polish if desired.

Christmas Tree Directions:

You will need something to use for the base and stem of the tree. The base of this tree is a slice from a tree branch, then covered in felt. After making a project for a teacher using the container tube that tall fireplace matches comes in, I had a supply of tall sticks from the matches so I used one for the tree stem.
Cut layers for tree from white felt, using pattern. Be sure when sewing on tree layers, to leave enough stem exposed to fit into your base. Start with the #7 layer, which is the bottom of the tree. You will be stitching each layer closed but inserting a small amount of stuffing as you go.
Lay stem in between and whip stitch edges closed, going over the stem a few times on top and bottom to secure.
Overlay #6 layer slightly on top of #7 and repeat by stitching to secure. Do this with each layer until all 7 are in place.
Decorate the tree, if desired. Put a dab of glue on bottom of stem and insert into your base.

The tree in the smaller version has white beads on it and both angel and tree contain mini white roses. This larger tree was decorated with white buttons and a white rose on the angel's head. I recently found a beautiful crocheted collar in a thrift store and decided to dress my angel here using that. The body was still made using the white 12 inch circle and the collar was gathered using a running stitch and placed over the head and body, then stitched down at the neck.

Tip: The angel and tree could be dressed in a variety of ways and you can make a very special one as a wonderful gift by using an item that has meaning to the person you will give it to. For example, if you have a new Mom, try using an article of the baby's clothing as an overlay on the body of the angel, as I did with the collar. Have someone serving in the Military? Make the angel's wings using a patch or emblem of the branch they are in. Or decorate the tree with little sentimental items.

By Mary from FL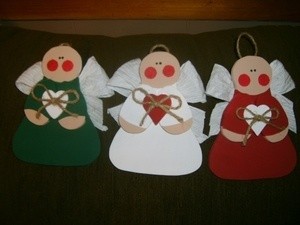 These are so sweet and easy! Just cut out a shape from paper (body and head), this is your template. Cut out two ovals of appropriate size for arms; wings are paper twist ribbon. They are approx. 6 inches high, can be personalized, hung on tree, used as fridge magnet. Or even make a garland! You can make many at a time. Cheers!

By 1027debbie from Nova Scotia
Give a "thumbs up" to the solution that worked the best! Do you have a better solution? Click here to share it!