Turn your empty Coffee-Mate into a unique gift by adding a box of hot chocolate and marshallows.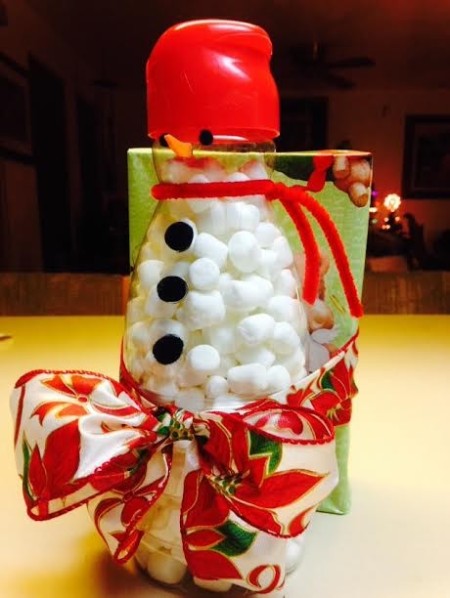 Total Time: 45 minutes to an hour
Yield: 1 container makes 1 gift
Supplies:
Coffee-mate container
orange craft foam
black pom poms small for eyes and larger for buttons
red pipe cleaner for scarf
mini marshmallows
box of hot chocolate
Christmas wrapping paper
ribbon for bow
Steps:
This is a snowman made from a Coffee-mate container.
Start by peeling off the plastic from the container to reveal the clear glass container.

Purchase some small black pom poms and some medium sized pom poms at a local craft store. I also purchased a sheet of orange craft foam. The pom poms will be used for the eyes and buttons; the orange craft foam can be used to cut out triangles for the nose; and the red pipe cleaner is used around the neck of the creamer container to represent a scarf. You could also use a strip of fabric if you prefer.

I used a hot glue gun to position and glue the pom poms and nose into place. No need to glue the red pipe cleaner, simply twist the pipe cleaner around the neck area of the creamer container or tie your strip of fabric if this is what you have chosen to use.
Once your snowman has been assembled, you can use small marshmallows to fill your snowman and purchase a box of hot chocolate packages and about 12-15 inches of a 2" ribbon to prepare your assembled gift.

I wrapped the box of hot chocolate in Xmas wrapping, filled the snowman with the small marshmallows, and placed the snowman on top of wrapped box of chocolate. Tie your ribbon around both package and snowman and tie bow in front. Your cute snowman gift is now ready to bring smiles to your friends and neighbors!
December 14, 2014
1

found this helpful
This is very creative and just adorable, thumbs up!:)
December 17, 2014
1

found this helpful
Oh how perfect! Love it!
I am wondering if you can still use Coffeemate creamer bottles to make snowmen since they are now clear under the label? I don't want to have a bunch of kids painting them. Any ideas?
By Pam from Knoxville, TN
November 10, 2010
0

found this helpful
I don't use Coffeemate, but if the only thing keeping you from using the container is that it's clear, then fill the container with cotton balls or pillow stuffing. They will be white then.
November 10, 2010
0

found this helpful
You could stuff the bottles with the "cotton" stuffing from pill bottles, scraps of polyester pillow stuffing, white rags (old t-shirts, etc.), or even foam packing peanuts. If the bottles are translucent (frosty looking) and not actually transparent, the packing peanuts shouldn't even show. You could also just put in a rolled piece of copy paper, tissue paper, or sheet batting, such as the kind used at Christmas time to set figures and miniature villages in the "snow".
November 11, 2010
0

found this helpful
Why don't you just line some up and paint them. Only takes one can of paint and many Coffee Mate containers. They'd be dry overnight.
Good luck.
Gem
November 11, 2010
0

found this helpful
How about coating the inside of the bottle with tempera art paint? Pour from one to the other until all bottles are coated and then back into the paint container. Leave bottles open until they are completely dry.
October 13, 2011
0

found this helpful
Here is a great site to use for the snowman creamer bottle. I just adore it.
August 13, 2015
0

found this helpful
fill with mini marshmallows, keep the snowmen in the kitchen where you make your hot chocolate
October 29, 2015
0

found this helpful
Fill with white sand and glue on the tops so they don't spill it out.
October 10, 2016
0

found this helpful
Fill with sugar or salt or white sand if u can find it
November 10, 2010
0

found this helpful
Use a creamer bottle, self-sticking craft foam, felt, a pipe cleaner, a pom-pom and other embellishments to create a unique snowy friend!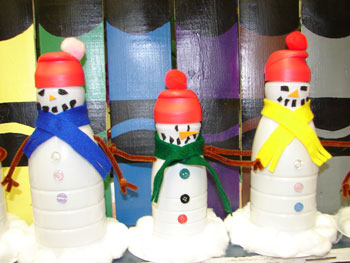 By Renee from Friendsville, PA
Answers:
Snowmen Made from Creamer Bottles
I love snowmen and I use liquid creamer in my coffee-what a great idea! (01/21/2006)

By Susan
Snowmen Made from Creamer Bottles
As a Girl Scout leader I am always looking for new ways to stay green. I have 100s of these bottles because I knew someday there would be a craft for them. (07/26/2009)