Glass Block Christmas Decoration
Glass blocks can be made into beautiful Christmas decorations. This is a guide about glass block Christmas decorations.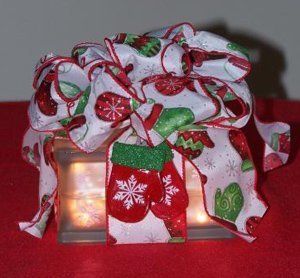 Filter

: All Articles
Sort

: Relevance
I have to tell you all that I have tried many different things and settled on the following because they look the best. First, I bought my blocks at Lowe's for about $4.25 a block. I bought them in cases of 8. Next, I purchased a diamond core drill bit online from a company called McGills for $15 (just Google diamond core drill bits).
I used a drill press at a slow pace. It took about 4 to 5 minutes a block. I also used a diamond bit lubricant that I sprayed on with a small spray bottle. Just a little bit will do it.
I then tried different alternatives with the lights. For outside light boxes, which I use as luminarias, set upright, I used regular mini sets of 50 that I bought for $.99. I tied the bows around the sides so the lights only show through the front and back. I sprayed both sides with frosted spray from Lowe's, by Rustoleum, a couple of coats and then set them at intervals down the driveway. Very nice effect.
For indoor ones, I used LED mini lights that I got from a friend who does that for a living, so it gave me a price break. I used pre-tied bows from Lowe's that were $1.99 each. That sort of offsets the LED lights' price. LEDs do not get warm and they use 80% less energy. I would look online for these. I also sprayed these with frosted spray. Oh yes, I forgot I bought some opaque glass spray paint in blue and green to spray stenciled phrases like, "Peace on Earth", etc. on the fronts of the frosted glass block, that I used for the luminarias.
By Gabriella
Wash and dry outside of glass block. (I also wipe the block with rubbing alcohol to remove oils, etc.). When block is clean and dry, use a strip of masking tape to cover the plastic "plug", Place plug in hole of glass block.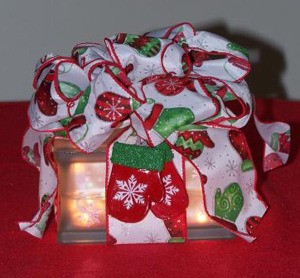 I just made these blocks, I used a RotoZip tool with a masonry bit (used for tile work) to drill the hole. It was fast and easy, about 5 minutes. I stand my blocks on end, drilling on the side for the hole.
Regarding the dust that falls inside the block while drilling, I used the hose attachment on my vacuum cleaner to suck out the dust, that also works great.
The lights I used were the mini 20 set with only a plug on one end, they are not the end to end type of light, that way all the lights fit inside with the cord and plug hanging out.
I tie a bow on the front of my block and also attach 2 smaller round Christmas ornaments for a little extra flair. These make beautiful gifts.
By Laurie
I am very interested in making the Christmas decorations out of the glass blocks. Not sure I can cut the hole in them. I did find a place that will do it for $5.00 each. Do you think that is a fair price? I think it sounds a little high. Don't really want to make them to sell, just use them as gifts for the girls I work with and maybe some other friends.

Thanks,
Ruth from Tennessee
November 25, 2015
0

found this helpful
I found these blocks at Michaels craft store for $4.99 with the holes already pre cut and the piggy bank stopper as well as the plug that has a slit in it for the strand of lights to hang out to be plugged in!
January 4, 2016
0

found this helpful
Do Not pay to drill these!!! I bought a ½inch glass/tile drill bit at Menards on sale for $2.49!!! And I had never drilled glass before. I have drilled 2 blocks now and it is so easy. Takes about 10 minutes to get thru and spray water on it when it starts smoking and/or you can see the little pieces of glass piling up on the bit. Looks like a white paste. Easy cheezy!
Read More Answers...
How do I get the lights to stay up in the glass without falling to the middle of the block? I tried glue and tape, but it didn't work. Any ideas, please?
By Betty
November 26, 2014
0

found this helpful
Try using a small piece of cardboard, cutting a slit and putting your 'light' wire threw it. Hope this helps the card board should be about the size of the glass. Good luck
How do I make glass blocks with lights in them?
By Mary from Toronto, ON, Canada
February 14, 2011
0

found this helpful
I make these, and go to a block company, where they will drill a hole in the back/side wherever. Some that I recently bought have a large hole and a stopper that will also serve as a bank. I than decorate with ribbon, and on a baby gift recently (for a night light) purchased a $1 teddy bear and put it on top as well. Hope this helps.
December 10, 2011
0

found this helpful
I bought my glass block @ AC Moore :-) Question- how many lights can you have on a strand of lights without it becoming hazardous?
Read More Answers...
I am making glass blocks for gifts. After putting in glue and glitter, my husband inserted the lights. While doing this, a lot of glitter came off. What did I do wrong?
By Mrs H J Beers
December 23, 2011
0

found this helpful
Glitter just plain has a tendency to occasionally fall off and be rubbed off. The only time I haven't had this happen, is when I buy fabric that already has the glitter on it.
December 24, 2011
0

found this helpful
Hi, Try drilling the hole first. Then decorate the outside. When done spray with some kind of glaze sealent. That should help keep the glitter on the block.
I was given a beautiful glass block decoration, but how do you change the lights when they go out?
By JBL
December 18, 2011
0

found this helpful
If it is what I am thinking of, there should be an opening on the bottom or on the back where a light cord with a small bulb goes in or else a string of Christmas lights. You should be able to pull this out and replace the bulb or string of lights.
December 21, 2011
0

found this helpful
Yes, you should be able to remove the strand of burnt out lights. Needle nose pliers make the job a breeze. Then replace with a similar size string of new lights.
When making glass block lights, I remove the icky wax-like substance by using a 4 inch razor blade in a "safety scraper". You can purchase this item and the refill blades for a low cost, along with the glass blocks at places like Lowe's.
Decorate your glass blocks with polymer clay - You can bake them in the oven (drill holes first) at 260-265 degrees F for 20-25 minutes and the clay sticks to the block.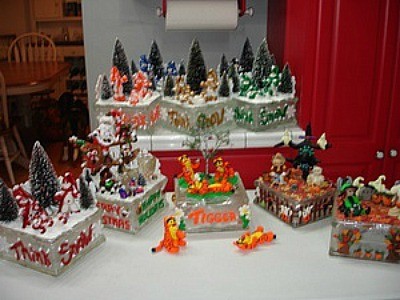 How do you frost glass blocks for crafts? I want to give one to my new sister-in-law for Christmas.
By Sue from Barnesville, OH
I am making a lamp and need to know what you put on a glass block so that the x-mas lights won't show through. I am going to put some stickers on the outside, but they won't be enough.
Related
© 1997-2016 by Cumuli, Inc. All Rights Reserved. Published by
ThriftyFun
.
Page
generated on August 22, 2016 at 12:11:08 AM on 10.0.1.174 in 5 seconds. Use of this web site constitutes acceptance of ThriftyFun's
Disclaimer
and
Privacy Policy
. If you have any problems or suggestions feel free to
Contact Us
.