I am wondering if you can still use Coffeemate creamer bottles to make snowmen since they are now clear under the label? I don't want to have a bunch of kids painting them. Any ideas?
By Pam from Knoxville, TN
Ad
---
By Paulette Gulakowski 7 178 11/10/20100 people found this helpful
I don't use Coffeemate, but if the only thing keeping you from using the container is that it's clear, then fill the container with cotton balls or pillow stuffing. They will be white then.
By Pixiedust7 7 814 11/10/20100 people found this helpful
You could stuff the bottles with the "cotton" stuffing from pill bottles, scraps of polyester pillow stuffing, white rags (old t-shirts, etc.), or even foam packing peanuts. If the bottles are translucent (frosty looking) and not actually transparent, the packing peanuts shouldn't even show. You could also just put in a rolled piece of copy paper, tissue paper, or sheet batting, such as the kind used at Christmas time to set figures and miniature villages in the "snow".
By gem 154 261 11/11/20100 people found this helpful
Why don't you just line some up and paint them. Only takes one can of paint and many Coffee Mate containers. They'd be dry overnight.
Good luck.
Gem
By Sue Hinely 20 36 11/11/20100 people found this helpful
How about coating the inside of the bottle with tempera art paint? Pour from one to the other until all bottles are coated and then back into the paint container. Leave bottles open until they are completely dry.
By Tammy K. 1 08/13/20150 people found this helpful
fill with mini marshmallows, keep the snowmen in the kitchen where you make your hot chocolate
Archives
Thrifty Fun has been around so long that many of our pages have been reset several times. Archives are older versions of the page and the comments that were provided then.
Use a creamer bottle, self-sticking craft foam, felt, a pipe cleaner, a pom-pom and other embellishments to create a unique snowy friend!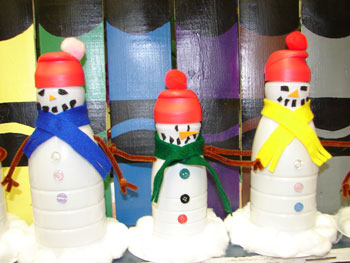 By Renee from Friendsville, PA
---
RE: Snowmen Made from Creamer Bottles
I love snowmen and I use liquid creamer in my coffee-what a great idea! (01/21/2006)
By Susan
RE: Snowmen Made from Creamer Bottles
As a Girl Scout leader I am always looking for new ways to stay green. I have 100s of these bottles because I knew someday there would be a craft for them. (07/26/2009)