Does anyone have ideas for an office Christmas decorating contest? I can't find much information at all on the internet. I'm in an office with 4 women and one man. We'd like to do something fun and unique. Thanks for any ideas you might have!

Kathy from SD
By khilde
Ad
---
By lori (Guest Post) 11/24/2007 Flag
are you just decorating your small space or cube? if you are, make a tree on the wall out of green post it notes, use paper clips to make "garland", use tacks for colored lights, etc...make "candles" out of red and green markers. find other things around your office that you can use for decorations.

iin my preschool classroom, i used to take a piece of yarn and string it all around the wall, looping it over itself in some places. then i cut out shapes of the old type of christmas lights from colored construction paper, put a black square on the bottom for the base, and taped them to the yarn. i always got so many compliments on them and they were different than just using regular lights.
By Susan Leader-Grace (Guest Post) 11/24/2007 Flag
What about having everybody decorate an office door and give a prize out for the best decorated door? All of those doors that are not to an office are fair game, such as boardroom door, bathroom door, utility room door, for those who do not have offices! Then have 3 people not from your business come in and judge. We did this at my last place of employment and we had a blast!
By Margaret 13 124 11/26/2007 Flag
I agree with Susan. At my husband's place of employment they have had a door decorating contest for the last three years. My husband won 1st prize the first year and Honorable Mention the second year. Last year he was sick for several weeks and didn't participate. This year they are having a "theme". All the doors have to represent a Christmas song. There are about 20 people that participate so there is a good selection of very lovely doors. The judges are not affilated with the company at all so no one can cry "fowl" or complain that the competition is "fixed". They have a lot of fun. The prizes are cash or gift cards. If you decide to do this let us know how it turned out.
By Pat Godwin (Guest Post) 11/27/2007 Flag
Could anyone give me some great Christmas office door decoration ideas?
By elizabeth (Guest Post) 11/27/2007 Flag
We have a grand contest in my office. I won last year...I did "A Charlie Brown Christmas", and the year before did "Winter Wonderland". People do many different types of decorations including traditional garland around the cube/office, battery operated candles, ornaments; another one that was cute for a girl getting married was "Wedding Winter Wonderland"; another person wrapped the wall of entire cube inside/out in wrapping paper. Finally, I remember someone did "Christmas from my dog's view" and he took pictures of different scenes downtown from about a foot off the ground and photocopied them in black/white and hung them up around their office. I need an idea for this year so if you can think of something else cute, please post.
By Bremot (Guest Post) 11/29/2007 Flag
A Charlie Brown Christmas....how absolutely priceless!Being in the South, we were able to bring in animals for a live manger scene one year---cute, but I would not recommend again as the sheep were quite messy, not to mention having to keep my office door closed and the background noises on conference calls! WHEW! Have you thought about using glitter? It sticks really well to post-it notes and adds such an elegant glow to office décor without the fire hazard of candles.

I am considering bringing in my 150 Snowbabies, but not sure if I can trust my coworkers and janitors with this precious collection. As an alternative, maybe I should bring in my grandmother's Precious Moments collection--this is the only thing the crazy old lady left me out of her estate, so I am quite bitter and would not miss them at all. Good luck with this year's competition!
By Maria (Guest Post) 12/01/2007 Flag
Help! Its that time of the year again! :) and I am running out of ideas on how to decorate my patio. I live in an apartment on the second floor and I have rails, so its not a privacy patio. Any ideas on how to make it pretty with lights, theme, etc? Thanks
By Renee (Guest Post) 11/26/2008 Flag
Could anyone give me some ideas for Christmas decoration for office? My office has a big warehouse, we are doing logistics and there is a theme using any 1 of the 7 wonders in world and make it a 8 wonders? Please help.
By Marcy (Guest Post) 11/30/2008 Flag
My office has a decorating contest as well. This is my first year in this office too. I had not idea what to expect. So, in my usual ways, I went all out! I took a few photos, however they are not high quality due to my camera phone. My normal camera is broken. Maybe this will give you some ideas! (By the way, the sign on the front reads "FOR SALE BY OWNER 1(800)GUM-DROP". I thought it was fitting since I am a Realtor.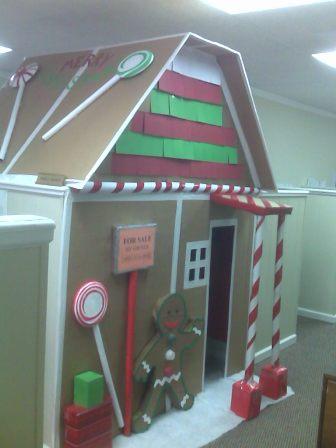 By liz campbell 2 12/15/2010 Flag
We won the "Winterfest" contest at our office by using the Gingerbread House theme. We had a gum drop roof, gingerbread men/women, a light post (making use of the light on the wall outside of our door), lots of fun!
By liz campbell 2 12/15/2010 Flag
Here is another view of our contest winner.