I adorned my dining room table with a red plaid tablecloth, poinsettia place mats, and red table napkins. The centerpiece was a small artificial Christmas tree with a burlap bottom.
It was set on a red charger that was filled with salt to resemble snow; I put small red apple ornaments around the base of the Christmas tree; ceramic reindeer were placed around the base of the tree and a small bunch of cinnamon sticks tied with plaid ribbon placed on the edge of the charger.
On one side of the charger was a small Santa Claus tea pot, a gold manger ornament with a gold wise man ornament; the candle holders were a champagne glass filled with half salt and half sprinkles candy (layered) with a LED votive candle; it was behind the teapot.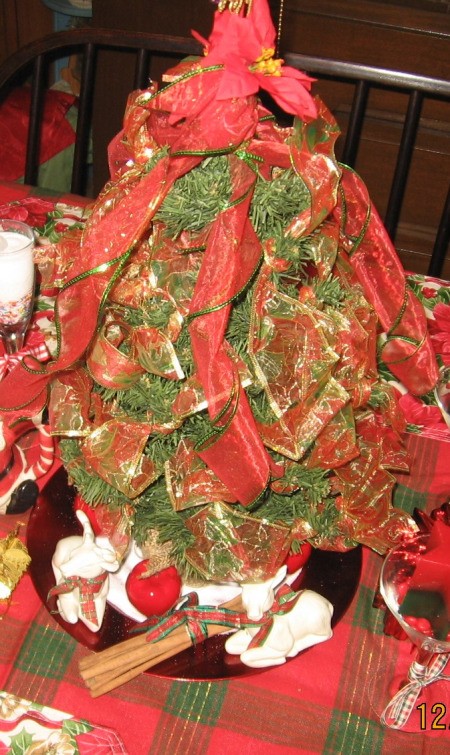 In front of the Santa were the gold ornaments and votive candle with sprinkle candies and a LED light; the other side of the charger were Margarita glasses with salt and cinnamon candies and LED votive candles; a large red short pillar candle in the shape of a snowflake was in the center of the Margarita glasses. There were two star shaped short candles which didn't need a candle holder; they are colored red and green.
The Christmas tree was tied with an assortment of Christmas ribbon (with wire) and twisted or folded like a fan; a silk poinsettia was the tree topper with a gold cross tree topper. The tablescape was very colorful and inviting to my family and guests.
By JOSE from Collierville, TN