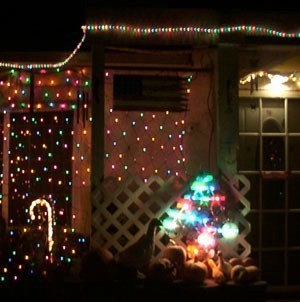 Last Christmas I made a tree out of the old and advertising CDs and bought a string of lights and taped each bulb in the center of each disc. The reflection was pretty and we had a neat yard decoration. Just be sure to use outdoor lights and cord.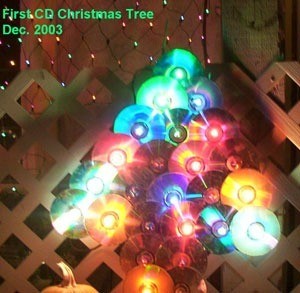 By Great Granny Vi
Editor's Note: Vi sent in these great pictures of her CD Christmas Tree. It's always helpful when people can send in pictures of their projects so everyone can see what they look like finished. Thanks Great Granny Vi!
Ad
---
Feedback Forum
Feedback about this article is posted here. Want to contribute? Click above to post feedback.

By mags12/04/2010
This is a brilliant idea for all my useless advertising CDs. Thanks.

By gaby (Guest Post)12/07/2008
I would like to know how too put them together to make a tree. Do you glue? I would love too have instruction, please and thank you.

By Vi Johnson [237]11/17/2008
Sylvia, Try it and see. Something should work. Good Luck and be sure to post here if you get something to work. GG Vi

By Sylvia (Guest Post)11/14/2008
I sure like this ides. Do you think a glue for plastics would hold better than hot glue?

By donita [23]07/07/2008
Hello, can anyone of you make these? I'd love to buy some. Email me at precioustaylor AT stjoelive.com Thanks.

By donita [23]07/05/2008
Hello, these look so pretty, would you wanna make me a few of these? I'd be interested in some, please email me at precioustaylor AT stjoelive.com thanks, Donita.

By Vi Johnson [237]01/15/2008
Hello Debbies, Look below and read what information is here. I didn't have a pattern, but thought the CD's would glue together..Wrong, So I thought drilling tiny holes in the cd's & tying with wire instead if glue would work....I had planned to make a big tree, but then we put our house up for sale and put that project on hold for awhile.

See what Sandy Lee says below, She tells how we did it.

I still plan to use a triangle ( tree shape) frame using an easel back, ( to make it easier to stand )with cross bars to help support the weight of the lights...They do get heavy.OR possibly a tree shaped frame with chicken wire stretched over and stapled down to the frame might work too.I'm thinking GREEN also about using LED lights??? Haven't figured out how that will work yet. IF and when we get it made I will post the plans and photos.
HEY ELECTRICAL ENGINEERS OUT THERE! HELP,LOL Again, if anyone out there has an easier plan with instructions ...PLEASE Post it here for all of us. Thanks and GG Hugs,Vi

By debbies (Guest Post)01/14/2008
Hi, could you send the instruction and the pattern how to make it? I would loved too make one. Thank you for your attention.

By Vi Johnson [237]12/13/2007
Ok , Here's what happened. We first used hot glue on the discs in a tree shape.But the cold weather the hot glue popped off. So we tried Elmers glue that had to dry over night...Then after a few damp nights They fell apart..Oh me..it is best to drill small holes and use green floral wire ( doesn't rust ) to attach them together. If anyone else has a better idea ,Please post here for all to see. Thanks, and a Very Merry Christmas ,Happy Holidays and a healthy,Bright new Year to all. GG Vi

By Sandy Lee (Guest Post)06/04/2007
I made 2 last year with C7 Lights. I hot glue the Cd's in a tree shape and attach the bulbs through the center and attach the bulbs on the front. I then drill a hole on top hang it up. I also made a garland with Cd's and put red C7 bulbs and those lit up my kitchen. I'm planning on making a wreath this year with Cd's using C7 miniature lights.

By gaby (Guest Post)12/27/2006
could you send me a picture how too make the cd tree how too put it together thank you

By Betty Reese [15]12/06/2006
What a great idea & so pretty too! Thanks for sharing.

By JODY SMITH (Guest Post)03/16/2005
HOW CAN I MAKE A CD CURTAIN USING CDS. CAN YOU HELP ME I LOOK EVERYWERE CAN YOU HELP ME PLEASE . ""

By Victoria [2]12/17/2004
I would like to know how you made the frame for the CD Christmas tree. I love this idea and I have tons old CD...Thank you

By Vi (Guest Post)11/14/2004
There was no frame for the CD tree. I glued them in a tree shape and let dry over night. We used a string of 25 outdoor lights. I'm thinking of doing a huge one this year. It might have to have a plywood back. Drill holes for the lights.If I get it done I'll send in a picture.

By NelsonMattthew (Guest Post)11/11/2004
Another idea is to use glitter in the advertising side of the CD. Leave the other side natural. First you should design what you would like on any side of the CD, and then put glue. As soon as you put the glue on the CD you add the glitter. Any color, or a combinanation of material will work perfectly.


Thanks
Nelson Matthew
West Lake High School

By Connie Beck (Guest Post)10/08/2004
I would also like to know how you made the frame for the Christmas tree. Great idea!!!

By Dee [3]10/08/2004
I'd like to know how you made the tree, could you share? thanks Dee

By jld [1]10/08/2004
Great idea! I moved out of state last year and had to downsize - lost many holiday decorations.
I'm currently working on a 'CD curtain' for my kitchen window. I'm using glass paint on the cd's, then drilling small holes on four sides. Then attach the cd's together with large jump rings or you could use metal binder rings.
Post Feedback
Add your voice to the conversation. Click here to share feedback.