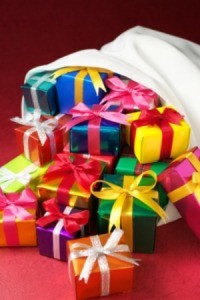 Trying to come up with ideas for small Christmas gifts for friends, neighbors, customers, etc. can be difficult. This is a guide about small Christmas gift ideas.
Solutions
Share a solution for this guide today!
Questions
Here are questions related to Small Christmas Gift Ideas.
I am looking for mass gift giving ideas, on a budget. I am planning on going to the hospital on Base to visit veterans for Christmas. I want to take small gifts to give to those we visit. I need ideas for a lot of gifts to be given to the Veterans there.

Navy Wiffle from Las Vegas, NV
---
Most Recent Answer

By Katie Laflin11/11/2009
I love the ideas so far. I don't have any idea how much they cost but for all that reading a magnified glass could be nice.
I'm a newspaper carrier and get many tips and gifts at Christmas time. I like to put some little handmade gift in the thank you notes but I've run out of ideas. This year I gave candy cane horses. I have between 550 and 600 customers. I need to get started right away! I need some ideas!

Thanks,
M. Donna from Dayton, OH
---
Most Recent Answer

By (Guest Post)01/26/2007
You know, you really DON'T have to BACK gifts, because the gifts they gave to YOU are for what you have ALREADY DONE FOR THEM. A nice little card will suffice in my opinion, otherwise you'll be crafting until Easter! lol You must be doing an
excellent job, so just learn to accept graciously because you must be worth it. Keep up the good work. God bless and keep you. : )
I need to make 20-60 small gifts for my families for Christmas. Any inexpensive ideas? It's all for ages 10 and up. Can anyone give me any ideas?

Kristen