I need to make 20-60 small gifts for my families for Christmas. Any inexpensive ideas? It's all for ages 10 and up. Can anyone give me any ideas?
Kristen

Answers:
Small Christmas Gift Ideas
How about making Christmas tree ornaments? Last year I went to a craft store and bought glass balls that had a cap and hanger on the top of them. I bought some acrylic paints in the little bottles, also. First you rinse out the balls with a solution of 1 part vinegar to 3 parts water and let dry. Then you pour a little paint down the inside of the ball and twirl the ball to get the paint to run around the ball. Add another color and do again. I liked using about 3 colors, one of which was a gold or silver (it adds sparkle to the ball). Don't add too much paint or twirl too much, your colors will run together. When the inside is covered, place the ball upside down on a Styrofoam cup so all extra paint can drip out.
Let it stay there for up to a week, to dry. Put your cap and hanger back on and add a gold or silver ribbon to the top. This Christmas ball ornament turns out to be very pretty and each one is unique. It costs about 50 cents to $1 for the ball and on top of that is the paint depending how many colors of paint you need to buy.
My daughter gave one each to the family she babysat for and each person in our extended family received one also last Christmas. Everyone loved them. We brought enough along for the number of people we were giving one to and let them choose the ball ornament they liked and wanted. (11/08/2004)

Small Christmas Gift Ideas
You can buy the satin Christmas balls in bulk and also several different kinds and colors of sequins. Using straight pins, pin the sequins onto the balls. Each one will be unique with different sequins and designs. I also use ribbon on mine too and usually buy the thin ribbon. The best thing to do is to buy this stuff after the holidays when it marked down to 75% off. (11/08/2004)
By Teresa
Small Christmas Gift Ideas
I am on a small income and like to give Christmas presents for my family so what I do is go to Wal-mart and buy the little cross stitch ornaments. You can easily learn how to cross stitch by following the directions, they turn out really cute and are about 1.00 so they are cheap also, and it is a gift they can use next year for the tree. (11/08/2004)

By Kay
Small Christmas Gift Ideas
I have a large family. I usually visit dollar stores (where everything's a dollar). A lot of the items these stores have are very nice. Last year I got some potpourri and square candle holders (I was able to get 3 for a dollar). I filled the holders with the potpourri and covered it with plastic wrap.
For men I usually buy some screw drivers and hammers (for some reason they can't ever remember where they put them last, best if it's a bright color!). For the younger kids I'd buy a few (2 or more) items and put them into a box (if not breakable the bigger the box the better). Such as activity books, pens, figurines, memo pads, etc. I also sometimes get candy canes that have candy in them, but (I'm big on a kid not having too much candy) I will only leave about half of the candy in them and add some cars for the boys and nail polish for the girls.
For teens it's a bit harder and luckily I haven't had that problem. I usually have a friend go with me (who happens to be 17). She's usually really good at finding something everyone will like if I'm not sure what to get. I go a bit out on a limb for her at Christmas, LOL. It's only fair. I have found most teen girls enjoy bath beads and salts, and cubes; also lotions. Most teen boys enjoy anything that they can take apart later on (I've only had to buy for one teen boy, so far, so I'm not much help there).
In some places it's hard to find a true dollar store, some are more like a 5 and dime, but they all seam to be cheap and have many wonderful items that (unless the person goes to them also) most people won't even know the difference. (The only place I found that wasn't a true dollar store the most I paid was $2.25 for something.)
(11/08/2004)
Small Christmas Gift Ideas
We took glass balls and painted each of our family members name on the ball. You can use colored or clear ones, but the colored ones are nicer. They all just love them. (11/10/2004)

By Marcy
Small Christmas Gift Ideas
One year, I found these inexpensive wine glasses (probably from Dollar Store or Shopper's Choice) and bought some glossy paint in small bottles. I painted these glasses in gold, silver, green, and red colors in all different patterns and such. Then I bought some cheap votive candles at WalMart and used the glasses as candle holders. It was really fun to make and the glasses were really unique! By the way, I'm 15. (11/12/2004)

By Becca
Small Christmas Gift Ideas
You could make little baskets out of newspaper or just regular paper, design it, and just put candy (or odds and ends) in it. Sometimes, schools have cut outs (dye cuts?) I think they're called of different shapes and they may even have one of a basket you can fold together. You could just go the old fashioned way and do a family picture, personalize it with a poem you wrote of the person (Sue, S=sweet, U=unbelievable, E=exceptional) (11/24/2004)
By Superb
Small Christmas Gift Ideas
My mother and her sisters used to make each gifts for each other at Christmas time. One year my aunt made our family Christmas ornaments. She took Styrofoam balls and cut them in half. She put glue on the back of the ball half and wrapped a pretty silky material around the back (rounded side) of the ball and brought the edges around to the front (flat side) of the ball. The edges were glued in place. She then took pretty hat pins and placed glass beads on the pin then stuck the pins into the rounded side of the ball. She did this all over in various designs. On the front of the half ball she had placed a photo of each of us and glued it to cover the edges of the material that had overlapped. She then used rick-rack to glue around the top edge of the picture to make a border. She bought those small screw eye-hole screws to place on the top of the ornament and then used elastic as the ornament hanger. My ornament even had a tassel placed on the bottom of it. This is still one of my most treasured ornaments and I place it on my tree every year! (11/27/2004)
By Tawnda
Small Christmas Gift Ideas
I am working 2 full time jobs and have absolutely no time, so this is what I did this year. (Someone I work with saw this at a craft sale. I would only do this for people who really know you and won't be offended with such a simple thing.) I gave a big Hershey's chocolate bar with a note on it that said, "A night or two ago, we thought we'd make a treat. For all our special friends, a Christmas treat to eat. Our intentions were top notch, but our schedules wouldn't budge. Hence, here's this year's edition of homemade Christmas fudge!!! (a poem to the tune of Jingle Bells). Anyway, simple and inexpensive, but everyone thought it was a really cute idea! (12/20/2004)

By Misty
Small Christmas Gift Ideas
I give all of my friends gift boxes. Last year I bought the decorated fold up boxes (10 for $3) and some tissue paper. I ordered 2 year planners and a note pad from Oriental Trading Company for 50 and 10 cents each and inserted a $5 gift certificate to a local theater. I also included a couple bags of microwave popcorn, a box of Cracker Jacks, Goldfish crackers, and about $1 worth of candy (miniature Snickers, M&Ms, etc). I always try to keep the gift under $10. This year it came out to be about $8 per person. (I also give this to my friends children). (02/05/2005)

By Tim
Small Christmas Gift Ideas
I just made gum drop tree ornaments. Take a Styrofoam ball and use a hot glue gun, then take mini gum drops and glue them on. Add a ribbon on top so you can hang on the Christmas tree. They are very cute and look great. Also, a very cheap idea is to make a set of six and put in box wrapped up. This is a great homemade idea that can be used each year. (12/09/2005)

By Tanya
Small Christmas Gift Ideas
My grandma used to take her old costume jewelry (necklaces, earrings, broaches, etc.) and take them apart and pin them onto the satin balls. She added ribbon and even a doll from the shoulders up, which sounds really odd, but looked really great! She died before I was born and they are still around. My mom even gave me some for my tree after I got married and moved out on my own. (12/13/2005)

By Becky
Small Christmas Gift Ideas
baked goods, wrapped in boxes or decorated bags (usually buy bags for $2 for 50 bags)

ornaments- glass ornaments filled with potpourri

a family picture

coupon book- works with kids too, for example, a day at the park, picnic, zoo trip, museum visit, science center exploration. Decorate the "coupon" with the theme of the coupon
These idea's are all lower cost things.
(09/30/2006)

By Jennifer from MI
Small Christmas Gift Ideas
I took old jam jars washed them out and put all the dry ingredients for hot chocolate layer by layer. I even gave them a little twist by adding special ingredients to make them different. I bought cheap Christmas mugs at the Dollar Tree. I also included biscotti and plastic white chocolate covered spoons. I am 15. (10/18/2006)

By Tasha
Small Christmas Gift Ideas
I also like to make Christmas ornaments. I get the old-fashioned clothespins, not the spring-loaded kind, but the ones that look like 2 little legs. You can buy them in a bag in the craft department at Wal-mart. You'll need 2 clothespins for each ornament, brown, black, and red acrylic paint, and wiggly eyes. You will also need gold elastic thread to use for hangers. I have my husband drill small holes through one of the clothespin legs through the
"sides". I paint the clothespins brown, allow to dry, and glue them at the round point where the "legs" of one are up and the other are down. The one with the holes drilled through should be on top and the legs should be pointed up. This will be your head.
Glue on wiggly eyes, paint on a red nose, and a black smile, thread your thread through the holes and tie, and voila! You have a Rudolph the red-nosed reindeer ornament for the tree! (11/12/2006)

By Cherre
Small Christmas Gift Ideas
One year I bought Jiffy brownie mixes, they were under .50 and put them in a decorated bag, tied curly ribbon around the top and used my scrapbooking supplies to make little cards that I attached that said, "Poinsettias are red, Christmas is sweet, I'm stressed out. Make your own darn treat." I handed them out to neighbor and coworkers, everyone loved them. (11/19/2006)

By frogluver
Small Christmas Gift Ideas
I don't remember where I saw this idea, but I thought it was cute. Take a wire kitchen whisk, put Hersey Kisses inside the whisk, tie a bunch of curling ribbon to the top, and a little note: We whisk you a Merry Christmas! (or you could say, "We whisk you a Merry Kiss-mas!") (11/20/2006)

By Paula
Small Christmas Gift Ideas
Hey. I made this for my little nieces and they love em and it's really easy and cheap. you can buy the empty glass ornaments that opens up, at the craft store and then just fill them in with little things like candy and chocolate. If your ornament is big enough you can buy little toys and jewelry. (12/04/2006)

By Angelica
Small Christmas Gift Ideas
A great idea hit me while I was scrolling through everyone's posts. I'm going to pick up several inexpensive plastic coin purses from the dollar store, and decorate them with old magazine clippings. I have piles of old magazines that aren't getting used any longer! I work in the music industry, so I will cut out names and pictures of bands, etc. and glue them on the coin purse. (Obviously you could do this with any old magazine, depending on what the person you're giving the purse to likes.) Then I will finish it with a thin layer of clear glue across the pictures so that they won't easily peel. Haven't decided what to do for men yet. (12/10/2006)

By Erin
Small Christmas Gift Ideas
I know craft stores like Michael's sometimes have Chinese food take-out boxes in winter themed patterns, they are really cute. You can fill them with home made cookies or fill them with tinsel and use them to hold a small gift or an ornament. (12/14/2006)

By Julia
Small Christmas Gift Ideas
I have a gift basket business and I love to find bargains at Tuesday Morning, Dollar Tree, Ross, Michael's and more and then customize a gift basket for a lucky recipient. I just did 4 matching baskets for breast cancer patients at a local church in DFW area of Texas. (11/08/2007)

By Kathy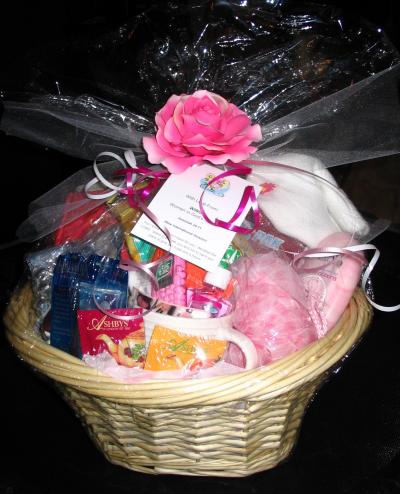 Small Christmas Gift Ideas
What I've done a couple of times and really love is you go to a dollar store and buy 3-
10 full sized chocolate bars and make something up to go with the name of each chocolate bar to compliment the person. It's worked really well in the past. Or you can buy the chocolate and make a story using the names. (11/15/2007)

By Kay
Small Christmas Gift Ideas
I'm going to put my favorite holiday recipes in a mini photo album to give to my extended family. The photo albums can be purchased at the dollar store and the recipes printed on the computer. (11/18/2007)

By Kristina
Small Christmas Gift Ideas
One year I bought scratch off tickets and attached a card that said, "Just wanted to you to know I feel "lucky" to have you in my life. Merry Christmas." I tied it to the ticket with a Christmas ribbon. (12/08/2007)

By Michele
Small Christmas Gift Ideas
Buy a couple of bars of good quality chocolate, melt down and pour into novelty ice cube trays (I've got ones of pin up girls-very saucy!), push out when the chocolate is set and you've got some really cute chocolates. You can also add flavouring/liqueur, etc. during the melting to make them a bit fancier!
Also, try infusing a big bottle of vodka with fruits then decant into little pretty bottles! (09/11/2008)

By poppy
Small Christmas Gift Ideas
Last year I made my sister-in-law a card that said, "Have a super Christmas" attached on top of some canned soups. (10/27/2008)

By Cindy
Small Christmas Gift Ideas
Having a newborn I was trying to do something that was thoughtful and still budget friendly for the rest of my husband's and my own family. I have come up with the idea to make the double sided fleece blankets. All you do is cut the fleece to size and then cut strips all around the edges of the pieces of material then tie them together. Also, include a small "IOU coupon" like for my friend Meghan it says "Two free coffee drinks anytime you want. Hope you enjoy." Hope it helps. (12/10/2008)

By Chloe's Mom
Small Christmas Gift Ideas
Buy clay: make figurines, put wire through the top bake them /leave them to dry for a day. Hang them up voila. Add what else you'd like. (12/11/2008)

By lazygirl
Small Christmas Gift Ideas
All of the above are awesome ideas! One of my favorite gifts to make though is a paper box. You can buy tons of awesome kinds of craft paper at a craft store for about .30 cents apiece. Then just find a cool and easy template for a creative paper box online (try this link: www.paperandmore.com/articles/box_templates/index.html) and make it out of either the craft paper or some sturdy cardstock-type paper. Fill it with some cute gifts like cheap earrings, small lotions, or nail polishes, chocolates, etc. for girls or women. For boys maybe some candy of some type and keychains, or I don't know what else whatever you can find. Hope that helps!

Katya (11/13/2010)

By Katya