Decorating a Wedding Reception
Solutions
Share on ThriftyFunThis guide contains the following solutions. Have something to add? Please share your solution!
February 20, 2017
0

found this helpful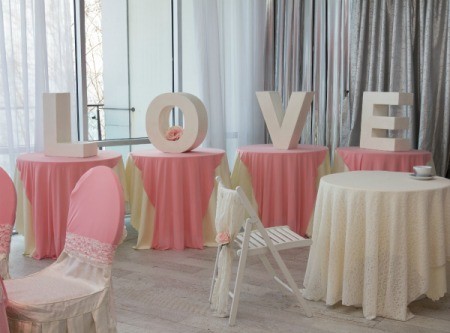 Frequently certain venues used for a wedding reception have other purposes and are decorated for those daily functions. This is a guide about covering up hall decorations for a wedding reception.
Read More...
April 27, 2016
0

found this helpful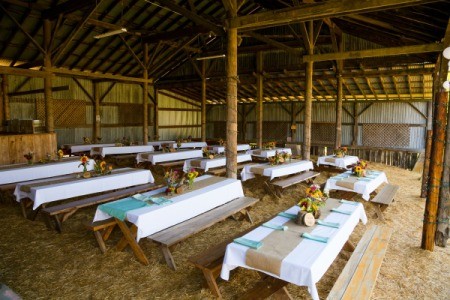 This is a guide about decorating a barn for a wedding reception. With the right decorations an old barn can become a unique and charming venue for your wedding reception.
Read More...
January 30, 2005
0

found this helpful
And instead of a wedding shower or bachelorette party ask your family and friends to help you with decorating the establishment you choose. The day before just plan a 'party' and lunch. And most the time family and friends are great at donating for the occasion without being asked!
By Kat
Questions
Ask a QuestionHere are the questions asked by community members. Read on to see the answers provided by the ThriftyFun community or ask a new question.
My daughter is getting married in June 2005. We are having a simple reception (cake, punch, fruit/veggie trays, finger foods). We will be having the wedding/reception outdoors around noon (the time hasn't been set in stone as of this writing). The wedding will take place in a beautiful field.

My problem is I need suggestions on how to decorate the pavillions where the reception wil be held. I have suggested using tulle and fabric in her wedding colors (yellow/white) to drape the beams, even an ivy/flower combo. She is not very impressed with either idea. She has specific ideas about every aspect of this day except for the pavillion decor (She does, however know that she wants the tables to be dressed in white linen with a yellow/white gingham runner. She will also be setting the tables with simple daisy centerpieces)
I am running out of ideas and time. June will be here before I know it. I am open to and will appreciate any and all suggestions.
Amy
By guest (Guest Post)
July 15, 2008
0

found this helpful
I am planning a May 2009 wedding and it is going to be outside at a Country Club on the golf course. I need help with simple ways to decorate the outside. Our colors and ivory and taupe! Please Help! My email address is joeandmandi1 AT verizon.net so any input would be great!
By guest (Guest Post)
September 3, 2008
0

found this helpful
Does ANYONE have any good ideas in decorating above ground pools and a swing set that can't be moved for an outdoor wedding reception?

By guest (Guest Post)
January 9, 2009
0

found this helpful
Use the fabric to drape not only the post(beams) but also use it to go from the post to the center of the roof and drape in a swag form to meet in middle then use some sort of center piece to hang in center (like flowers on a round foam cover entire ball hang from center with ribbon) use Christmas lights to put in the fabric to set mood. I am having my reception in a barn and this is how I am going to decorate some. hope this helps. you can also use rented trees to set the mood(using lights on them to set the mood) have fun!
Read More Answers
My daughter's wedding reception will be in a church activity center that has exposed steel beams in the walls for a total of 6 - 8 beams. How can I disguise them? Thank you for your input/advice.
June 25, 2016
0

found this helpful
Instead of going through the expense and sorting through ideas to cover them up, why not focus on drawing people's eyes toward other, prettier things? Flowers, streamers, tables / decor?
That said, you could measure the heighth and length then visit a fabric shop to see if they have anything which fits in your budget and matches your colour scheme? Borrow a staple gun ....
June 10, 2004
0

found this helpful
I have another wedding question. Any ideas for outdoor wedding decorations, tablecloths and centerpieces? White and pink are the colors and I don't want them to blow away.

Thanks!

Hope
By guest (Guest Post)
September 12, 2007
0

found this helpful
I am having my wedding in September 2008. I am renting a rather good size plaza on the beach for $670. My colors are red white and black (not relating to GA bulldogs) My bridesmaids are going to wear red dresses, groomsmen will wear black shirt and ties and me and my fiance will be wearing white! We are going to have the wedding inside around sunset, with the doors open to the beach breeze. The reception will be at night with the white Christmas lights around all of the railing on the balcony. We are doing our own catering. Instead of having real food because it will be around 7 or 8 we are having all deserts in our wedding colors. we are going to have black and white mini cheesecakes, two chocolate fountains(one white, one reg choc.) with marshmallows, strawberries,etc to dip in. We are going to have choc. covered strawberries and many other desserts. There are to small round side balcony on both sides of the main balcony. I believe we are going to have our first dance on one of those, while his uncle plays acoustic on the guitar. and we are going to have everyone light sparklers as we have our first dance so that it is fun for everyone and it will make the pictures very exciting. I am having trouble deciding what music to walk to as I hate the traditional wedding march and I need help coming up with decorations for the ceremony, I hate arches and balloons might look tacky!
By guest (Guest Post)
December 7, 2007
0

found this helpful
Nice! my wedding will be red black and white too, in September 2008, on a platform overlooking the sea at sunset. we've chosen an asian theme, so the bridesmaids will wear black asian style dresses with white trim, the maid of honor will wear black with red trim and they'll all wear matching shoes. the groomsmen will match them (in kung fu suits!) and my fiance and i will wear white. For decorations, i was thinking about putting glow necklaces in 100 bowls of water, maybe 3 to a bowl and putting red petals, or flowers in it as well, i'm toying with the idea of a floating candle as well or a tealight candle in a clear cup in the middle of the bowl. the place is beautiful so i'm not planning to do a lot of other decorations besides arches and petals, if u want to see it, go to www.negrilescape.com i'm going to use takeout boxes for favors as well, to carry off the whole theme, decorate it with ribbons and asian coins and fill it with fortune cookies or candy, not sure yet. I've designed my own invitations with a tori gate on the front, bamboo and English along with Japanese writing. Not sure i've given anybody any ideas but i just thought i'd post all the same.
By guest (Guest Post)
January 6, 2008
0

found this helpful
Our daughter is getting married in June 2008. Picnic themed Reception. We are looking for yellow & white gingham table runners. Any suggestions on where I may find them?
Read More Answers
January 13, 2006
0

found this helpful
I'm looking for a cheap way to decorate my hall and tables. Does anyone have any ideas for decorations and a center peice to go on the middle of the tables?

Stacey From Staines Middlesex
By guest (Guest Post)
July 26, 2008
0

found this helpful
Hi Stacey, every room can be improved with a touch of the Orient. I had this theme at a bash in my home. First, go to a shop that sells Asian-style goods. You can see, and get ideas while there. Maybe buy Asian-style banners. Cover tables with black silk,(or cheaper fabric) table runners. Use mirrors, glass, and light-catching objects to reflect energy. Another idea, is to use a Chinese decorative screen for a background. I would also take tall glass vases and fill with "Bird of Paradise" flowers. For favors, you could purchase inexpensive silk boxes in either red or blue, and also give out fortune cookies. A touch of the Orient will make your wedding unforgettable!
By guest (Guest Post)
July 26, 2008
0

found this helpful
Hi Stacey, here is my second idea for your wedding reception. First, envision what you want your reception to look like. I was married on Valentine's Day, so my reception had pink, with maroon tablecloths, and small pink votive candles along with small bouquets of deep red roses. There was "baby's breath" mixed in, but this was in the Eighties,(and out of style now!) If you are getting married in the Fall, you can use avocado green, and a light blue accent color. Buy light-blue fabric, and make your own placemats for each individual. Your flowers for the tables could be blue and green delphiniums and hydrangeas. For favors, give each guest some Jordan almonds wrapped up in light blue organza, and tied with avocado green ribbon.
Another idea for a Fall wedding is using small baskets for your favors-they add texture. On the cake table, place a small silver tea tray with chocolates( store-bought chocolates decorated with an initial in light blue) and this will delight your guests. Shop for chocolates at a candy "outlet" where the prices are lower. It is your day, so be as creative as you want!
By guest (Guest Post)
October 15, 2008
0

found this helpful
Stacey, we saved money at my daughter's wedding by using the favors as the table centers as well. Just use a footed cake plate or two (I would use two if setting 8'tables) place your favors on the cake plate and scatter rose petals around and on the cake plate. You can add candles if you like. We got our favor packaging at ribbonsandfavors.com and were really pleased with the boxes and put our own edibles inside we actually had a hard time choosing because they had such a nice selection.
It turned out really nice, and none of our footed cake plates matched, as we begged, borrowed and purchased. It looked even better for it as the favor boxes tied it all together. We also set a little note at each place to let our guests know that it was okay to take apart the table centers. You could also have your MC announce that as well - bonus - less to clean up.
Read More Answers
August 8, 2011
0

found this helpful
I am stuck on decorating my garage for a wedding ceremony and reception, since it is suppose to rain and outside is out of question. How do I decorate an empty garage for a wedding ceremony and reception for 20 people? My theme colour is all blue colours.
By Patricia D.
August 9, 2011
0

found this helpful
For background, cover the walls with sheets; tacked to long wood slats that can easily be hung (and taken down) over nails. Add to the trousseau later.
August 9, 2011
0

found this helpful
If you know that rain is in the forecast, this must be happening pretty soon! I was thinking about somethink like what EGGZ suggested. You could also find some miniature Christmas lights and gently tack them along the tops of the walls. Just be sure not to pierce the wiring! We have craft supply stores that have Christmas lights year-round. Good luck with the wedding!
August 9, 2011
0

found this helpful
Satin sheets, tulle, ribbon, flowers and an imagination! Sheets usually have a hemmed edge, easy to slip onto rods! Have fun!
Read More Answers
My wedding theme is the perfect pair "pear" wedding. I am trying to get cheap ideas for wedding decoration for the tables and the hall all together. Does anybody have any decorating ideas?
By Camilee
June 10, 2010
0

found this helpful
If you get some paper napkins with a pear design then use this to make some stencils of different sizes you can carry on your theme onto the tablecloths (put heavy paper ones over the linen) stencils these. Paint tea light holders which are very cheap from IKEA with pairs of pears and use the lovely idea above about the Ivy which in the language of flowers is very romantic and symbolic to decorate the table centres.
June 10, 2010
0

found this helpful
If "perfect pair" is the theme I would use prints of other perfect pairs such as dance partners like fred astair and ginger rogers. You could tape cut outs of shoe prints leading to each "perfect pair" photos, you could follow this around the room and finish it with your own photos:)
If "perfect pear" is the theme, find some baskets and fill with pears for the guests to munch on. You could add some pretty wedding themed ribbons and some mylar filler. Or you could do several different pear desserts and have a different one at each table. Good luck.
June 22, 2010
0

found this helpful
Camilee: Whether you use "pair" or "pear". You can do all sorts of wonderful things. I like the pear theme using the soft colors of pears which could be piled in the silver or gold "Revere" style bowls (you can buy them made of plastic) in the center of the tables or golden fruit baskets. Filler in the bottom of containers can keep the sumptuous look. One wedding I worked used the fruit bowl centerpieces and then gave people small baskets to take home some of the pieces, another donated the extra fruit to a homeless shelter. I am also attaching a website that shows "perfect pair" place cards that look delightful and attach to the glasses. Have fun. You can do it without spending a fortune. Check out this site it is loaded with great stuff and ideas that are very creative. It also depends on the time of year/and place you are getting married. http://www.save afts.com/es.html
Read More Answers
I am having a wedding reception at our home in July. We have a pool and a large yard off to the side and will rent a tent, etc. I would like some ideas of decorating the tent and around the pool area, maybe something for in the pool to float. No color has been selected yet, but I can go anyway with that.
By Mary Lou from Harrisburg, PA
January 21, 2011
0

found this helpful
Pool floats or a pool fountain would be great - just remember to put the balloon bouquet weights on them to keep them in the pool. The tent rental shop will have decorations like ivy, florals, etc, big vases, pillars, etc, you can rent to decorate with as well. Check out the local garden centers for plants. Green always look great! Once the couple have selected colors and theme it will be much easier. I learned from experience; make sure to rent a tent with windows that open on all sides. Tents get very hot without cross ventilation.
January 21, 2011
0

found this helpful
Floral garlands are pretty wrapped around poles and posts and draped along doorway, fence deck rail, etc. Ferns are attractive on stands, hanging planters or placed on the ground to decorate and are large and fill up space.
January 21, 2011
0

found this helpful
Just don't put balloons in the pool. We did that when my mom & step-dad got married & all through the ceremony we could hear balloons popping, it was very distracting and funny, although my mom didn't agree with me!
February 8, 2013
0

found this helpful
My wedding colors are yellow and pink and the walls of the venue are blue and white. How can I cover that on a tight budget? Help!
By Erika
February 10, 2013
0

found this helpful
You cannot cover up the blue walls on a tight budget. Consider changing your color scheme for the wedding, or run the risk of a pink, blue and yellow color scheme that can ruin the look and come off like the Easter bunny came to the reception.
November 11, 2014
0

found this helpful
Who is responsible for decorating the reception area? If it's me, how do I do it?
My daughter is getting married 450 miles away from home.
By Kathy
Related Content