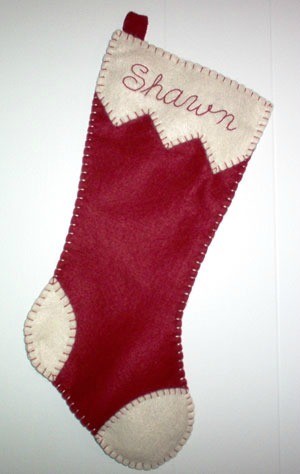 I have a friend, Samantha, that is having some money troubles and needed some help with Christmas. So, we dug around in my craft supplies and started to make some things for gifts. Getting together to work on her problem was good for the both of us, she gets a little help and cheering up and I get company and get to share my creative skills with her.
We made some simple stockings from felt. Felt is the best material to work with; it is easy to cut, needs no finishing for the edges, and is very inexpensive! I showed her some very simple stitches and she made two, cute little stockings.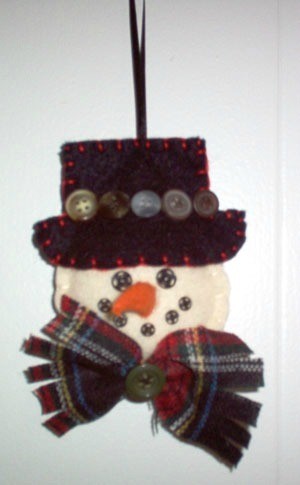 We also made some ornaments from scraps of felt, floss, buttons, and snaps. I am also bartering with another friend that crochets ornaments; she likes to give gifts of the homemade dog biscuits that I make and Sam now has two more ornaments to give to her children.
To fill the stockings, Sam has gone to the dollar store with money that she earned helping me clean and has picked up small items like Chapstick, pencils, and notepads. She has wrapped each gift separately so it will take the kids time to open each thing and it makes it appear like they have gotten a lot of gifts!
The wrapping paper she made from regular loose leaf paper, but she used markers and using the lines for guides made a plaid design that looks festive.
We have a bag of popped corn that we are letting get good and stale; popcorn is easier to string when it isn't fresh! The kids are looking forward to stringing the popcorn after our "kid's craft" session that we made a garland from felt that is the same idea as the old-fashioned paper chain idea.
I played Christmas music while we were crafting and since I am a pretty silly person, I sang and acted goofy, the kids love when an adult acts so crazy! I dug fabric out of the scrap bag and made a patchwork doll quilt and pillow, and I have a piece of fabric big enough to make a doll outfit for Katrina's doll.
For Shawn, we made a pop bottle movie night! After washing out a 2-liter plastic pop bottle we cut a slit in the back, stuffed in shredded paper, one can of pop, some microwave popcorn, a bag of regular popcorn (because it is inexpensive and took up a lot of space in the pop bottle!) one candy bar, and a free pass that Sam made up on my computer to get a movie on dollar day from the local rental place. We tied some curling ribbon in a bow at the top. It came out so cute we may just have to make some more to give as gifts!
Sam also likes the "Santa Soap" idea that was shared by Cindy Bailey and she wants to make a few of those from dollar store items, we think the kids will love those!
Christmas dinner for her family will be here with me and my husband so she won't have to worry about that, and there is always too much food so there will be leftovers to take home. My husband and I have no children of our own and look forward to a big family meal! I have to admit that it won't be a very fancy Christmas, but so far, it has been a lot of fun.
I look forward to all the other posts that people share so I can continue to get ideas. Thank you to everyone for so generously sharing your ideas, tips, stories, and recipes!
By Persnickety Paula
December 18, 2006
0

found this helpful
Top Comment
Debbie, Since I am not very good at downloading patterns it didn't come out the correct size and will need to be enlarged. If you would like to email me with your address I will mail the full-size pattern to you.
The instructions are:
Materials:
Antique white plush felt
black felt for hat
orange felt for nose
fiberfill
red floss
2 small black buttons for eyes (We used snaps)
3-5 small snaps for mouth
5 assorted buttons for trim on hat and scarf
Thin strip of fabric for scarf (or use ribbon)
Cut front and back of snowman head from Antique white felt. Stitch face and back of head together and stuff with fiberfill. Cut hat front and back from black felt and stitch together using a blanket stitch with red floss. Sew or glue on buttons for eyes, snaps for mouth. Pinch fabric in center for scarf and glue to snowman's neck. Glue buttons at neck and on hat brim. Attach a pin back to snoman if making a pin, or make an ornament hanger from floss and stitch to hat.