Halloween Costume Ideas for Adults
Solutions
Share on ThriftyFunThis guide contains the following solutions. Have something to add? Please share your solution!
October 13, 2009
12

found this helpful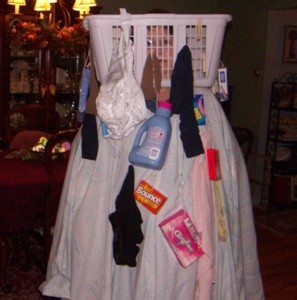 You will need a large white bedsheet. Cut out a hole in sheet to fit over your head. Try to center the hole in the middle of length of sheet. You will need a round plastic clothes basket with most of bottom cut out to fit over your head and rest on your shoulders.
You will need assorted empty laundry containers such as detergent and fabric softener both liquid and powder and sheet boxes. Use yarn or string to attach items to sheet. I used safety pins to pin the string onto the sheet in random pattern. Use assorted clothing items such as socks, bras, undies, PJ's etc to drape over top of basket and hang onto sheet. The funnier the better.
Everyone loved my costume at the costume party we attended!
By Annette
December 10, 2009
3

found this helpful
Making costumes can be a lot easier if you use duct tape. There are two ways I like: 1) Make fabric out of duct tape and then make a costume like you normally would and 2) Make a costume out of other stuff, like bristol board and ski boots, then use duct tape to bring the whole look together.
Here is one using just duct tape as fabric. Duct tape fabric was made by overlapping strips of duct tape front to back with a 1/2 strip overlap. This was continued until the sheets of two layer duct tape were big enough to cut patterns out of. Then the patterns were duct taped back together into the costume. This wolverine outfit uses silver duct tape inside (cheaper) but black duct tape outside (stronger and right colour for the look). Claws and a buckle then complete the look.
I also made one with method 2 - it's Iron Man. Check it out here:
and another (Batman) using duct tape for the mask, gauntlets and armor over regular clothes:
Source:
Design: X-Men movies
Construction: Rob Emery
By Rob Emery from Toronto, Canada
One half of my body looked like a man, and the other looked like a women. Very inexpensive. Go to a used clothing store to get the clothes.
Approximate Time: Maybe a half hour, with a sewing machine
Supplies:
Man's dress shirt
Women's top
Women's skirt
Pair of jeans
Tie
Necklace, rings, earring, bracelets,
One high heeled shoe, one man's boot
Instructions:
I made this years ago and won a costume contest with it! I cut a man's shirt down the middle and a woman's shirt down the middle, and sewed one side of the woman's shirt to the other side of the man's dress shirt. I did the same thing with a woman's skirt and a pair of jeans (making sure they match the male/female sides to to bottom).
On the man side, I slicked back my hair, wore no make up, made stubble and a mustache (if you want), and darkened my eyebrow. The other side of my face, I put make up on, and did my hair and wore an earring, lipstick on half my lips. Then I put jewelry on the female side.
I took a necklace and a tie and put it around my neck so the tie was on the man half. I wore a high heel on the female side, boot on the other. Was fun! Best costume I ever wore!
By T-scriber from Washington
I called several places about renting a Halloween costume and was dumbfounded at the amount of money you can spend to rent a costume. And you don't even get to keep it! So, I put my thinking cap on and did some research. I thought I would pass along a few ideas, that won't cost you a arm and a leg.
Static Cling: Wear anything in a solid color, all white or even all black. With safety pins, attach stuff to yourself such as socks , underwear and dryer sheets. Spray your hair straight up into the air, and you're good to go...
Miss America: Use an old bridesmaid dress or prom formal (and you thought you'd never wear it again); add a pair of gloves, a tiara, some oversized jewelry and heels. For the banner, write your title of choice in glitter on a wide white ribbon.
1960s Hippie: Tie-dyed clothing, long wig, sandals, headband, anything with fringe on it (vests, purse, etc.), pale-colored sunglasses.
The All-American Tourist: Guys wear loud Hawaiian shirt, shorts , large straw hat. Girls, brightly colored loud dress, flats, big sun hat, straw bag. Don't forget to have a camera and maps hanging out.
Real nerd: Slick back the hair, grab some pants that are too short, white shirt, white socks, penny loafers or lace-up oxfords, pocket protector with lots of pens, dark rim glasses and a briefcase.
This year, use what you've got to make a costume. And if all else fails, there's always a ghost. Among all of those authentic, high-priced getups that are from a rental place, you'll definitely be unique.
These are from Cheapskate Monthly
By Bobbie G from Rockwall, TX
October 6, 2004
0

found this helpful
Here are a couple of grown up costume ideas that are fairly cheap. "Devil with a blue dress" (for you rock and rollers.) Last year I wore a blue dress I'd already had with devil horns and tail I picked up on sale for 1.99 and everyone loved it!
Read More...
April 22, 2014
0

found this helpful
This is a guide about making a bowling ball costume. Homemade Halloween costumes are not only fun to make but even more fun to wear.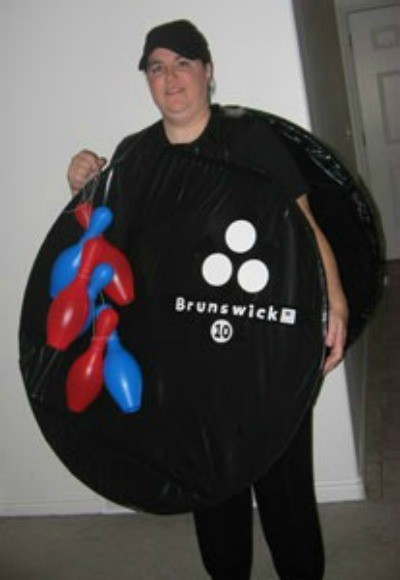 Questions
Ask a QuestionHere are the questions asked by community members. Read on to see the answers provided by the ThriftyFun community or ask a new question.
My photographer husband is going to a Halloween costume party and wants to dress up in some way to include his camera, so he can take pictures there. Does anyone have any ideas?
By Jess from Hillsboro, OR
Answers
October 26, 2013
0

found this helpful
Go as an old fashioned camera! (Like those used during the Civil War era) Make a replica camera from cardboard with space for the regular camera to shoot through. A cloth over his head and he's good to go.
October 26, 2013
1

found this helpful
How about an old time news reporter? Straw hat with press pass, striped shirt with sleeve holders, suspenders and neutral pants.
October 26, 2013
0

found this helpful
He could wear khaki clothing with one of those safari hats to be a "wildlife" photographer. He could also wear dress clothes, make himself a "press pass" to pin on his shirt and go as a photojournalist.
October 30, 2013
0

found this helpful
Thanks for the ideas! We wound up going as an old fashioned journalist and his secretary to the party. He had most of the pieces in his closet so it was pretty inexpensive.
We also thought of Peter Parker (Spiderman) as he is a photographer, or a secret agent or spy costume. I'm sure we will try to do something different for next Halloween. :)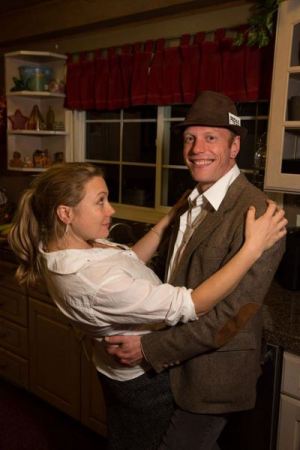 Answer

this Question

...
I am looking for Halloween costume idea for a guy in his early 30s?
By Sean
Answers
October 13, 2010
0

found this helpful
Go to site www.instructables.com they have all sorts of costumes and how to make them.
October 13, 2010
0

found this helpful
A pirate is good, biker, state worker, baseball player, football player, a flasher, a cook; the main thing is does he want to make a suit or buy a suit?
November 1, 2010
0

found this helpful
Thanks for the feedback you guys! I ended up being a stripper pole! It was the hit costume of the party! How did your Halloweens turn out?
Answer

this Question

...
Photos
Share on ThriftyFunCheck out these photos. Click at right to share your own photo in this guide.
October 31, 2005
0

found this helpful
Won 1st prize. This is definitely an inside costume.
I sewed two large bath towels together, made a knot over one shoulder and secured with rubber band (wore a strapless top under it), used quilt batting to make soap bubbles attached to double faced tape & pasted on arms & face, and shower cap with soap bubbles also and carried a bath brush and soap on rope and wore flip flops.
Syd - Dunkirk, MD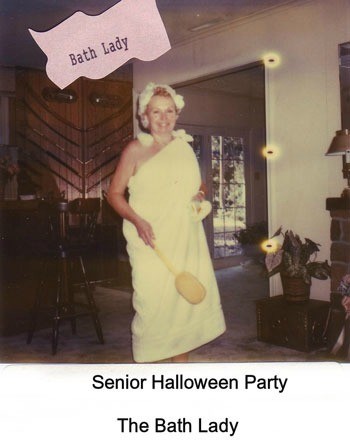 Archives
ThriftyFun is one of the longest running frugal living communities on the Internet. These are archives of older discussions.
October 16, 2006
0

found this helpful
I need to find costume ideas for 3 kids. There ages are 5, 7 and 9. We don't have a lot of money right now. Any ideas would be great.

Thanks!
Cathy
Answers:
Halloween Costume Ideas
My 5 year old son is going as a mummy. I went to a Goodwill store and bought 2 sheet's shredded them long way's then took my hot glue gun and glued them together. You wouldn't have to glue together but it makes it roll easier. I went to Kmart this week (halloween stuffis 50% off) and got some black face paint for around his eyes. For the sheet's and the paint I spent a total of 3.67. You might have a old white sheet laying around and some black eye liner to use around the eyes. To make the sheet look old soak lightly in brewed tea. I tried this on my son and he looked terrfic in it and I can wrap it around his coat so his costume won't be hidden. hope this helps for one of the kids. Or maybe one of them might want to be a ghost? My son was last year and once again the main peice was a white sheet. (10/24/2005)

By chas
Halloween Costume Ideas
Martha Stewart had some good tips online... cheap too, one had you mix glue/water and paint kid's hair blue and add a plastic surfer on it and add cotton balls ripped shredded slightly for waves it looked cute.

Or green paint on childs hair and then spike it up with glue and paint hair Green and add plastic little bugs, snakes or flowers and butterfly s too make it look like a garden or lawn. (10/25/2005)

By meoowmom
Halloween Costume Ideas
My 7 year old daughter is going as an artist. I used her sisters outgrown white shirt (or purchase from consignment), black leggings. We painted a few well placed paint marks on the shirt, added a black felt beret and used eye liner for a moustache. A piece of cardboard for the pallet and an old paintbrush! VIOLA an artist! WE even decided to use an old paint can as the trrick or treat "bag". (10/25/2005)

By Diana
Related Content