Making Christmas Memories
Solutions
Share on ThriftyFunThis guide contains the following solutions. Have something to add? Please share your solution!
For 10 years, we owned a small successful hotel in Ireland. Money wasn't scarce and so, each Christmas, we took a lot of time picking gifts for our only son. He wasn't spoiled! He didn't receive stuff willy nilly all year. But at Christmas, we always bought him something pretty spectacular.
A couple of years ago, when the latest recession hit, I asked my then 21 year old son, who was home for Christmas, what his favourite Christmas gifts were when he was a child. He thought for just a moment and said" I don't really remember individual presents. But I'll always remember Uncle Conor and family coming to stay (my son's cousins were more like brothers to him). And especially the Christmas when I was about 6 or 7 and Dad kept warning that Santa better not land the reindeer on the new hotel roof and damage it! Dad "grumbled" that the reindeer were more trouble than they were worth, that they better not poop on the hotel driveway either."
I suddenly recalled that holiday! My goofy husband waited until the boys were in bed on a snowy Christmas Eve, went out to a friend's rural farm with horses. He picked up a large bucket of frozen horse droppings and scattered them on the driveway where they could be clearly seen on the snow. The next morning when the boys got up and raced to the tree, they saw that the cookies and milk and carrots left out for Santa were duly "nibbled". Instead of looking for gifts, they raced to the window to check the driveway! They rolled about the floor laughing as they told Uncle Tommy that Santa's reindeer had pooped on the drive. My husband did a great job of grumbling and going out to "clean up the mess!" with 3 excited wee faces pressed to window, watching him in gales of laughter.
When my grown up son recounted that as one of his favourite memories, it was a very key moment for me and parents should take note. It's not how much children get at Christmas, it's the magic you create!
By Siobhan from Fermanagh, Ireland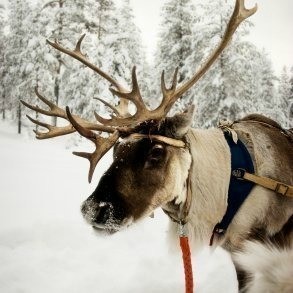 It's the night before Christmas and my thoughts run back through the years to Christmas past, when I was small and Grandma was still around. It was always Christmas at her house, a ramshackle farmhouse with mice in the walls that she used to tell me were fairies working for Santa. I would nip into Grandma's big feather bed to get warm against her and the luxury that was the smallest coal fire in the bedroom fireplace on Christmas Eve.
Christmas wasn't the same once she had passed. My mother, raised during the War, seemed to spend all her time ironing wrapping paper, at least it seemed that way to me as a small child.
I asked my kids what they remembered best. It was the year their crazy Dad decided to drive up to Scotland to make snowballs, the only place in the country with snow, 10 hours driving each way!
Now I look at my 3 year old grandson. The hard times are here again and I wonder which of his memories will stay with him through life. I've already got him convinced that a dragon lives in the boiler room and it runs the heating. So always remember it's not the biggest present, or the grandest tree or even how good a cook you are that matters, it's the silly things that stick forever in a child's mind.
By kayerunrig from Lincoln, Lincolnshire
Do you have a frugal story to share with the ThriftyFun community? Submit your essay here: http://www.thriftyfun.com/post_myfrugallife.ldml
How to bring holiday magic into your house without breaking the bank:
My children are 10 and 17 ad they would never forgive us if we left out any of these holiday traditions!
Christmas Music: A local radio station plays ONLY Christmas music beginning on the Friday after Thanksgiving. We are always tuned into that in the car (I have one daughter who would listen to Christmas music year round if we could stand it!)
Christmas Tree: Create a holiday tradition around selecting or decorating your Christmas tree: We always try and go the weekend of Thanksgiving to pick out our tree. We play Christmas carols as we decorate and drink hot chocolate and eat Christmas cookies while we wait for the Christmas Elf to visit and leave a surprise under the tree (usually a new holiday movie, gingerbread house making kit or similar). We turn off all the lights save those on the Christmas tree, join hands and say the magic words (stolen from Barney) Shimbaree-Shimbarah (3x) and the elf has snuck in and left a present under the tree!

Cookie Baking Weekend: I schedule this now so no other events take up our free time. We select the recipes we'll bake, shop for special items a little at a time to lessen the financial burden of candied fruits, nuts or spices. On the designated weekend, we bake, bake, bake. This limits the mess in the kitchen to one weekend too! As an added benefit: by the time I am done baking I don't want to even eat a single Christmas cookie!

Holiday Lights: Drive around and look at holiday lights in some neighborhoods that go all out. One subdivision in our community even has live reindeer! We may splurge and stop for hot chocolate afterwards.

The 12 Days of Christmas: At our house, the "Christmas Elf" visits our children (ages 17 and 10) beginning on December 13th and leaves them a small gift under the Christmas tree in their room each night. You would not believe how excited the kids are and how they anticipate the arrival of the elf. They speculate how he could access the house and leave just the perfect trinket. It extends the magic for these older kids and is fun for the the elf to find just the right inexpensive treat! She shops all year to make sure she has 12 exciting presents. The morning of Christmas Eve, she always leaves a pair of holiday PJ's for the children to wear while they are nestled all snug in their beds, awaiting arrival of Santa Claus (yes, my children have NEVER said they don't believe. Because when you stop believing, all you get is underwear! Santa told us this himself!) This year, the elf is leaving ornaments (one child collects frogs and the other elephants), slipper socks, hand warmers, a book to read during Christmas break, a craft to do during Christmas break (mini scrapbooks this year), Christmas underwear, earrings or a bangle bracelet, etc.) The dollar store is great for this. My sister and I use to do this for each other when we were kids (we gave packs of gum, Hershey Kisses, pencils, erasers, and hand made ornaments). It just made the excitement last a little longer!

I have an older couple and a college student that I also do the 12 days of Christmas for: I send 12 individual wrapped trinkets plus a very small artificial tree (purchased at dollar store), dollar store stockings and things like kitchen towels, santa hats or aprons, place mats, playing cards, soap, jewelry, candy, and always include the book "Twas the Night Before Christmas"

Angel Tree: Our church supports 25 families with gifts and food baskets. Each child is allowed to select a gift from the tree and then we shop together for our angel. Our children love delivering these to the needy families. It really makes us appreciate what we have; warm house, plenty of food and clothing. It really fills us with the spirit of Christmas to do for someone else.
Caroling: We sing Christmas carols at our local nursing home. In the doing, we are richly blessed!

Christmas Movies: We always take time out as a family to watch Miracle on 34th Street and It's a Wonderful Life or some of the more recent "classics". We often do this while wrapping gifts.

Worship: We worship together to remember the real reason for the season. We attend services at our church: musicals, children's plays, Christmas Eve services, etc. It really gets us in the mood!

Christmas Eve: We always have the same dinner on Christmas eve--we splurge and cook a prime rib roast! YUM! Not frugal but delicious. We include one of our single friends, who attends church with us. Then we sip champagne and talk. Mom and Dad open their gifts to each other after the children are in bed.

Christmas Morning: Christmas stockings can be opened as long as you don't wake Mom and Dad before 6:30am. Once the hands on the clock reach the magic hour, the kids pour into our room with our Christmas stockings and we open them up while all crowded on our bed (even the dog!). Then Dad goes down to make sure the tree lights are on and we head down to open gifts. Santa has tracked in snow! We always make Santa's foot prints using boots and baking powder. It took years before they realized this snow was not melting! We do it to this day, and my husband always pretends to be mad that Santa has tracked up the carpeting

Holiday Magic: Since my children are older we have gotten very creative about creating some magic. One year, we wrapped all their presents and placed them in very large boxes that were also wrapped. Each child only got one gift. Another year, we covered the entryways to the living room with wrapping paper and the kids had to tear it off before they could enter. One year when it snowed, you could see hoof prints, sleigh runner tracks and boot tracks in the snow in front of the house.

Make It Special: Spend time with family on Christmas Day, volunteer at a homeless shelter or invite your single friends over for a potluck meal. Drink egg nog, and at the end of the day, go to bed early!
Turn the things you are already doing into a family tradition. Anything that you do year after year has possibilities of creating lasting memories! My husband and I have as much fun planning and doing these things as the kids do. I hope they will create lasting memories and traditions for them. It is in the doing NOT the buying that memories are made!
Take lots of pictures and enjoy this special season!
Source: Our family traditions!
By Diana from Prospect, KY
Do you have a frugal story to share with the ThriftyFun community? Submit your essay here: http://www.thriftyfun.com/post_myfrugallife.ldml
Related Content