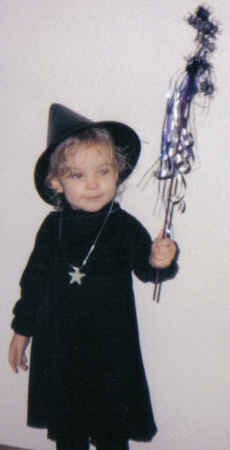 This is a picture of my niece, Tehra (a few years back), in her homemade witch's costume. That particular year, she needed a Halloween costume, but money was tight, so my mom and I made her this costume at a cost of probably $2 or so!
Her witch's dress was two leftover pieces of black material that I sewed together into a very simple a-line dress (and trust me, I'm not a good seamstress)!
Her necklace was a piece of curling ribbon with a glow-in-the-dark plastic star hot glued onto it. Her wand was a stick, painted purple, with sparkly curling ribbon and decorative Halloween wire with spiders on it.
The only thing that probably cost anything was her plastic witch's hat! I think she just wore black shoes to complete the costume. It was very easy to make, but as you can see, she looked REALLY cute! We were glad the costume turned out so well, and cost so little to make.
By Lisa from WI