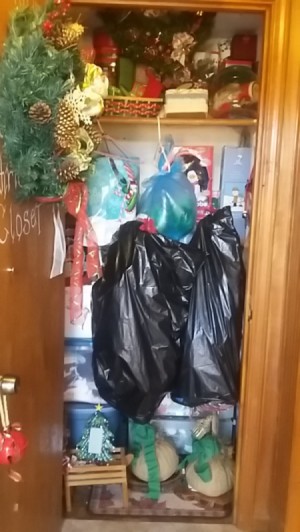 If you have an empty closet that you can use to store your Christmas decorations, use the walls and the rod to hold items and stack boxes on the floor in a very organized fashion in order to accommodate all the Christmas decorations. Put them away very carefully and organized with electrical cords and other items. Use Ziploc bags to store Christmas ornaments which are sorted by category, whether it is angels, bells, etc and store them in a plastic three-tiered storage unit. Store Christmas trees and other hanging items on the inside walls of the closet and even on the inside of closet door.
This year, I used pencil Christmas trees and they were able to fit inside my holiday closet. All other items, which include Christmas dishes and linens, are stored in Rubbermaid bins which is stored in another closet or in the pantry area of your kitchen.
Organization is the key at the end of the Christmas season for storing Christmas decorations. If they are put away organized and clean, there will not be any problems. Also, make a list of items that you need to purchase at the beginning of the new Christmas season and type it on the inside of the closet door where the holiday items are stored. You can list additional needs for the Christmas season as the year goes along.
I have used this method of storing Christmas items for many years and it is very successful in my home