Storing Holiday Decorations
Solutions
Share on ThriftyFunThis guide contains the following solutions. Have something to add? Please share your solution!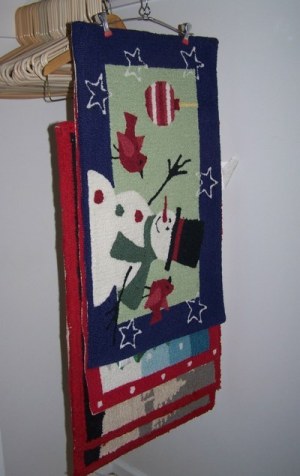 I am starting the new year cleaning out closets and looking for new ways to store things. I have always wanted a better way of storing my Christmas decorative rugs instead of rolling them up.
Since I freed up several skirt hangers, it dawned on me to use them to hang the rugs. Each hanger holds 4 rugs and they are stored neatly in a spare closet with no excessive bulkiness. I am so happy I will have flat rugs to use during the holidays
By Lee
Large swags or garlands can be stored in the zippered garment bags you can get in the dollar store. You can tie them to a hanger for storage in a closet or lay on a shelf. Easier than trying to put in a box or wrapping in paper to store.
By monica michalczyk from Scranton, PA
If you have purchased a comforter or large blanket that comes in a plastic bag with a zipper, reuse the bag to store your artificial wreaths and garlands. I have a large clear one with a handle that holds my silk Christmas wreath and garland that I use on my mantel every year. The clear bag makes it easy to recognize and it doesn't get dusty.
By Melanie F.
I found that using different colored totes for different holidays. I use colors resembling the holiday, such as orange or black for Halloween, or red and green for Christmas. It makes looking for them in storage a lot easier. I can find them in just a glance.
By Mary Warren from Frisco, TX
January 8, 2008
1

found this helpful
I converted a closet into a Holiday Pantry area. I have a large 3 drawer plastic bin unit to hold Christmas ornaments.
Read More...
Years ago I bought two of those Christmas Rubbermaid type boxes. You know the kind, red with a green lid. I then went to the package store and asked for a couple of empty boxes with dividers.
Read More...
Each year I store away all my decorations in Santa sacks that have a drawstring top. When Christmas rolls around again I get the bags down from the storage rack in garage.
There is no dust and everything is just where I left it.
Read More...
I decorate for so many things, that I've found using the clear totes to be very useful. I store them in different areas of the attic.
Read More...
Now that we are all packing away our Christmas decorations, there is a way to help with packing it away more neatly. I use zip lock baggies (gallon size) to store most of the items.
Read More...
January 12, 2005
0

found this helpful
I don't know about any of you but for me the holidays are so busy it is almost impossible to get everything done. Well, the holidays are now over. Through the course of the season, we may experience a broken but fixable ornament (or two) or you get a brainstorm of a gift you might want to make for next year.
Read More...
If you have an empty closet that you can use to store your Christmas decorations, use the walls and the rod to hold items and stack boxes on the floor in a very organized fashion in order to accommodate all the Christmas decorations. Put them away very carefully and organized with electrical cords and other items.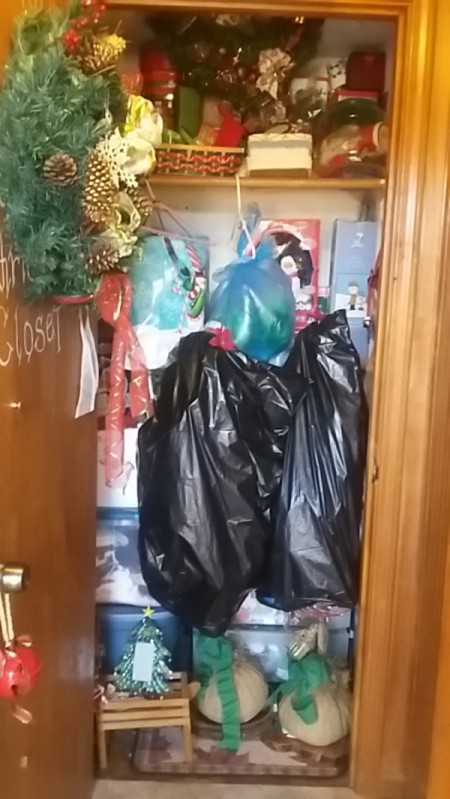 Related Content