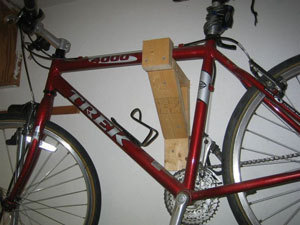 I made two simple but useful bike racks out of a 2x4 and some screws (it helps to have a miter saw). I made an L bracket out of the 2x4 and secured it to a stud in the garage. I made the horizontal piece on the bracket 9 inches. It only took about 20 minutes to make both brackets and mount them on the wall.
By Roger from Hampton, VA
Read More Comments
Finding a place in our small home to store 4 bikes was a problem. They were constantly in the way in the garage, and made it difficult to get them in and out as well.
When I dropped off my bike to be serviced at the local bike shop, I asked about storage racks that they might have for sale. He told me not to bother and took me in their back service room. He showed me how they hang the bikes on large J-hooks and alternate the height of the hooks so they can hang them closer together. This is not a huge bike shop and they could store 100 bicycles in there easily.
I knew right away this was the right solution for us. So I bought some simple J-hooks at the Home Depot. You can get J-hooks in the bike section of your local shopping center, but they are more expensive and appear to be the same product.
First, measure the length of your longest bike. Add about 6 inches for lifting and maneuvering. That is the height you will need to hang that bike. Since I was hanging 2 adult bikes and 2 children's bikes, I set the two heights according to the two largest bikes.
Next, you will need to give yourself a sturdy spot to attach your J-hook. If your wall is unfinished, you can just put it straight into the stud. In my case, I needed to attach a scrap piece of 2x4 wood on to the drywall so the hook could go deep enough. You could just as easily do two boards straight across, but I had these small pieces ready to use.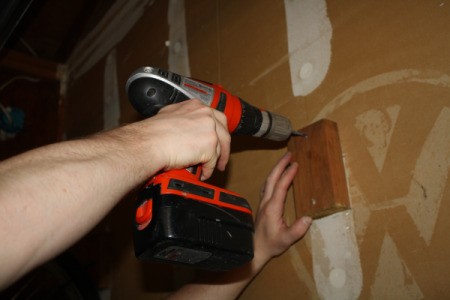 I got some long sturdy socket-head screws to attach the wood to the wall. The wall I was attaching these to is unpainted so it was easy to see where the studs are. Use a stud finder to locate the studs if your wall is painted. I pre-drilled through the wood in place so I could mark its location and make it easier to drive in the screws. I used a socket wrench to tighten them down.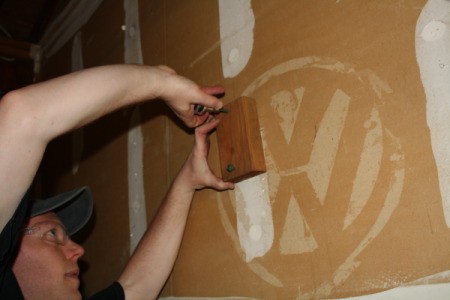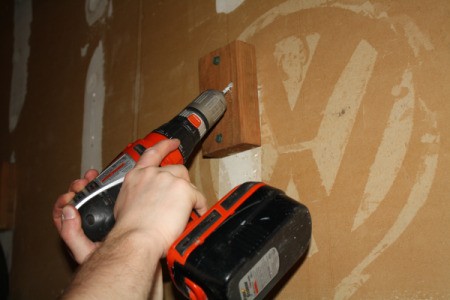 Next I used a smaller bit to pre-drill the J-hook holes at a 45 degree angle. I set the hole off to one side of the 2x4 piece so it would give more space to lift the wheel into. Screw the J-hook in until it is at the right depth for your rim and tire.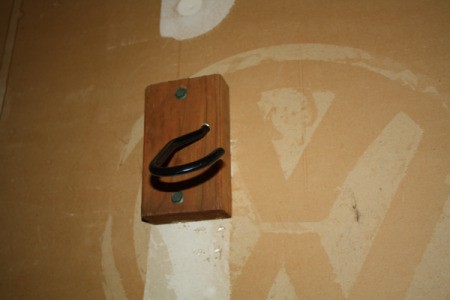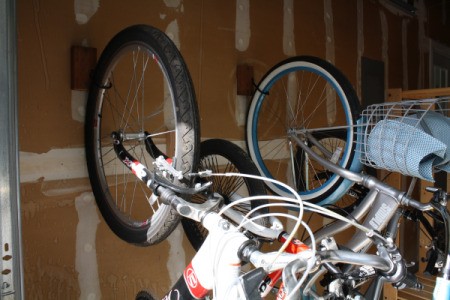 As you can see I was able to fit 4 bikes in a relatively small space. It has certainly been a big help in keeping the garage organized since I got the bikes up off the floor and out of the way.
Source: Bike N'Hike, Hillsboro, OR
By Jess from Hillsboro, OR