My fiance and I are planning a wedding for April 2009. My favorite color is pink, and his is blue. We were wanting to incorporate that into our wedding. Pink and blue with white and silver accents. Any ideas for colors for dresses? He of course wants the guys to have blue, and I want pink for the girls. How can I mix the two without looking tacky? Flowers for the girls will be a single blue tulip or lily, a single pink rose, and 4-5 white daisies-going small bouquets for them. All helpful ideas would be much appreciated. Thank you.
tjlulu143 from Arizona

Answers:
Pink And Blue Wedding Decorations
I went to a wedding where the men wore navy blue suits, pale pink shirts, burgundy ties, and pink carnations. The maid of honor wore navy, the bridesmaids wore the same shade of pink as the men's shirts. All of the women wore pink pearls, pale pink (almost white) gloves, and carried bouquets that were pink and white. It looked fabulous! Pink and blue is hard to coordinate without looking "baby". Stick to dark and very pale shades for a more sophisticated look. Hope this helps and hope you have a lovely wedding! (09/28/2007)

By joan pecsek
Pink And Blue Wedding Decorations
Hi there, here is a nice idea and really cheap. From Walmart you can buy votive candle holders (clear glass). Purchase your colored candles for them and mix them up on tables, alternating colors for tables. Print off you and your hubby's name, wedding date, etc. on clear labels. Apply to the holders. So basically, you can do each one for about 75 cents each. (09/28/2007)
By TiaM25
Pink And Blue Wedding Decorations
I'm helping a friend plan a wedding for August 2008. She wants to use the colors cobalt blue and pink. I'm just starting to brainstorm ideas, but here's what I have so far:
Blue bridesmaid dresses/they can have a pink bouquet. (I'm thinking tulips or roses, but pink has so many options).

The bride will have a larger bouquet and will also have a blue ribbon tying everything together.

For centerpieces we will have pink flowers in blue vases. I have not been too impressed with the blue flowers unless we go with pastel and my friend really wants a bolder blue.

Blue invitations.
That's just a start, but keep me informed how your ideas are going. Good luck (03/10/2008)

By Sue
Pink And Blue Wedding Decorations
I am also using royal blue and baby pink. I am having blue bridesmaid dresses and all of the flowers will be these beautiful roses that are mostly white with pink edges. They are gorgeous! Guys will wear black tuxes and since my fiance wants to stick out, he will be the only boy in a blue tie and the rest will wear white ties. I've been really worried about these colors since I haven't really seen any ideas with this color blue. I think I'm going to do the majority of the decorations in white and pink with lots of "bling" since the royal blue can get really tacky looking. (06/16/2008)
By Soon2BeMrs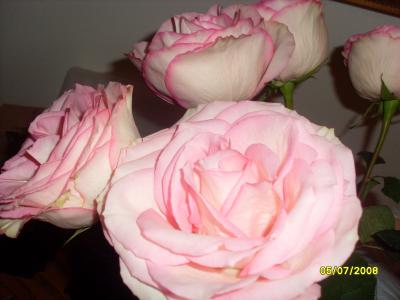 Pink And Blue Wedding Decorations
To everyone out there that has picked colors like blue or pink, don't just use one hue of each. It will be less stressful for you to find the right color. It Is fun to go to a wedding and see different colors and ideas. It is also very hard to find a dark blue flower. Hydrangea is your best bet, but it is light blue. Also peonies are a great pink flower. Roses are over used! (01/25/2009)

By AFR
Pink And Blue Wedding Decorations
I am planning my wedding for March 2009. My colors are candy pink, pool, and champagne. The guys are wearing black tux with pool tie and vest. Check out David's Bridal and sign up. Once you have signed up, you can go to "Dress your wedding" and see how you like the colors together. There are bridesmaids, bride, groom, junior bridesmaid, flowergirl, and ringbearer you can dress. To me the colors are beautiful. Pool is similar to blue. (02/25/2009)
By de