I'm planning my own Halloween wedding. I need some good ideas.

Erika Z.

Answers:
Planning a Halloween Wedding
Would you want to do the spook and goblin look or just the Halloween fall colors? (06/19/2009)
By Meemaw
Planning a Halloween Wedding
Go with the normal outfit + Zombie Makeup. Corpse Bride! Ta-daa! :P

The decorations could be normal but with lots of fake spiderwebs and spiders. That's one wedding nobody will ever forget. Congratulations. (06/19/2009)

By Daniela
Planning a Halloween Wedding
I don't think you should turn your wedding into a joke? There are a lot of things that could be done for a Halloween wedding that would not turn it into nightmare! Some thrifty ideas: Have your wedding in the afternoon. White shirt with black pants for guys, choose colors for bridesmaids such as oranges or give them the color tone you want and let them pick out their own dresses. Afternoon wedding don't require formal. Use mums and pumpkins as your centerpieces/flowers. Might could advertise on craigslist and ask for free pumpkins that farmers don't need. Mums come in all colors now.
At Halloween time they even have cheap pumpkins that are carved out of some kind of styrofoam material. Trick or Treat buckets are cheap that could be used to hold the mums. The dollar Tree and Oriental Trading company has some really cheap stuff for decorating. Also, don't forget you can borrow some ferns from a local greenhouse, chairs and tables from the church just make sure you assign the job to someone to get them back by the next day if you will not be able to.

Also, in my day we only served cake and punch and maybe a few nuts. It is absurd the amount of money people put out to feed the clan for their wedding. Choose a beautiful wedding cake, get one of your parents to gift the cake knife (they get to choose) and the other parents gift the wine goblets for your punch. I watched a cake show lately and the new trend is to have a small wedding cake (like a topper) to cut and save and to have decorated cupcakes on the table for each person to have one.
You might could do this idea and elevate your topper on something and have the cupcakes on the table around. If you want alcohol then have a cash bar, let the drinkers pay for their own. Also, the mementos for the wedding. Why do this when they have your invitation to keep as a memento and they probably brought their digital camera. You will still be just as married but in a lot less debt by weeding out the crazy stuff people think they just have to have now. Best wishes to you and much happiness! (06/19/2009)

By Meemaw
Planning a Halloween Wedding
An excellent web site if you want to make your own decorations is http://www.garageofevilnetwork.com/ they show you how to make a creepy skeleton with pantyhose and blue and ways to make papier-mache decorations and everything in between. (06/20/2009)

By Babette
Planning a Halloween Wedding
I found the most amazing Halloween invitations for my Halloween 09 wedding. I had almost given up, as everything I had seen on the market was either really childlike or too creepy. HandyKane has a TIM BURTON like invitation scroll, it so perfect! Totally gives you the look and feel of Nightmare Before Christmas or Corpse Bride. We were spellbound to find them.
When I got the invitations in the mail, they took my breath away! The scrolls are aged, and look like something from centuries ago. The invitations are also timeless, so it could almost be like my fiance` and I are vampires that live forever, haha! You have to check these out, just check out HandyKane's site at
http://www.handykaneweddings.com/
.
I also found this awesome dress that's frayed at the bottom, it's going to be the coolest wedding ever! I have already gotten a million compliments on the invitations and accessories I got from HandyKane.com, people have told me they are single handedly the most awesome invitations they've ever seen! (06/26/2009)

By Stella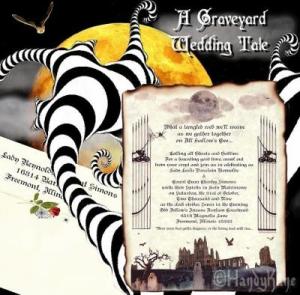 Planning a Halloween Wedding
I am also getting married on Halloween. It's our fave holiday and it just "fit" us. The problem I'm having is the wedding is at noon (kids are coming and a lot of the guests have to work that night). I'd like to mix wedding and Halloween but without a Halloween party feel. I'm also on about a 3000 dollar budget. Any ideas? (07/09/2009)

By bobbie
Planning a Halloween Wedding
Make it truly fun, have everyone come in costume! (09/12/2009)

By Beau