This heavenly kitchen angel makes a nice little gift for family and friends. I have made several of these and they were a big hit. You could also make several to adorn your tree at Christmas or use to adorn packages.
Approximate Time: About 1 hour (not including drying time)
Supplies:
scrap piece of muslin fabric
scrap piece of flesh colored felt and white felt
1 inch diameter wooden bead
flesh colored acrylic paint
paintbrush
fine tip permanent black marker
doll hair
craft glue
white thread and needle
fiberfill stuffing
gold paint pen
gold star or heart buttons or charms
ribbon rosettes
18 inch length of 1 1/2 inch wide ribbon
gold star garland or gold hoop earring, for halo
gold metallic thread, for hanger
Instructions:
Draw two rounded triangle shapes (about 3 inches tall by 2.5 inches wide) onto muslin fabric, adding 1/4 inch seam allowance.
Cut rounded feet and hands from felt (as shown in photo).
Cut two arms from white felt (see photo).
For head, paint wooden bead with flesh colored paint. Allow to dry.
Using black marker and referring to photo, draw facial features. (I used a little blush on a cotton swab to make her some rosy cheeks.)
Glue doll hair to top of head. Let glue dry.
With right sides facing and raw edges aligned, stitch the two muslin body pieces together, leaving the top edge open for stuffing.
Turn inside out and stuff with fiberfill.
Wrap double length of thread around top, about 1/4 inch from cut edge. Tighten thread to gather top edge. Tie off.
Using gold paint pen, write message on front of body piece.
Glue head to top of body piece and allow to dry.
Glue hands in place at bottom of each arm.
Glue arms in place and glue feet at bottom of body piece.
Glue heart or star button (or gold charm) between hands. Allow to dry.
Glue ribbon rosette to front of body at neckline. Let dry.
For wings, tie ribbon length in a bow. Glue bow to back of body close to the top.
For halo, glue a ring of star garland or a gold earring hoop to top of head.
For a hanger, cut gold thread into 7-inch length and knot ends. Glue knotted ends of thread to back of angel head. Allow to dry.
By Rachel's Mom from Wilkesboro, NC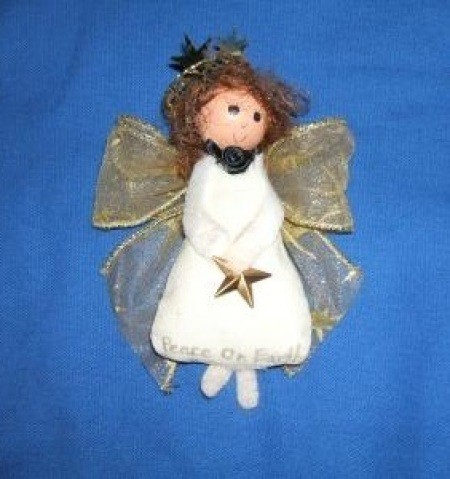 Add your voice! Click below to comment. ThriftyFun is powered by your wisdom!
July 25, 2009
0

found this helpful
Kitchen Angel
Mom will make a point of glancing at the fridge to remember that her child/children aren't always angels, but sometimes they come pretty close.
Approximate Time: Less than 30 minutes
Supplies:
5 inch paper doily
spring action clothespin
hot glue gun and glue sticks
photo
magnetic tape, 1 1/2 inches long
silver chenille stem
5x12 inch piece of aluminum foil
Instructions:
Fold the doily in half and then in half again to form a cone shape. Cut a head out of a photo and glue it onto the point of the doily. Fold the foil in half and cut a 3 inch circle using pinking shears or decorative scissors. Fold the circle in half and glue onto the back of the clothespin's top to form the wings. Twist one end of the chenille stem into a loop to form a halo. Trim the chenille stem leaving about a half inch stem to glue to the back of the photo.

Point the clothespin closed-side down. Glue the angel onto the top prong. Glue magnetic tape onto the back of the clothespin. Clip bland paper to the clothespin mouth beneath the skirt for holding messages.
By Mom of 1 from Wilkesboro, NC
Answers:
Craft Project: Kitchen Angel
Hey, this is a nice craft. I'm going to try it when my mom gets home so she can help me. (04/29/2008)

By shelby_nov94