April 15, 2005
0

found this helpful
Use articial flowers. They are the best. We used them for allof our bouquets, boutoniers, and table pieces. I spent 86.00 for everything and we all got to keep them as mementos. People couldn't believe they were fake they looked so nice...especially in the pictures. You can't tell at all. Then also the guest got to take home a centerpiece they can have always too. Much cheaper. $500 and up is what it would've cost us for real flowers and they didn't look no wheres near as nice.
January 9, 2007
0

found this helpful
My wedding cost me less than 500.00. I printed out my own invitations. I got the card stock from an office supply store. I bought my dress about this time of year. All of the evening gowns are on sale after the holidays. I got mine for 50.00. We have four children and included them in the wedding. All of the boys clothes came either off the clearance rack or a thrift store. My cousin made the vests for me. We served cake and punch after the wedding in the church hall,(free). A friend of mine knew someone that made cakes. I told him thats what I would like for a gift. The flower girls dress came off of ebay for I believe 35.00. My flowers were the most expensive, but I wanted fresh flowers(150.00). My wedding favors were Christmas Ornaments that my friends and I made. My photos were taken by a friend as a gift. He put them on a disk and I printed them out at a later time. You might go to your local Community College and ask a student in photography if they would like the practice. I recieved many compliments on my wedding and I have encluded a picture. My husband and I also stayed one night in a local hotel. Borrow what ever you can and look on freecycle for things that you can use. Feel free to contact me. Good luck and congratulation!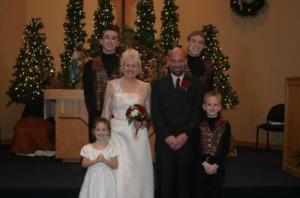 By guest (Guest Post)
January 9, 2007
0

found this helpful
We got married in a friend's backyard. We had a cake and champagne reception. We borrowed chairs from the local high school. It was really nice, simple and easy.
By guest (Guest Post)
January 11, 2007
0

found this helpful
Congratulations!
Instead of having a Unity Candle, you can have different colored sand/crystals, one for each member of the family. Each member would pour their color into a vase that you could display in your home for years to come showing your new "blended" family!
January 12, 2007
0

found this helpful
Congratulations on your upcoming wedding! My husband and I were married this past summer and were very frugal. Most of our decorations and favors came from the local dollar store. They have a craft section with some beautiful stuff that doesn't look cheap. Candles are a very cheap but elegant decoration. I printed our invitations myself. I bought an invitation kit at Walmart in the clearance section. My flowers were real roses, but I didn't go through a florist. I went to Sam's club and grocery stores and bought them and my mom arranged the bouquets. They turned out fabulous and looked professionally done. You don't really need wedding favors. We had them and most of them sat right on the tables after all the guests had left. For your dress and everyone's clothing I would shop thrift shops and consignment. I don't know how many people you plan to invite but your food is probably going to be the most expensive. Depending on the time of day maybe you could just do a cake and punch reception. Above all a wedding is a celebration and joining of familys. I would include all of your children in some way. Make your day personal. I hope this has helped somewhat.
By guest (Guest Post)
January 12, 2007
0

found this helpful
Easy cost cutters:
No favors (no one cares about them anymore or even remembers what you have given)
No wedding cake - we didn't have a wedding cake and to this day people keep telling us how good our cake was. We had cheese cake for desert.
Venue - most places will not charge you for the venue if you use their caters. I would check that to see if that applies to your venue.
DJ - For me entertainment is where you need to spend the most money. However, you can hire a new DJ and make a deal with them saying. You can use my wedding as advertising and getting refearals.
Flowers- COSTCO! They have beautiful flowers for way less than florists. Their roses are much prettier and for 2 dozen they are only $15!
Drinks- I have never been to a wedding that has had an open bar. Toonie bar is will save you money.
Dress - www.canadianbride.com there are lots of girls selling their gently worn dresses for way less than buying it from a bridal shop. Oh.. Sears also has some nice wedding dresses. I would check them out.
Pictures - Memories last forever.. This one is a stickler for me because pictures are close to my heart..
Thank is all I can think of off hand..
By guest (Guest Post)
January 12, 2007
0

found this helpful
Bless you both....a big family is wonderful.......When we were married blending together with 8 children we actually had our children as our bridal party.....we bought the flowers $25 and made simple bouquets and pinned single flowers to the guys shirts, the dress shirts we bought on sale at walmart $12 and made bowties out of left over material from my dress, which my sister made so my dress/shoes were inexpensive $100, but you can buy bridal or prom type dresses for cheap at resale, consignment shops and the sort...my daughters wore similiar dresses in different colors that we found on sale at TJ MAXX averaging $20-25 each for the three of them I believe...the guys(5 plus my husband) also wore pale blue new jeans which looked nice $15-20 (wal-mart) and they were practical as they would get more use of them later and since they are our children it wasn't any different than just getting a new outfit for school or such......we rented a local park for $25 that had a one room school house and a covered outdoor area so we we married outside but could have moved in doors if the weather were bad......we also could have had our reception there.....but we were given use of a hall from the owners, our friends as a gift plus they did a DJ/karaoke type entertainment so we were able to afford to provide a meal with wine/soda or beer (about $900), plus we got the leftovers which fed our family a few meals, it was good but you could have friends make simple food and it would be 1/2 the price..... decorations came from a discount party store $30 and had too much so we could have saved there, $50 more went for candles for the ceremony and votives for the tables...and I made chocolate angel shapes $15 for by guest place setting....but not needed so I could have saved there...our friend worked at a local grocery so we bought the cake $40 through her and she did an extra special job decorating it....but the local stores here do a nice job for pretty cheap for anyone....we stayed the night at a local motel.....no real honey moon but we did take a week end trip to a larger town and stayed at motels and did some fun shopping and site seeing together.......one of the biggest things I learned is make it special for you, your guest will have a great time even if the dress shirts come from walmart instead of everyone in a tux and such...we did buy my husband a nice nuetral colored vest which depicted him as the "groom" and he has since worn it to other special gatherings....
I guess if you keep it simple and think about the true importance of the day it makes it a lot easier and less expensive........
I hope you have a beautiful wedding and that you keep it special for the two of you.....it's ok to be a little selfish.......it's your day.......
my quote to you....
Absorb the moment, don't let it absorb you, it will only happen once, let you heart help you remember ~Barbie Irmischer~
October 31, 2007
0

found this helpful
All I can say is home wedding, because churches charge per person on off services days, and some churches don't have wedding ceremonies during services as the bride and groom may not want a certain person their in attendance that they extremely dislike. Churches can't discriminate for attendees and parishoners unless they worship the devil that the only exception, but anyhow off subject sorry, home weddings are good for you for two reasons one it's personal, and two the priest or minister only charges for the ceremony. Your children can also be themselves. Well I hope your wedding goes off without a hitch.