October 23, 2008
0

found this helpful
If you are up for an advent calender that doesn't hang on the wall, try this: Get 24 large matchboxes(the kind that have part that slides out of a sleeve) Cover each sleeve piece on three sides with felt, fabric or paper. You can even line the inside of each too. Glue a small bead to one short side of the slide out part and number from one to 24 beside the knob. Glue together side by side and in stacks ie(first row about 8 or 9 across, on top of that, one less box at each end; continue in the same way until you have one box at the top, #24)with bead knobs facing all the same way. Put a little toy or small ornament in each box.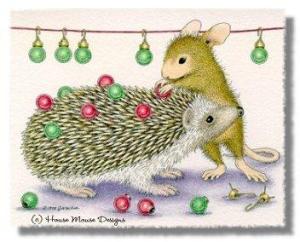 October 23, 2008
0

found this helpful
I made these for my kids when they were little, they used them for many years.
I bought a piece of quilted Christmas material, sewed red ribbon on the sides and bottom to give a finished edge
I wrote the poem at the bottom on a piece of white material with fabric paint, then sewed it to the bottom of the piece
I sewed a small square piece of green material above that and stitched 24 ribbons
(@6inches long, stitch in the middle of the ribbon) on to the piece of material in a triangle to resemble a tree.
Attach a bell at the top of the tree
Fold over the top about 2 inches and sew, so you can slip in a small dowel.
Attach a ribbon to the ends of the dowel with tacks so you can hang them on the wall.
Make sure you space the ribbons far enough apart to be able to tie the candies on
Buy some small toys, candy, or even poems rolled up and tie one to each ribbon.
Here is the poem to attach to the bottom. I used fabric paint, but you can cross stitch or anything you want

December 1st until Christmas
Is the longest time of the year.
It seems as though old Santa
Never will appear.
How many days until Christmas?
It's mighty hard to count.
So these shiny ribbons
Will tell you the exact amount.
Untie a ribbon every night
When the sandman casts his spell
And Christmas Eve will be here,
By the time you reach the bell!
The kids still have them tucked away in their keepsake boxes
By guest (Guest Post)
November 13, 2008
0

found this helpful
I decided this year to make (or buy) small boxes to wrap & put #'s on. Inside each box will be something to do as a family (watch the Christmas Story, bake cookies, drink hot chocolate, listen to christmas music, string popcorn and hang outside for the birds, read Isaiah 9:1-6, play scrabble, watch frosty the snowman, etc). I will either put the wrapped numbered boxes in a basket, or on a small tree, or decorate a wreath. Each morning, my kids can find the box with the correct number (#25 starts on Dec 1) in the morning when they wake up & unwrap it to see what fun thing we will be doing that evening as a family. It will give them something to think about throughout the day.
By guest (Guest Post)
November 29, 2008
0

found this helpful
I bought a nail holder at the local store in the hardward section. The larger one has exactly 24 drawers that you can pull out and they're larger than the standard wood calendar drawers. I put slips of paper that are similar to previous ideas shared, e.g., wear red today, light the advent candle on Sunday, etc. Hope this helps and Merry Christmas