By Tor E (Guest Post)
July 15, 2007
0

found this helpful
You might try phoning some of the Art departments at the colleges in the area, I know that UNT keeps a list of Art (including photog majors) majors and Grad students looking for jobs. if you make an appointment to meet one, make sure they bring their portfolio. they all have them, and some don't go anywhere with out them!
By Tiffany "Special Moments Captured" (Guest Post)
July 16, 2007
0

found this helpful
My sister are photographers and we pride ourselves on being cheap :o)
Check out our website for prices.
www.specialmomentscapture.homestead.com
Or You may email me.
special_moments_captured@yahoo.com
We do a great job and are willing to work within ANY budget!
Thanks and Good Luck!
Tiffany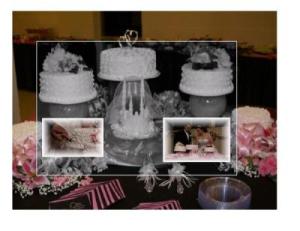 July 19, 2007
0

found this helpful
I think the poster below meant
www.specialmomentscaptured.homestead.com
She forgot the "d" in captured
July 19, 2007
0

found this helpful
I wanted to just mention that once I helped out a former student of mine with her wedding as a young bride. I simply took my own wedding album that had been shot by a professional, with me to her wedding and shot identical photos with the bridesmaids, mother of the bride photos, family photos etc. That way I did not forget any special shots and I took several tries at each shot I took so that the bride had extras just in case of closed eyes etc.
It turned out great and she was able to make multiple copies for family members etc. I just gave her the film after I was done. It was an honor for me to help and I know she will always remember my input into her wedding. Made for a very special yet inexpensive gift for me to give her for her wedding.
July 20, 2007
0

found this helpful
Check out books on wedding photography: one method is photojournalism, where you take pictures of everything that happens throughout the day, like the mother's eyes as she sees her daughter put on her tiara. The other is the posed groups method. Choose one friend who shows potential and then let her read up on it and see if she would try it. If you decide to supply disposable cameras to the guests, don't just put them on the tables, the kids will waste them shooting just junk. Instead hand them to adult guests, don't ask, just say "in case you see something you decide to capture'. Better that they stay partly empty and you use the rest of the film up later (honeymoon!) than them getting used up on junk.
July 21, 2007
0

found this helpful
I'm not sure about the ceremony itself, but I have been at wedding receptions that had a disposable camera at each table. The guests were to take pictures and then leave the cameras for the bride and groom to have developed.
By Tiffany Special Moments Captured (Guest Post)
July 26, 2007
0

found this helpful
Hello Jessica,
Have you had a chance to see our site yet? We have had five bookings in the last two weeks for Weddings this year. We do not have many wedding photos up as of right now, but we will by the end of next month! Please keep us in mind when you get down to the wire.
I would be more than happy to customize a package for you if you do not see one you like.
Sorry about the errors in my first feedback, I was in a huge hurry. :)
www.SpecialMomentsCaptured.Homestead.com
Or email
www.Special_Moments_Captured@yahoo.com
Thank and good luck!
Tiffany
Special Moments Captured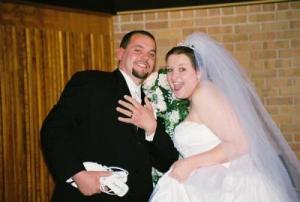 By jenn (Guest Post)
September 6, 2007
0

found this helpful
Try craiglist.org under events or creative services.
January 11, 2008
0

found this helpful
i posted an ad on craigslist for my upcoming June 08 wedding for a non-professional photographer and I now have a teacher who has done sports photography for the school and weddings on the side for 13 years for $150. That is for 3 hours and copy of the cd so i can print what I want.