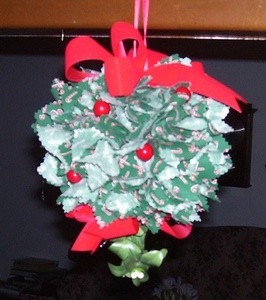 This is a holiday decoration that not only adds delight to your Christmas spirit but also incorporates some Christmas tradition. While it takes time to complete, it is fairly simple and fun to make. It looks nice and festive hanging from your archway or door jamb. We made them for our church bazaar and they sold quickly.
Approximate Time: About an hour.
Supplies:
4 inch Styrofoam ball
1/2 yard small print cotton or cotton blend Christmas fabric (can use scraps)
one 8 to 10 inch piece of 1/4 wide ribbon
approx. 1 1/2 yards of velvet or other ribbon
two 5 inch pieces of 18G or lighter floral tie wire
sprig of faux mistletoe
scissors
pinking shears
low temp. glue gun
approx 5 glue sticks
blunt awl or other blunt tool for poking
faux red berries or small jingle bells
Instructions:
Cut the 1/2 yard of Christmas fabric in 4x4 inch squares with the pinking shears. Cotton or cotton blends work best. Limp or heavy fabric won't cut well. I used about 50 to 60 squares. You can mix and match Christmas fabrics or use all one pattern. Fold the 1/4 inch ribbon in half and holding raw ends together poke into the top of the styro ball. Secure with a dab of hot glue and let dry. This will be your hanger for the kissing ball. Find the exact opposite of the ribbon hanger and insert the sprig mistletoe. It usually comes already on a pick. You can secure that with a little hot glue too.
Now, continue poking holes one at a time in the styro ball and fill each hole with a little hot glue then center one of the squares over the pre-made hole and poke it in about 1/4 of an inch. The fabric square will pucker up and look perky. Do this all over the styro ball (I started at the top and worked down the ball then alternated the next rows).
When all squares are inserted to your satisfaction you can decorate the ball with the red berries. Mine were already on wires so they were easy to insert. If you use the small jingle bells they can be hot glued directly among the fabric squares. When your ball is complete make a nice full bow using the tie wire to hold it. Attach the bow at the top where the ribbon hanger is. Then make a full but smaller bow for the bottom and insert it by the mistletoe.
By Janet from Long Island, NY
Comments
December 4, 2008
0

found this helpful
So cute, cant wait to try it. Thanks!!