Food Ideas for Wedding on a Budget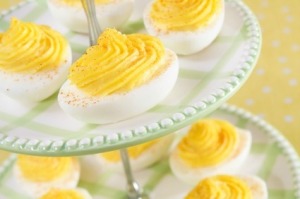 I am on a small budget and trying to find out different ideas for food at my reception. I am anticipating about 100 people.
By Crystal from Alton, IL

Answers
May 28, 2011
0

found this helpful
Best Answer
If you are on a small budget forget the wedding and just go get married. Alternative, have the wedding at a time when the guests won't expect a meal, serve cake, coffee, tea, and punch. Otherwise do things like sloppy joes, salads, chips, etc. Forget serving booze, that can add up.
May 28, 2011
0

found this helpful
Best Answer
I also agree that you do not need to have a meal at a reception; however, if it is what you want, then there are a lot of possibilities. Pasta can be a good budget stretcher. You could do a pasta "bar", with several types (shapes) of cooked pasta, a small variety of sauces and add-on's (red sauce, white sauce, meat sauce, meatballs, sausage, grated cheese), rolls, and a simple tossed salad. If you are adventurous: a taco bar, baked potato bar, or chili bar are also easy, relatively inexpensive, and let people make food their own way.
Taco bar: soft and hard tortillas, meat, cheese, shredded lettuce, sliced or chopped onion, chopped tomatoes, canned jalapenos, sliced black olives,sour cream, salsa, with extra chips on the side and maybe nacho sauce, and a fruit salad.
Potato bar: large baked potatoes, sour cream, chopped onion, bacon bits, chives, grated cheese, possibly barbequed beef, chopped ham, etc. with a tossed salad.
Chili bar: chili (maybe one with meat and one without), rice, grated cheese, sour cream, chopped onion, peppers, olives, served with a tossed salad.
Tapas is a nice trend, but I would not try to do that myself. If, however, you had a dozen friends/family willing to help, ask each of them to prepare one appetizer (you would have to coordinate to avoid duplication)--enough for MANY; and you could provide something like sliced/cubed meats and cheese and crackers.
Beverages can be simple, too, such as punch or a choice of sweetened or unsweetened iced tea and water. Or, between now and then, you could purchase soda pop on sale and stock up. Avoid the expense of alcohol, with the possible exception of wine or champagne for a toast, but don't buy expensive and limit it to one small glass per adult--though toasts can just as easily be done with punch or ginger ale.
Look in your yellow pages or ask around. There is likely a restaurant supplier in your area who provides wholesale type foods to various restaurants. Most will sell to the public as well. Get their price list, you may be surprised at how affordable buying pre-prepared foods can be. Just keep things simple, don't worry about keeping up with the Joneses, and most of all, have fun!
May 28, 2011
2

found this helpful
Best Answer
I hope you don't think I'm being a smart aleck for this but summer is on it's way and you could hold your reception at a nearby state park or road side park or other campground. You can have a camp fire and roast wieners, marshmallows or S'more's? Pitch a tent for use as an office and encourage harmonica and sing-alongs? Sounds amazing (if you're into this sort of thing).
I'm pretty sure there would be a usage fee at a State Park but not the roadside park or rest area. In Missouri there are some with cook-out grills cemented into the ground & wonderfully massive concrete slab tables, you could call around to the Conservation Depts. or State Highway Dept to find out the rules for such a thing. Also Some wildlife reserves are cookout/camp-out enabled!
I think it would be a blast!
Some people are repelled by the idea of cooking food on a wooden stick, so have some wire coat hangers for them to DIY a roaster! Hot dogs, buns and other picnic "have-to-haves" usually go on sale as soon as picnic weather occurs!
Don't forget campfire popcorn:
www.google.com/search?source ... _enUS413US414&q=campfire+popcorn
I am hung-up on this huh?
P.S. I think it's pretty cool to involve this community in your plans by asking for ideas! I got revved just participating in this thread! I wish I had thought of this for myself back in 1985! Everyone would have such an awesome time! How much more comfortable than "suit and tie affairs" where you wish you were home instead!
Thanks!
May 31, 2011
0

found this helpful
Best Answer
My grandson recently got married on a budget. Different members of the family donated one item of food (enough to feed everyone) in lieu of a wedding gift. The menu included pulled pork, rye bread and buns, pickles, onions, mac and cheese, pepper jack mac and cheese, baked beans,chips. deviled eggs, plus fresh fruit. One of their friends oversaw the workings of the kitchen and kept the buffet trays filled. A friend baked the wedding cake.
The ceremony was held at the pavilion at a local lake.
June 6, 2011
0

found this helpful
Best Answer
We recently did a homemade mashed potato bar, we had grated cheese, bacon bits, sour cream and butter as toppings. We actually borrowed the idea from a wedding reception that was catered. I made the potatoes ahead of time, placed them in the small aluminum pans, kept them warm in a low oven until time, and then served them over the sterno cans. These were a big hit. A fruit tray is always good, pineapple, strawberries, grapes, blackberries, blueberries. Meatballs actually went over really well also, better than the finger sandwiches. Skip the veggie tray.
Recently went to an 1pm wedding where all that was served was dessert, mixed nuts, punch, coffee and iced tea. The desserts were enjoyable and fun. But this limits what the diabetics can eat.
Answer

this Question
By Barbara (Guest Post)
January 10, 2008
0

found this helpful
Best Answer
For food, go to your local grocery store (like Amealia's) and you can get chicken wings and make them yourselves. Buy big tubs at the dollar stores and fill up with chips and stuff. When K-mart or Wal-mart has soda cans on sale, stock up big time. Get family to help out.
Trust me, I had about 80-100 people and we paid everything up front. We didn't get a traditional wedding cake but got a large cake with our colors of blue and black. The wedding was beautiful and the reception was wonderful. It was held that in my sister-in-law's basement painted blue. Brother-in-law was DJ, I served and my husband did the grilling.
For your wedding dress, go to the JC Penney outlet store upstairs. They are real cheap. You can probably get your bridesmaids dresses too.
How many main entrees, sides, and desserts, do you need to serve at a wedding?
Answers
May 30, 2015
0

found this helpful
Without more information in your request, it is difficult to provide an answer. More information such as number of guests (children?), season and time of the wedding, inside or outside, type of food service-banquet, buffet, servers, etc., restaurant, home, etc. will help to provide an answer.
May 31, 2015
0

found this helpful
I agree with Dinah, it's hard to give advice with so little information.
However, it seems like these days literally "anything goes" at weddings and receptions, so I guess I'd say, it largely depends on your budget, and if you are doing it yourself, the amount of work you are willing for.
If I just had to feed them all dinner I'd do something tasty and inexpensive, like baked chicken, salad, rice, and of course cake. Then I'd use all that money I just saved on a lavish spread for guests to buy some item of good quality furniture for the newlyweds.
Answer

this Question
June 13, 2014
0

found this helpful
Hi, perhaps bruschette, mushrooms, olives, salami, quiches, beautiful cheeses with artisan breads, crisps, tomatoes, melon wrapped with prosciutto, etc. I hope this helps.
Published by ThriftyFun.
© 1997-2020 by Cumuli, Inc. All Rights Reserved.
https://www.thriftyfun.com/tf85466753.tip.html