Perhaps you have seen one of these at a craft show, but it was too costly. You can make your own Christmas tree wall hanging, using your old costume jewelry or pieces from yard sales and thrifty stores. This is a guide about making a costume jewelry Christmas tree.
By suetate 1
I make costume jewelry Christmas trees as gifts for family. This one on black background was given to me 30 years ago and made by my 86 year old aunt. It is one of the most loved things in my home.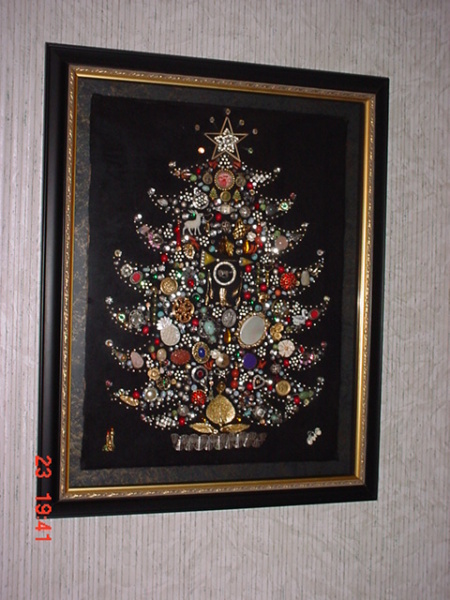 Supplies:
Old family pieces are nice or just collect them at yard sales. They are getting harder to find.
jewelry tool set ($8.00)
pair of tweezers ($3.00)
good strong craft glue ($3.00)
one felt or black cotton velvet scrap
one shadow box frame ($10.00)
several glass beads several sizes ($10.00)
odd pieces of jewelry
Steps:
Choose the size based on the amount of jewelry you have. I have made some small enough to fit in a 3x3 inch box lid for the tree. Others are 5x7 inches and 16x20 inches. That is up to you.
Find a nice piece of cardboard for the back, then glue the fabric to the board with spray glue. Let that dry good.
Start with the top of the tree down about 1 1/2 inches for a header space. Then poke straight pins in measuring same space on each side as you come down the tree. Be sure you have a space at the bottom as well, about 1 1/2 inches.
I line up several large pieces down the center and lay all of the large pieces out before I glue any. I step back and look at it sometimes for several hours. Then glue them once you like the look.
Then go around the edge with small pieces and fill in with small stones or what ever you have. No two are the same. I have made over 30 and hate to part with any of them. Most have been for gifts to relatives using family items they sent me.
Dust the item with a piece of tap rolled around your finger.
Then add the frame.
Do not use super glue, it off gasses really badly once the glass is in place and will turn gold black.
You can also use buttons and let the kids make them.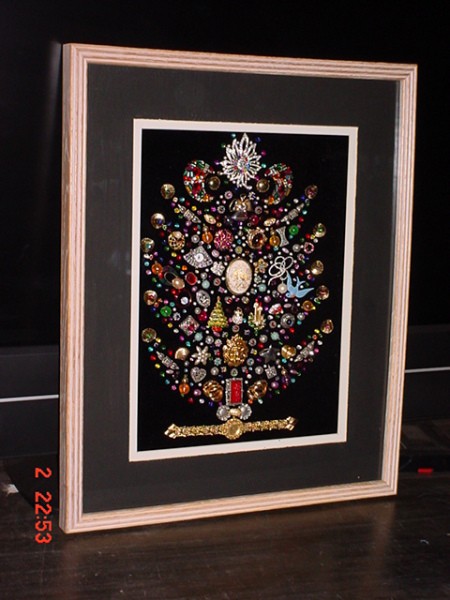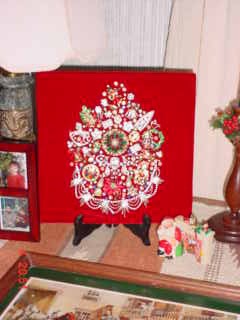 Is this a Christmas tree kit? I got it at a sale a long time ago. No one seems to know what I have, but I just came across your site! Maybe you have the answer. Thanks!
By Suzanne from Lafontaine, IN
Most Recent Answer
April 14, 2011
I bought costume jewelery in bulk off Ebay and designed and made my own Christmas trees. I have 3 of them. This was popular back in the 30's and 40's. I don't know if there are kits but I think a persons own imagination, a velvet backed picture frame or shadow box, and some junk jewelery makes it good to go. You can even drill holes in the backing and add some Christmas lights through the back, I use battery operated ones.
By kim 1
Can I buy a Christmas jewelry tree kit?
By Kim from Canada
Most Recent Answer
By Karen Jensen 5 19 Flag
December 21, 2009
Last one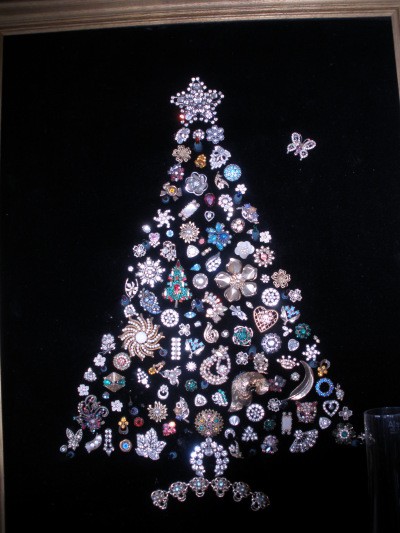 By carol 1
How do I make a Christmas tree out of jewelry?
By Carol from Bay City, WI
Most Recent Answer
August 1, 2010
Momma J,
Where is your picture. Would love to see it.
My friend loaned me a magazine with instructions to make a Christmas jewelry tree and pictures. I lent it to a friend who has mislaid it and can't find it. I don't know the name, but it was a few years old. Can you help with the name of the issue? I would like to purchase it if I can.
By Susann S.
Most Recent Answer
I have collected the costume jewelry, frame. I am ready to organize the jewelry on the black material. How do I make a tree shape? How do I sew on the jewelry? I have many signed pieces and do not want to cut them or glue them onto the fabric. Thanks for your help.
By Lee B.
By rita 3
Years ago, my grandmother had a lot of junk jewelry around. Using a desired pattern (Christmas tree for example), she painted the frames, covered them with felt, added wood to the back of the frame (so it stood out from the wall), drilled holes through the pattern, and added tiny Christmas lights from the back. The lights were also the reason for it not to hang flush against the wall. Finally she put some type of hanger on back of frame. They look beautiful during the day and even more lovely at night when the lights are turned on.
Does anyone have this pattern or directions for making these? Also do you have other crafts that can be made out of junk jewelry?
By Rita N
I am looking for instructions for a Christmas tree made out of old jewelry.
By Donna from Gibsonville, NC