My mom has some great vintage costume jewelry from my grandmothers. She wants to make velvet covered Styrofoam Christmas trees with jewels and beads adorning them for gifts for her daughters and granddaughters next Christmas. How do you make these? Any help is appreciated.
Julie from Monticello, IL

Answers:
Costume Jewelry Christmas Tree
I just saw something like this on TV the other day. They didn't say what type of glue to use, but they covered their tree with fabric before putting on the jewelry. I'm sure they used straight pins to attach the fabric to the styrofoam base. If this is the case, you could use almost any type of glue, but I think tacky glue would work best.

Their tree was to be given with a piece of jewelry attached, as a gift. It wasn't decorated too much, so the recipient could use it to hold her jewelry between wearings. She could attach her pins, earrings, etc. Decorative pins were put on to hold necklaces and earrings. It was meant to keep clutter off of a dresser. (12/17/2005)

By susan
Costume Jewelry Christmas Tree
E-6000 glue will hold all of your projects. A low heat glue gun may work as well. (12/17/2005)

Costume Jewelry Christmas Tree
I made a beautiful tree using styrofoam cones. I first painted a clay pot and inserted the cone into the pot. I use E-6000 glue sparingly! It does deteriorate the styrofoam a bit. I mixed up all kinds of colors and Grandma's old clip on earrings. For the top I used a jeweled ornament from a pendant. Trim the pot with wired ribbon. I also made one just using gold buttons.

I'll try and post a picture (01/21/2006)

Costume Jewelry Christmas Tree
I responded to another post before I read yours. I use 1/2" to 3/8" velvet ribbon (which is hard to find. I buy online). Then place gold, silver, etc. braid on top of ribbon. The ribbon circles the ball to form 4 quadrants. Select a piece of jewelry, place it on 1 or more quadrants depending on whether jewelry is earrings or pins, then fill in with sequins, matching, contrasting or whatever you desire. (02/10/2006)
By Billie
Costume Jewelry Christmas Tree
I used to work in a craft store and saw a beautiful jeweled Christmas tree many years ago. It was mounted on black velvet covered board with lights that came through from the back. The artist also framed it in a very fancy gold leaf frame (about 8x10). It was one of the prettiest things I've ever seen. I'm going to make one this year.

I'm going to use something like pegboard if I can find it. I will mount black velvet on and use white chalk to sketch the tree outline. Then I can drill holes where I want the lights to come through. These days tree lights are getting smaller and smaller so this will look pretty nice with tiny lights I think. Then glue on the jewelry. White glue dries clear so that is what I will probably use. I have been buying some bulk jewelry on ebay and it is a hot item. I may have to buy more. Then I'll have the whole thing framed.
Good luck with your tree. (08/13/2006)

Costume Jewelry Christmas Tree
Years ago I macramed Christmas Trees with bells on the tips of each bough. Then I covered it with costume jewelry (pins, broaches, tie tacks) and "strung" it with gold chains and strings of pearls. You can add lights in between the macrame knots. We topped it with a beautiful rhinestone pin of my Mom's. Each of my children received one over the years. It hung from the ring where the macrame started on the inside of their entry doors about 36" long top to base and about 30" wide at the largest bough on the bottom. A family favorite for sure. Don't have the exact pattern any longer - sure hope you can find it on the internet.

Happy Holidays (12/04/2006)

By Lynn
Costume Jewelry Christmas Tree
I would use E6000 or similar type of epoxy style glue. You can adhere most anything to anything with that stuff! (04/13/2008)
By Marlene
Costume Jewelry Christmas Tree
Like the lady who posted 8/13/06, I saw an amazing framed picture on black velvet of a tree outlined in beads and chain. It had Christmas lights through from the back so you could plug it in at night. The tree was built up with broken windscreen glass (not sharp) and all sorts of old jewelery including 18k darts, watches, etc attached. A fab way to display meaningful trinkets rather than keeping them in a box or drawer. I thought it could be a memory tree.
I'm looking for craft classes and believe it is called a Christmas Jewelery Tree. (07/24/2008)

By Pamela
Costume Jewelry Christmas Tree
My Dad made some beautiful Christmas Tree wall hangings using old jewelry that he got when a major retailer went out of business years ago. There were a lot of similar pieces, but each one he made (he made 5) was unique. He used chains and beads as garlands, and earrings and pins as ornaments. He cut out a piece of heavy cardboard to fit the frames he made (they are over 16"x20").
This he covered in imitation velvet. Then he started at the top and worked his way down, keeping the Christmas tree shape in mind. He didn't glue anything down, he pinned it in some fashion. I'm gluing mine in place this year. But I am also working on one myself with finds I've gotten in Thrift stores and tag sales. Hope this helps. (11/06/2008)
By Flo
Costume Jewelry Christmas Tree
I have one of these that my great-Aunt made in the 1950's. It is my favorite Christmas decoration. She used a styrofoam tree form that was flat on the sides. She covered it in green felt and trimmed the side seams in gold rick rack. She attached all of the jewelry with short straight pins that she threaded with small beads and pearls or sequins, so they looked like ornaments too. Most of the jewelry that she used was broken, like pieces of necklaces and bracelets. She sort of draped those so that they looked like garland. She used lots of earrings and pins. She topped it off with a hat pin with a large pearl on top and sprinkled the bottom of the tree with glitter.
I have seen the flat-mounted costume jewelry trees as well, and they are cool too. My sister and I tried to replicate the jewelry tree the year after our grandmother died using buttons from her button box, but they weren't as cute as the jewelry tree. (11/21/2008)

Costume Jewelry Christmas Tree
Did you ever make your tree? My girlfriend inherited hers last year from her great aunt and I made mine this year from her design. (12/22/2008)

By Pat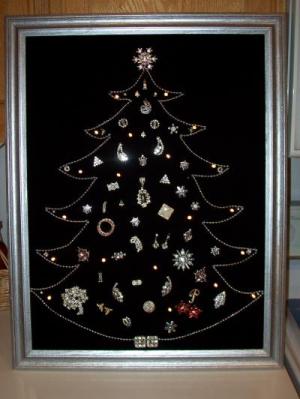 Costume Jewelry Christmas Tree
I made one of these Jewelry trees this year. I have to say it has turned out to be my favorite craft project so far.
I dug through my jewelry box and bought "repair" jewelry from ebay to fill it. I used 1/4" plywood, drilled holes for lights, stapled black velvet to the plywood, put the lights through the back and glued on the jewelry.

Everyone that has seen it, loves it. Here is a picture (12/31/2008)

By Susan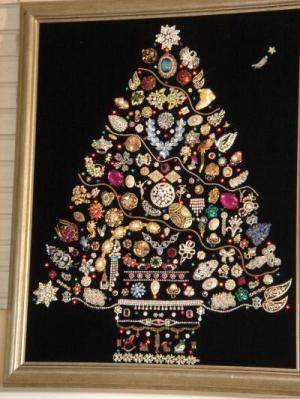 Costume Jewelry Christmas Tree
I made a costume jewelry tree just this year to duplicate one my grandmother made probably in the 1960's. I tried to make it as close to hers as possible and I think it turned out pretty good. (01/10/2009)

By Angela G.