Strolling the paths of Shore Acres is always a treat, no matter the season. My husband and I had the privilege of heading out there this Christmas Eve for their gorgeous holiday lights! Christmas time is my absolute favorite time to visit Shore Acres. The people of the community, as well as those working at and for Shore Acres, work extremely hard to put on one of the most magnificent holiday light shows ever imagined.
Running from Thanksgiving through New Year's Eve, this year's light show was their 25th annual. Topping out at about 300,000 lights, their anniversary was an amazing sight to behold. Whether you go walking around the pond, skipping through the garden paths, or are peeking on Santa in his bathtub upstairs in the guest house, you will be delighted with the beautiful decorations of our state park.
This was my husband's first trip to the lights. I relished in the way he held his breath at the displays, as well as how his eyes widened in awe at the view from the second-story window of the guest house.
As for these two photos, I loved the way one group decorated the tree in front of the annual blue whale. Decorated with our American flag, proudly glowing in the center and surrounded by MIA and POW ornaments, this tree was by far my favorite in the park. It reminded me of all of our soldiers out there cold and lonely this Christmas, as well as vets and all other souls who must spend this holiday season alone, or never made it home at all.
May us all pray for them and hope that someone nearby finds kindness in their hearts to lend a friendly hand. I know from first hand that having friends who care enough to go out of their way to make your Christmas as comfortable as possible when you are forced to be away from your family is worth more than gold and can never be forgotten. May God bless the lonely souls and all those who reach out to help them.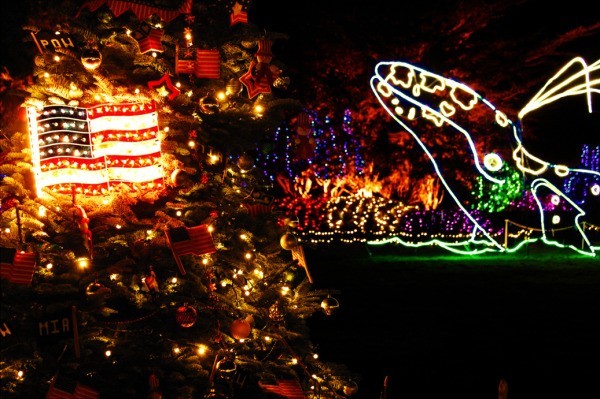 In the second shot, we see my favorite over-all scene from Shore Acres, The pond! The two heron statues glow red and gold as the lights strung from bushes and trees around the waterhole glow brightly and reflect pretty colors back at themselves, making for an extremely colorful scene.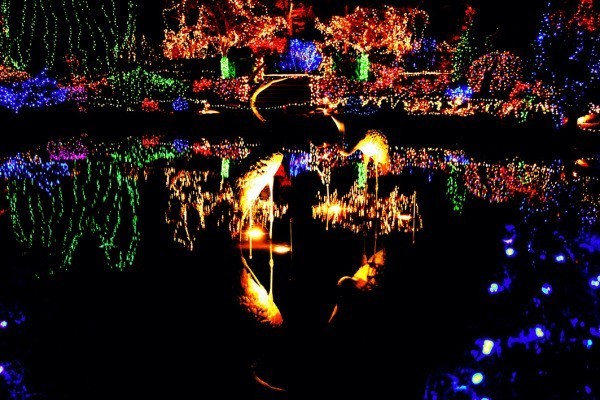 I could write forever about the beauties of Shore Acres' holiday lights, but I will end by saying that it is absolutely breathtaking and I could never express it's beauty with mere words. I truly hope you each have the chance to see this or another amazing show this year and many years to come.
Wishing you all a very merry Christmas and a safe and fun New Year! I hope your Christmases were full of love, laughter, and friendly faces. God bless you all!
By Chelle152 from Coquille, OR