Ah, my favorite time of the year! I know it's a little past Christmas, but I couldn't help myself, I had to post these festive photos! I have included 8 shots, and I think I covered just about everything I had taken pictures of that night. Unfortunately, I was still getting used to my new camera, so it died before I was able to capture ALL of the wonderful decorations at this park, but these people do an AMAZING job each year!
They use thousands of LED lights to make for the most festive display in Coos County, and possibly on the entire Oregon Coast. In the first image, I have, in my opinion, one of the prettiest Christmas trees at the park. I loved the classic bells and stars!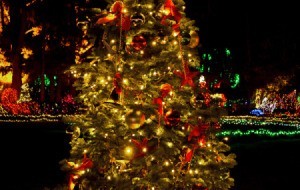 We then have some of the funny little critters that crawl out each year to join the festivities. I wasn't able to get the angle quite wide enough, but, on the other side of the snail, there was a little green cricket, too. I always think these guys are absolutely adorable! And the kiddos love them, too!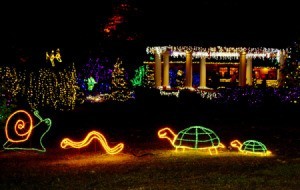 Then, we have one of my favorite areas, the Pavilion! No one was performing that night, but they sometimes have local choirs and bands performing and they always do a lovely job. I think it's gorgeous the way they have the lights dangling from the roof of the pavilion and the way it makes it glow such a bright, golden color!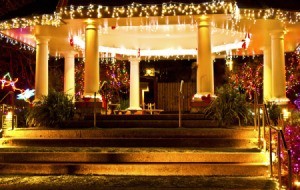 The next photo I uploaded shows the two-story guest house. My camera unfortunately died before I was able to take photos of the GORGEOUS decorations (not to mention delicious apple cider and cookies) that they have inside, nor the amazing view from the second-story window. But, I was able to capture the golden glow of the house, the amazing Christmas tree in front, which was topped with our glorious American flag, and the dazzling lights and dancing colors surrounding the home, as well as the walkway leading up to it.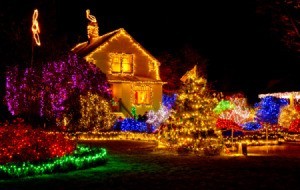 The next shot is a closer look at the house and the decorated flora surrounding it. These lights never cease to amaze me! And the people who put it together work so hard, mucho props to them! They did a fabulous job, once again, this last year!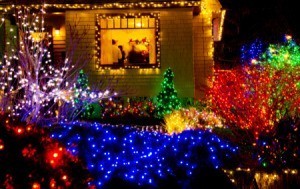 The next photo was shot from the back porch of the guest house. It shows about a 1/4 of the park, giving you a better depiction of exactly how decked out this place gets! All I can say is, WOW!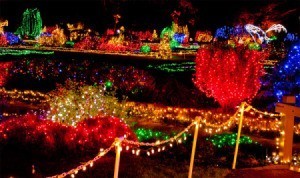 Then, we have the pond. I absolutely LOVED walking over the little bridge with my husband. It may sound silly, but it was a dream I'd had since I was a little girl. Going out to Shore Acres around Christmas time and walking over their pretty little decorated bridge, hand-in-hand with a man I just couldn't get enough of. And, this last December, it came true! I was beaming as we strolled over that bridge. It brought so many memories back for me; Me as a little girl watching my parents stroll arm-in-arm over the bridge, hoping one day I would have that life, that feeling, that love.
Getting teased by my little sister when she walked over the bridge with her high school sweetheart, her taunting that she did it first - LOL, that's sister rivalry for you! Anyway, enough of my reminiscing, this photo, unfortunately, doesn't show the bridge. But, it shows the view, from across the pond, of the little stairway leading down to the water and the golden trees that stand guard on either side. I am always amazed by the twinkling reflections in that little pond!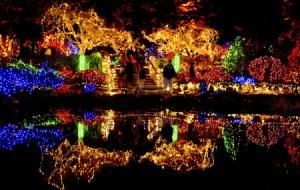 And, last but not least, I have a shot of the annual blue whale. This guy sits in the same part of the garden each year, and the water from his spout actually comes and goes. I was excited to be able to capture him in full-spout! Lol. He is one of my favorite attractions and brings back many memories of my childhood, as well.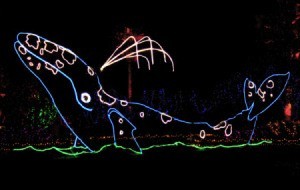 Shore Acres has been a part of my life since year one. I really do enjoy having the opportunity to share its loveliness with all of you here on ThriftyFun! I hope many of you are given the chance to come visit one year! It's a sight you will never, ever forget. If you do get a chance, during any season, don't forget to bring your camera! Trust me, you'll want it!
God bless, everyone! And let's hope to keep the Christmas cheer going all year in 2012! Have a good one :D
By Chelle152 from Coquille, Oregon