EllenB
Gold Post Medal for All Time! 858 Posts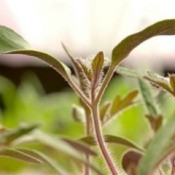 Light can be a limiting factor to starting seeds indoors. Even with a sunny, south-facing window, it's difficult to provide young seedlings with light of sufficient enough intensity. Fortunately, a couple of 40-watt fluorescent lights can usually make up for a lack of daylight. Here are some tips for setting up and getting the most out of a growing space using fluorescent lights.
Finding Enough Space
When space is limited, look for creative ways to carve out some extra room for starting seeds. Remember, it's only a temporary loss of space - usually no more than 6 to 8 weeks. Start by taking a look at what you already have for fluorescent lighting. Under cabinet lights in the kitchen or a banker's lamp in the den are all you need to start a small flat of seeds. Ask yourself where you can you afford to give up some space? Here are some other possibilities:
basement
spare bedroom
laundry room
shower of second bathroom
kitchen counter
top of refrigerator
dining room table
closets (remove clothes first)
Light fixtures can be hung inside bookshelves, storage shelves, or attached to overhead pipes in the basement. An inexpensive garment rack on wheels also makes a great frame for hanging lights on during the growing season and can double as a clothes rack the rest of the year.
Choosing the Right Fluorescent Lights
After you carve out some room, customize your lighting to fit the space. Forget about the fancy (and expensive) full spectrum "grow lights." You don't need them. A couple standard 40-watt fluorescent lights will work just as well.
Most major home stores sell fully assembled, 4-foot long shop lights for between $20-$30. Each will hold two to four 40-watt fluorescent tubes, which are an additional $4-$5 each (or sold in larger packs). If you have the space, this is the ideal set up for starting several flats of seeds. If your space is limited, you may need to locate flats piecemeal in whatever space is available and use smaller fixtures or lamps that hold a single 40-watt fluorescent bulb.
Determining What to Grow
Few of us have the time, space, or budget to grow everything we want to, so consider starting the following types of plants early:
plants that take a long time to get going (e.g. wax begonias and impatiens)
plants that are hard to find
plants that are expensive to purchase or replace (e.g. some perennials)
plants that are "best started indoors" according to their seed packet
plants with fine seeds that are easily washed away by rain
plants with seeds favored by animals
plants that you like best
Maximizing Light Efficiency
Fluorescent lights fade with age and you can expect to replace them (at least for growing purposes) every year or two. Here are some ways to maximize their efficiency and keep their light burning bright for as long as possible:
To keep your fluorescent lights working smoothly, maintain temperatures of 50 degrees F or above. Functionality is decreased significantly near 40 degrees and on and off cycles may be difficult (or fail) at or below 32 degrees.
Accommodate growing plants. Hang your light fixtures so they can be raised or lowered as necessary to accommodate growing plants. Ideally, the lights should be as close to the seedlings as possible without actually touching their leaves. Not only does this maximize light intensity, but it also lets the plants benefit from the small amount of radiant heat emitted by the bulbs.
Dusty light bulbs don't illuminate as much light. Keep your light bulbs clean and free of dust to maximize their efficiency.
Add reflective surfaces. Use mirrors or attach aluminum foil to fixtures to bounce light around and help disperse it more evenly around plants. If possible, apply a flat white paint to the surface surrounding your seed trays. It seems counter-intuitive, but flat white paint reflects light more evenly than glossy paint does (and it doesn't create hot spots). If you can't paint the surface your seeds trays are sitting on, try setting them on top of a white vinyl tablecloth.
Rotate your flats. Light is weaker at each end of a fluorescent tubes lighting - with the most intense light being near the center. If starting seeds in multiple flats, rotate their position each week so each one gets a turn near the center.
Alternate between light and dark. Ideally, seedlings should be under lights for 16 hours a day, followed by at least 8 hours of darkness so they can utilize their food for growth. Because many plants can get by on as few as 12 hours of light a day (and fluorescent lights also last longer the less they are turned on and off), gardeners can grow multiple seed trays by keeping lights plugged in 24/7 and alternating between 12 hours of light and 12 hours of dark.