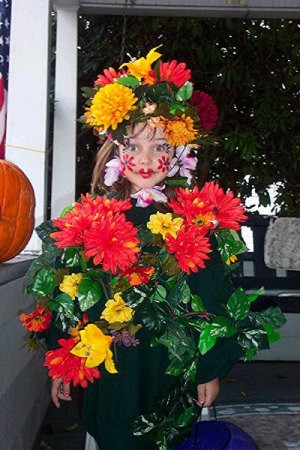 I needed a fast and inexpensive Halloween costume and my daughter wanted to be a "flower garden". So off to the thrift store we went, where we bought a green adult size M sweatshirt, which I cut at the sleeves. And some green stretch pants.
Then we loaded up on all the plastic vines, flowers, garlands, wreaths, etc. we could find. I think I spent $10. I sewed the flowers onto the sweatshirt by hand. I am no seamstress, I just used a big yarn needle and yarn.
To top it off we turned a flower wreath upside down and tied flowers all over the top. I then painted flowers on her cheeks! She was adorable and everyone commented on what a great costume this was. It did probably take about 2 hours of stitching, but I did it while watching TV and the end result was well worth the effort!
By Jennifer F.