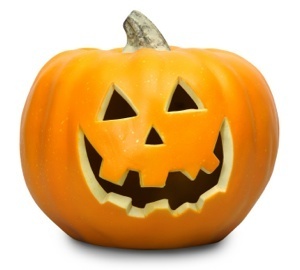 Our 11 year old daughter is hosting a Halloween Party this year for about 10 kids. We plan on wearing costumes, trick-or treating and watching movies But what would a Halloween Party be without some Tricks and Treats?
We will be serving some scary food: Apple bites (apple slices with almond teeth), bones and blood (refrigerator bread sticks shaped like bones and pizza dipping sauce), boogers on a stick (pretzel rods dipped in green tinted white chocolate), chocolate covered spiders (chow mein noodles mixed with melted chocolate morsels and dropped on waxed paper to harden), Vampire blood shakers (pink lemonade mixed with a shot of raspberry puree) and cupcakes decorated like bloodshot eyeballs and cat faces. And hot dogs, chips and dip for the faint of heart.
Prior to tick-or treating, the kids will do a scaredy cat scavenger hunt around our yard. Here are the clues which will be attached to beanie baby cats. The clues keep the kids in our yard and off the street for safety reasons.
As you go out on Halloween Eve, Watch out for the Bats and the Witches. For your first clue you'll have to look. At the back of the yard near the ditches! (near stream bed behind out house)

You've found the first clue. You are really quite bright! Look for the next clue under the closest Street Light! (street light in front of house)

Now scamper on down
To a bridge o're a stream
Watch out for the Ogre and
Try not to scream! (bridge over the stream behind our house)

This pumpkin not carved
And he is not glowing
Look near a tool that is
Used for lawn mowing! (near lawn mower in garage)

The crow is in the garden
The bats and Ghosts are set to fly


Look near the place
Where the growing pumpkins lie (pumpkin patch in back yard)

Now to pose for a picture
Put on your best face
Return to the Kitchen of
1910 Oriole Place! (Our house)
When they return from the scavenger hunt we'll take group pictures each party goer will receive a treat box filled with a few pieces of candy and a Halloween pin.
Post trick-or-treating (dad will tag along to make sure all goblins are kept safe, much to my daughters dismay!) we will watch not so scary movies (Clue, The Goonies) and eat popcorn hands and play flashlight tag in the back yard

By Diana from Prospect, KY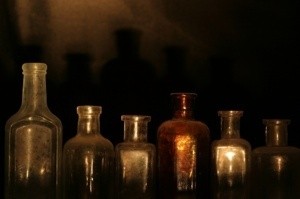 Why should the kids have all the fun? Here are some quick and easy ideas for an adult Halloween party that won't break the budget or your time. Instead of the all out Halloween party, why not decorate the house like it was a haunted house where the evil scientist lives and plays. This party would very easy to put together for an after-work party, You could do the decorating the night before and make the appetizers. Cobwebs hung in the corners of the room and a couple of lamps should do the trick. You can decorate as elaborate or as simple as you want or can afford.
Set up a table to hold your appetizers. To decorate your table, why not go with a laboratory theme? You can decorate this fast and easy with some jars in which you have filled with cooked spaghetti and water and green food coloring. Go to the dollar store and by a plastic rat and a plastic bat ( good sized) that will fit in your jar. Fill them with water and yellow or red food coloring. Look around the dollar store you might also be able to find plastic eye balls that you could fill your jars with. Plastic body parts like fingers work well too. Cover the table with a black table cloth and some candles and you are done. You can also buy spiders and assorted bugs at the dollar store to drop into your drinks or hang on the appetizers. Make some little signs to put next to your ghoulish treats.
This an easy appetizer and cocktail party. Many of these can be made ahead of time and then set out just as your guest arrive.
Appetizers
Pus Filled Tomatoes
6 medium tomatoes
1/2 avocado, peeled, pitted and chopped
4 oz Swiss cheese, grated
6 fresh basil leaves, chopped or 1 Tbsp. dried basil
1/4 tsp. dried oregano
Wash the tomatoes and cut them in half crosswise. Place the halves (open side up) on a cookie sheet. In a small bowl, mash together the avocado, grated Swiss cheese, and basil. Spoon the mixture on top of the tomatoes and sprinkle with oregano. Broil the tomatoes for 5 minutes, or until cheese begins to ooze. Carefully remove the tomatoes from the broiler and serve hot, or allow to cool slightly and eat them with your hands.
Mummy Fingers
1 package of fajita size flour tortillas
1 container of garden vegetable or onion and chive cream cheese
Spread cream cheese on each tortilla and roll up. Cut in half.
Crudites With Vomit Dip
cherry tomatoes
carrots, peeled
zucchini
celery stalks
radishes
mushroom caps
2 cups cottage cheese
1 onion soup mix
1/4 cup milk
yellow food coloring
Rinse the vegetables in warm water, except the mushroom caps. Wipe those gently with a damp paper towel. Then slice the carrots, zucchini and celery into thin sticks. The cherry tomatoes can be served whole, but you may want to remove any green stems. The radishes and mushrooms can be halved or served whole. If you are not serving right away, put the vegetables in a plastic bag and store them in the refrigerator to keep them fresh and crispy. In a small bowl, mix the cottage cheese, onion soup mix and milk. Stir in some food coloring until you get the desired yellowish color. Do not overmix! Lumpy is more realistic! Arrange your vegetables on a platter surrounding the Vomit Dip.
Deviled Mice
8 eggs
4 1/2 Tbsp. mayonnaise
6 large lettuce leaves
16 pimento stuffed olives
1 Tbsp. chocolate sprinkles
Hard boil your eggs. Slice each egg in half lengthwise. With clean fingers, scoop out the yolks and put them in a small bowl. Mash the yolks with a fork until they are crumbly. Add mayonnaise and blend. Carefully fill the empty egg whites with yolk mixture. Cover a platter with lettuce leaves, setting a leaf or two aside for garnish. Arrange the egg halves, YOLK SIDE DOWN, on the leaves. These are your mice bodies. To give them each eyes and a nose, pull the pimento out of an olive and cut it into three small pieces. Cut thirty two thin, lengthwise strips from several of the green olives. Stick two of these strips end to end onto the back end of the mouse to form the tail. Out of the remaining olives, cut thirty two small triangular ear pieces. As a final touch, heap a pile of mouse droppings (chocolate sprinkles) on the platter. Serve each mouse on a small piece of lettuce.
Vampire Wieners on Cotton Swabs
8 Tbsp. butter or margarine, melted
24 cocktail franks
1/2 cup mustard
1/2 cup mayonnaise
toothpicks
cotton balls
Melt the butter or margarine in a small pan over low heat, being careful not to burn it. Place the franks on a broiling pan and carefully brush them with melted butter. Broil the franks until they are evenly browned, turning them 2 or 3 times. While the franks are cooking, combine the mustard and mayonnaise in a small bowl and set aside. This will be your ear wax. Arrange the cooked franks on a serving platter. Pierce each frank with a toothpick, then stick a wet cotton ball on the end of each pick. Place the small bowl of ear wax in the middle of the platter, surrounded by franks.
---
Cocktails
Now for your cocktails
Brain Hemorrhage
2 oz. Schnapps
2 tsp. Irish Cream
1 tsp. Grenadine
Pour Schnapps into a large shot glass. Slowly pour Irish Cream into Schnapps so that it basically forms a "brain" in "formaldehyde". Finally, dribble the grenadine (dribbling onto a spoon then into the schnapps helps) directly into the center of the Irish cream mass . As the grenadine amount slowly increases, it will eventually burst through the Irish cream creating a "hemorrhaging" "brain".
Gates Of Hell
1 1/2 oz. tequila
2 tsp. lemon juice
2 tsp. lime juice
crushed ice
1 tsp cherry brandy
In a shaker half-filled with ice cubes, combine the tequila, lemon juice, and lime juice. Shake well. Strain into an old-fashioned glass almost filled with crushed ice. Drizzle the cherry brandy over the top.
Headless Horseman
2 oz. vodka
3 dashes bitters
ginger ale
1 slice orange
Put vodka and bitters into a collins glass. Add several ice cubes, fill with ginger ale, and stir. Add the orange slice and serve.
Nightmare On Elm Street
1 1/2 oz. gin
1/2 oz. cherry brandy
1/2 oz. Madeira
1 tsp. orange juice
Shake all ingredients with ice, strain into a cocktail glass, and serve.
Hope this helps you have a very Happy Halloween!
I need ideas for Halloween decorations, I need to decorate the upcoming college Halloween party. Our decor area consists of several trees and a large yard. What ideas do you have that I can fill them up? Please help me by creating a discussion below, thanks for your interest.

Answers
October 13, 2019
0

found this helpful
Orange and black crepe paper twisted together and tied from branch to branch is festive and inexpensive.
October 13, 2019
0

found this helpful
Large pumpkins, tombstones from cardboard/grey spray paint, pulled cotton for webbing, witches brooms, witch hats, orange string lights
October 13, 2019
0

found this helpful
Definitely stop by Dollar Tree lots of options :)
October 14, 2019
0

found this helpful
Crepe paper go's a long well! there is hundreds of feet on a roll and comes in many colors! Also check for sales and ask f you buy a large amount can you get a discount.
October 14, 2019
0

found this helpful
If the party is in the evening, cool string lights are a must and are very inexpensive at places like Walmart, Dollar General and even some Dollar Stores. I like the combo of purple, white and orange. Just be sure they are outdoor lights and that you have plugs nearby that are safe to use (and don't cause a trip and fall hazard when you run them to decorate!)
Hay bales are fun for using as tables.
Mums are always pretty and everyone could take one as a favor after the party.
October 14, 2019
0

found this helpful
The best way to do this is to visit the dollar store. They have tons of items that can easily be used to decorate for Halloween. You can get pumpkins and add glow sticks in them to light up the walkways and hang them in the trees. You can make some Halloween manikins out of old plastic models and clothes you find laying around your home. I had to build mine myself because we don't have any of these types of old dolls around here that people use in stores to display clothes on. You can also get some baloons and fill them up and put a mask over them and hang them in trees. You can use spider webs of different colors and they are cheap to buy.
October 14, 2019
0

found this helpful
Use cotton and hang spider webs from trees,add small black spiders,and one big one.Put about 10 skulls stuck in the ground in various places.Carve 2 pumpkins put candles in them.Set them on little tables covered with black cloth.Make a grave yard with stones bought from the dollar store.Get a skeleton and some bones.Get halloween buckets and fill with assorted candy.Make a gory table and carve radishes into eyeballs,weiners into cut off fingers, fill syringes full of red juice.,get a skeleton fill with cheese,meat,and crackers.Put the food inside the rib cage.
Answer

this Question

...
My class is organizing a Spring Break, and we are trying to earn some money for the trip. So, the problem is that, this year, other classes had the idea of planning the traditional Halloween party at the school. Typically it was supposed to be our party, the party we do every year since 2007, but they talked to the principal first. However, we are thinking about doing a deal with them. They take care of the food and drinks and maybe the "Halloween Catwalk", the best mask, etc. and we could be responsible for the entrance (who goes to the party pays 1 euro or 50 cents and receives a bracelet that glows in the dark). We should have some games like "wheel of fortune" (the younger students would like that, I guess). What ideas do you suggest guys? Thank you!
By Caroliina
Answers
October 18, 2013
0

found this helpful
Here are my best ideas: with the help of an adult, collect items from local businesses, such as items or gift certificates. (Be sure to write "no cash value" on all gift certificates) and raffle them off. The only thing you need to spend money on are raffle tickets. Check with the school secretary to see if there is a form you can give the donors that will enable them to use their donation as a tax deduction.
At the raffle have a poster thanking the donors. Tell them you will post them as a donor because they will like the publicity. People to ask are: restaurants/ fast food , grocery stores (in my area they will give $25 twice a year per school), hairdressers/barbers, nail salons, car wash, auto repair ( for an oil change), gyms ( free month gym membership), hotels ( will give you a free room for 1 night), movie theater, florists, and any other businesses you can think of.
It's shocking how generous they are. Then sort the items/ certs into categories and do multiple give always. More people win and your class steals the show. For example give away a dinner, movie, and hotel room as a "romantic get away". Give lunch, grocery cert, and haircut as "a day on the town".
If you can't pull this together, have everyone in your class donate a bag or two of individually wrapped candy. This way no one person is out a lot of money. Use some class fund money to buy little prize toys at the dollar store or oriental traders. Set up a basketball hoop and sell chances to make it through the hoop. Like three chances. If they make one they get one piece of candy. Two shots, two candies. All three, they get a toy.
Kids become addicted to this. It was a top money maker at out festival. Be sure to have your most enthusiastic people run this booth. Have them cheer and clap for the young kids. Have older people stand farther away than the little ones to make it challenging. Again, little money out, lots of money in.
My last idea is if you still need money, sell valentines in February. Get permission soon so no one else steals your idea. Also figure out how and when they will be delivered. You will have to know where the recipients are at the time of delivery. Just print them from clip art that's free on the internet. Have designs that are for friends, romance, secret admirer etc.
Again have everyone donate individually wrapped candy to give with the valentine. You could also give a flower if you can get a good deal on them and it's not too much trouble.
Good luck and have fun!
Answer

this Question

...
What are your favorite Halloween Party Ideas? Please post them below.

Answers:
Halloween Party Ideas
For home a #10 can of Nacho Cheese Concentrate is about $6 and generic corn chips can be found on sale. Use the slow cooker and let your kids and friends have all the nachos they want. If you have a place you can take a short off road ride, the kids love riding in the back of a pickup truck. Wrapping each other mummystyle with toilet paper is fun. Put some Macarena or Chicken Dance Music on before their TP falls off. Get pictures. Have those pumpkin trash bags available for them to fill after the Toilet Paper Mummy activity. Pick marbles out of a bowl of cold pasta. Relay race with candy corn on a plastic spoon, use a dab of glue for little ones. Bob for apples! (08/30/2005)

By Dana
Halloween Party Ideas
My sister has thrown several Halloween parties (not Halloween night, but in the same week) for her kids down through the years. She said that none were as frightening and spooky for the kids, as the one where she served a red punch with frozen dark grapes (told the kids they were "eyeballs") and also, a black kool-aid served from a plastic black cauldron with dry ice (it put off an eerie steam), along with other Halloween goodies and treats.

It was an outside party, complete with decorations. She ran an extension cord out to keep the crockpot of chili warm. Served everything in paper cups, bowls (for easy cleanup).

They had several outside games as well as a maze, they'd pre-made through the nearby forest, it was guided by some of the parents (so no one could get lost). Fun had by all, both children and attending parents as well. She had many compliments.
(09/28/2005)

By Terri

Editor's Note: I couldn't find one for Black Kool-Aid but here's one for "Ghoul-Ade":

http://www.thriftyfun.com/tf94959531.tip.html
Halloween Party Ideas
One of the things that a local school did during their fall party was put up a wall (just out of cardboard) and made fishing poles out of sticks and strings. The kids put the string behind the wall as if they were fishing and someone behind the wall put a small toy or candy on the line. Kids of all ages loved it.

Also they had a duckie pickup, where the kids pick up the duckie and get the prize that is listed on bottom but they used apples instead of duckies and floated them in a tub of water.
(09/28/2005)
By Stephanie

Halloween Party Ideas
Try clothes pin in a bottle, dunking for apples, and pin the hat on the witch. Hope your Halloween is fun.
(09/28/2005)
By Linda from Gretna, LA

Halloween Party Ideas
1st Float small 2-3 inch orange pumpkins and use them for a "duck pond" idea with small prizes on the bottom.

2nd Use a large black witches pot to "go fishin'" with a magnet on a fishing pole.
(09/28/2005)
By Mike

Halloween Party Ideas
I had a Halloween party last year and about 50 small plastic pumpkins from a Michales craft store. They cost about .25 each. I placed the pumpkins through out the back yard and had the kids gather them up. Just like an Easter egg hunt but with pumpkins. Kids had a great time. We did it over and over. (09/28/2005)

By Pauleen
Halloween Party Ideas
To make black KoolAid: Mix together one package of orange KoolAid and one package of grape Koolaid per package instructions. The result is black KoolAid. (09/29/2005)

By Karen in NH
Halloween Party Ideas
I'm a big Halloween person. I love it. I'm only 13 but I can throw some good parties! Every year, I have a Halloween/birthday party and we decorate my basement with many props.(jack o lanterns, skulls, spider webs, wall designers, the grim reaper, and bats!) If you screw in purple lightbulbs in the ceiling, it gives the rooms a spooky effect! Also black and orange lights look pretty cool also! Candy corn, and eatable gummy body parts are also very fun and festive! Having costumes be participant in your party give it a theme for extra fun! (costume contests) Another fun idea that goes over well is having someone sit outside of your house(dressed like a scare crow) and then scare people as they come to the door! My last suggestion is to play Halloween music, from the classic movies, or just new mixes! (:_* (08/01/2007)

By Alisa