If you have lights on your wire lawn deer that stop working, don't toss the deer in the garbage, just change out the lights. Take a strand of 100 white wire lights and replace the old lights. It's time consuming putting all new lights on, but it's a lot less $ than going out and buying all new deer, and it's a good way to recycle also.
By CDC from FL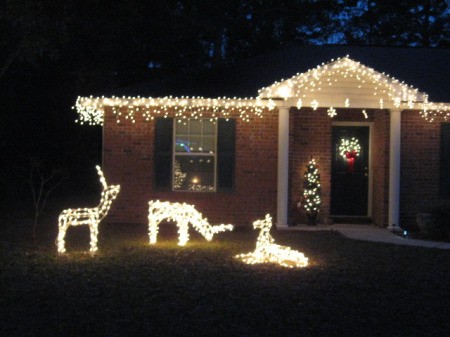 December 12, 2014
0

found this helpful
Our lawn deer's head won't light; the rest of it lights just fine. We had the same problem with our doe deer this year, but possibly with handling it, the problem was corrected. Nothing we've done gets the buck's head and neck to light up. I feel like knocking it upside the head. I don't want to display a half-lit deer!
By Joanne W. from Havertown, PA
Answers
December 14, 2014
0

found this helpful
These displays seem to be a problem even with the best of care. Google your question as there is a lot of information listed by others with the same problem.
My son usually just adds another string of lights to wherever the lights are not working. Sometimes he weaves them in and out but mostly he just wraps them around the contour of the object.
I have a lot of objects that light up so he has to set them up early so he has time to "repair" the "broken' ones. You can find the inexpensive lines of small light strings with white wire or just use the regular ones with green wire.
Most people say mine look better because they have more lights and show up really well from a distance.
Answer

this Question

...
November 20, 2014
0

found this helpful
Do you know anyone that would put new lights on yard decorations such as deer or sleighs? The ones I have are made out of wire that is about 1/4" in diameter.
By Bob J.
Answers
December 3, 2014
0

found this helpful
Standard answer: I do not know where you live - but it may be expensive to have someone do this; cheaper to buy new lights probably. You could try doing it yourself. Just Google for directions and you will find all kinds of useful information.
Answer

this Question

...
I just bought a 60 inch snowman with lights. Some of the lights won't light up. Please help.
By SONDRA from West Coast
Answers
December 4, 2010
0

found this helpful
Are the light bulbs located so that you can get to them or are they on the inside? If you can get to the bulbs you should be able to replace the bulbs that won't work.
Answer

this Question

...