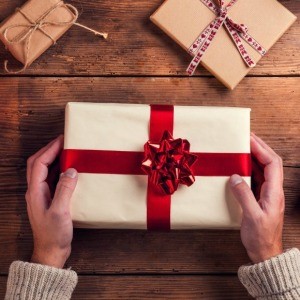 Are you old-fashioned like me and still like to go to the store to see and feel the gift you are selecting? Do you still enjoy the process and thrill of finding that special gift, wrapping it, and giving it?
While Amazon and all those e-shopping sites are glitzy and convenient, what with a gift just being a few clicks way, to me, they suck the life out of the art of gift giving. They deprive me of the smells, sounds, sights, and the feelings of the hustle, bustle, and the thrill of the season.
Below are my oldies but goodies. Three wise person's easy, peasy, and painless tricks to help you save time, money, and aggravation, and have a frugal but FUN holiday!
1. Always forgetting something on your holiday list and running all over town like a crazy person? You have a million things to do to get ready for the season, right? Stop, take a deep breath and draw your way to a less stressful day of running.
On a piece of paper, draw a pretty circular holiday ornament! Yep, this little circle can make you less stressed and save you time and money!
How? Think about all the places you have to go and where they are located. Then, write down your list, plotting each stop along the circle, in the order of the location. Now you can run your errands circularly, with the top being home sweet home. Jot your shopping list down the side of the page, and you are off and running with a plan!
When you do this, you can get your errands done quickly and save time and money by not crisscrossing all over town and worse, forgetting a stop, and then having to go BACK out.
You can earn bonus frugal points if you do your planning using the back of one of last year's holiday cards!
2. How can you save time and money and aggravation when everyone on your holiday shopping list wants someone big, breakable, and they live 3,000 miles away can't get home for the holidays?
Shipping big and fragile is bad and can cause holiday heartbreak when "the best gift ever" arrives as a box full of pretty glass shards or smushed screens.
So, what is a frugal elf to do? Well, you could just go out to that big box store website and click them up a e-gift card or have the site ship the item to them, letting the shipping be the company's problem. You never see the gift, no muss, no fuss, NO FUN! To me, that is just bah humbug.
The old-fashioned plastic gift cards can still have some charm to them with their colorful art fronts, if you create a personalized, made with love greeting card, signed with an actual pen by your very own hand. You and your loved one can still get to feel some of that special holiday magic in this process!
Personalizing a gift card is easy. Say your niece desperately wants super cute wine glasses from Bed Bath and Beyond and your nephew is all set on getting a bottle of that Hugo Boss cologne that sold in most department stores.
You can use the web to find pictures of the items and print them, or, if you are still like me and get a real Sunday paper, pull out the circulars and find ads with pictures of their items of desire.
Cut out a picture of the item, paste it onto the front of a blank greeting card, and hand write a special note, penned from the heart. Then you will have something made with love to send to them for the holiday.
If you know the store offers coupons, cut those out and include them in the package. Or, if you know the recipient shops online, you can find coupon codes and pen them into the note.
If your budget permits it, you can include a related, and non-breakable gift in the box too, like pretty coasters for your niece and a Hugo Boss bar of soap for your nephew.
You can add a little silver and green to your wallet in the process, if you buy the gift cards from a big box store that offers bonus dollars for gift card purchases. Some stores allow you to apply the bonus dollars either to your next grocery shopping bill or get discounts on gasoline purchase at their stores' pumps.
You may get a gift of a free tank of gas or a free shopping basket full of groceries if you purchased enough money in gift cards. Cha ching!! Everyone wins!
3. Postage costs can be a real Grinch in your gift budget. There is that whole inner discussiondo you get them what they really want or just click them off gift card from Amazon while you are eating candy cane ice cream in your jammies?
If you want your family and friends to enjoy the old-fashioned thrill of opening a real gift, then you may want to turn the United States Post Office (USPS) into your own personal money-saving sleigh, flying your gifts across the country.
The USPS has these nifty one price boxes that you can stuff full of goodies and ship for one price, no matter what the weight! The only trick is the items must fit into the box.
The large box comes in two generous sizes. One is 12 1/4" x 12 1/4" x 6" and the other 23 11/16" x 11 3/4" x 3") and they ship for $18.90. You can stuff lots of fun gifts into the box and off they go. There are even small and medium size boxes, if you don't have enough items to fill a big box.
The best part is the boxes are free and have self-stick closures (on the large ones)! If you need just one box, some Post Office branches will give you one. My branch has all of the sizes free for the taking in a display in the lobby.
If you need a whole bunch of boxes, go to the USPS.com website and you can order a bundle of the boxes (most come at a minimum of 10 or 25 boxes to a bundle) and they will deliver them to your door at no extra cost.
You can use this link to learn more:
So now you just have to wrap your gifts for each household, put the tags on them or affix a card, and carefully pack them into a one price box so that the USPS Santa, I mean mailperson, can deliver your gifts to your loved ones.
In some places, the mailperson will pick you your pre-addressed, pre-stamped packages right from your house. No need to even leave the house on a cold winter morning). This link can get you started:
If you can't use the USPS pick up services, you can get bonus frugal points for putting running to the Post Office on your holiday ornament, circular day planner!
You can get double frugal fun bonus points if you wrap your packages in something reusable (like a fabric shopping bag) or recycled (like the back of a brown paper grocery bag stamped with those pretty holiday stickers that come free in junk mail).
The trifecta, winner, winner chicken dinner savings for this tip is don't spend money on packing materials like packing peanuts or bubble wrap. You can pack the boxes with things you have around the house, like those pesky plastic grocery bags or scrunched up wrapping paper from last year's holiday. Since the one price boxes are any weight, you don't have to worry about the extra weight of packing materials!
Wishing you and yours a stress-free, fun and frugal holiday season filled with the lovely sounds, smells, and sights of the season! Cheers!