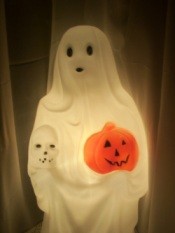 When we were younger, we had a table out front with a plywood on top. We had cut a hole in it so our teenage son could put his head through. We put black and white makeup on his face and I fashioned a "silver platter" around his neck, out of foil. We used a white sheet for a table cloth that hung to the ground so the kids and parents couldn't see him under the table. I was dressed as a witch and we had a cauldron with hot apple cider and warm, hot chocolate for the kiddies.
It was too scary for some of the little ones as son opened his eyes and made noises. But in the end, we showed them not to be afraid and come back for their treats. The parents thought it was great.
That was before people were mean. Nowadays we don't do homemade anything for treats, unless we know the kids and parents. They get special treats. A shame because we had a lot of fun back then.
We used to make pop corn balls, but in the shape of corn on the cob, wrapping them in wax paper and using green tissue paper for the husks. Back to the 1950's fun.
By Vi Johnson from Moorpark, CA
Comments
October 28, 2011
0

found this helpful
Oh what a clever idea and such wonderful memories, GGVi :-) Yep, I remember all the fun safe stuff as a child in the late 50's and up until almost the late 60's when it started to change. It truly is too bad that the world has become such an unsafe place and taken away the fun and free innocence of childhood.
November 7, 2011
0

found this helpful
I'm with you, GG Vi and Deeli! My last trick-or-treating trip was in about 1975. Even then rumors flew about razor blades in apples and other horrors. Now it's on the local network news how some sicko "loaded" a mini candy bar with a sewing needle?
Awful!
As I was saying... at our last stop that night was a dear older lady who offered homemade cupcakes. My friends and I initially declined, but she was so obviously crushed, and so obviously innocent (don't ask me how we knew,) we had to go back. Her joy in having her humble offering accepted was even better than the cupcakes.