Lovely beaded Christmas Tree ornaments or package decorations. Great for reflecting the many colors from your Christmas trees lights and very easy to assemble. Start now and have enough to share with friends and relatives.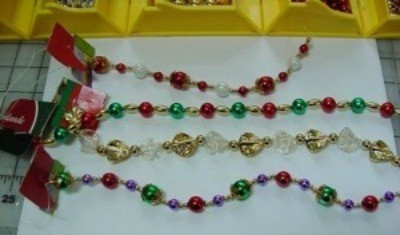 Approximate Time: 20-25 minutes
Supplies:
beads (plastic or glass)
tool for bending wire
wire cutter or old scissors
flexible wire
ribbon (optional)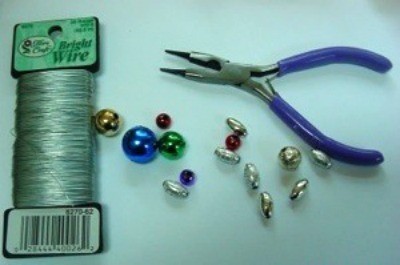 Instructions:
Cut wire with wire cutter/old scissors (6 to 12 inches is usually long enough depending on the shape ornament you want to make).
Bend the wire into a small circle at one end to keep the beads from falling off as they are threaded on. Thread beads one at a time onto the wire. Alternate colors and bead shapes to your liking.
If making a straight ornament, make another loop at the remaining end of the wire to keep the beads on the wire. If you plan on making a circular (wreath-shaped) ornament, take the two ends of the wire and twist them together. Leave enough free wire at one end to fashion a small loop for the ornament hanger to slip through. Spiral shaped ornaments are made like a straight ornament and then wrapped around a marker, pencil or other cylindrical object. Slide the ornament off the object gently to maintain the spiral shape.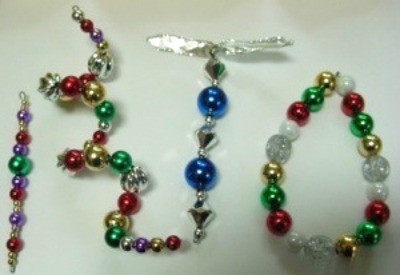 Ribbon can be added to the top or bottom of the ornaments if desired. Hang ornaments on your tree or attach as an accent to packages wrapped for gift-giving!
A good source of beads for this projects can be found by purchasing strands of beaded garland. Take the garland apart and use the individual beads to make ornaments. Be sure the garland you buy has individual beads with a hole and is threaded onto a string. The top picture is an example of beaded garland.
By Pam from McMinnville, TN