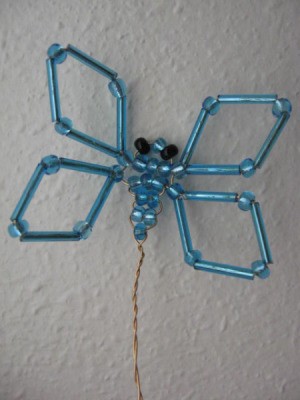 Approximate Time: 30 minutes
Supplies:
26 gauge (or less) craft wire or floral wire
16 blue 1/2 inch bugle beads
28 blue E beads
2 black seed beads (for eyes)
Instructions:
Cut your wire 36 inches and find center. String 3 E beads, then 1 black seed bead, then another E bead, then 1 black bead. With the end of your wire you will then go back through the 3 colored beads, so you have the 'eyes' on top. Make sure you are at center of the wire, then pull wire snug.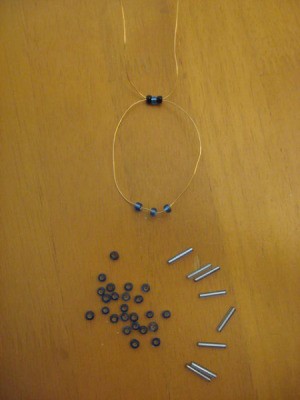 Now you are ready to start the first set of wings on the R side. Take the end of the wire and string 1 E and1 bugle, 1 E, and 1 bugle, 1 E and 1 bugle, then the last E bead and bugle. You will now have a total of 8 beads for each per wing.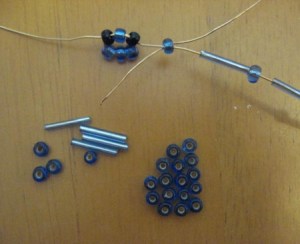 Now with the end of wire, go back through the first very starting E bead. This will be your upper wing.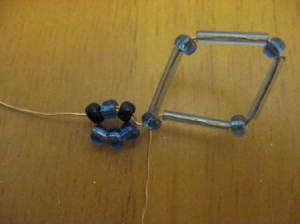 For the lower wing do the same procedure. Do the same for L side set of wings also.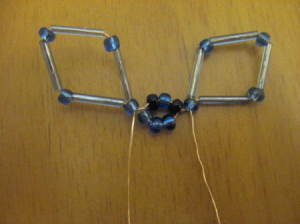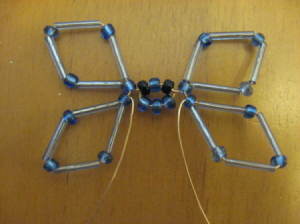 Now you are ready to start the body. String on 3 E beads, and bring the opposite side wire through these 3 beads and pull snug and make even.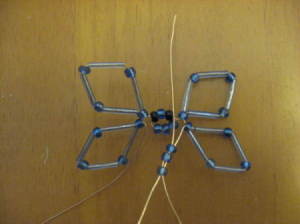 Next string on 2 with the wire, then string 1, then twist the wire 2-3 times at the bottom of the very last bead. You will have plenty of wire to place your butterfly into floral arrangement. Adjust the wings carefully into nicely shaped wings. Voila! You are finished!
By CDC from FL