We have had so many great photo ideas submitted that we have broken this into two articles. The first batch is below.
Three Ideas For A Couple
The first Christmas as a married couple, we did a Grinch inspired card that read "Merry Grinchmas and Happy Who-Year". Since then, our friends and family expect funny cards.
Our second year married, my husband and I pretended to be asleep in our bed. I took a separate picture of our dog in a Santa costume then, using Photoshop, superimposed him in a thought bubble. The card read, "The Nemecs were nestled, all snug in their bed while visions of Jack danced in their heads."
Last year, our third Christmas together, we made milk mustaches and had a plate of cookies in front of us and were toasting with champagne glasses filled with milk. On a fluke, the dog stuck his tongue in the glass as the camera went off, and the picture was hysterical. It read: "Wishing you a milky white Christmas."
By Melissa
---
Photo From Our "Crib"
We dressed our new baby in a red hat and red converse hightops and a diaper. We strung Christmas lights and garland around her crib and propped some stuffed animals around her. "Merry Christmas from Our Crib to Yours!"
By Kelly
---
Reason For The Season
This year we are using the following Photo. Our card will say:
"Remembering the reason for the season... Happy Birthday Baby Jesus!"
By mom2mybs
---
Christmas Joy
Here is the easiest Christmas card we've ever done because we could take separate pictures of each child instead of all three kids having to look right in one Photo (which is nearly impossible for us).
---
Children Are A Gift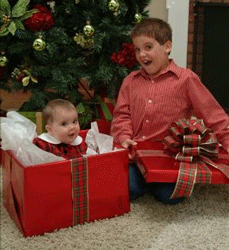 Here's ours from last year. We got a file box and wrapped the bottom and top separately. Added some tissue paper and popped our then 6-month-old daughter inside. The rest was pure luck! The expression on both their faces is priceless. We still giggle every time we see this picture.
---
Baby Santa
Here's our first Christmas card Photo last year of our daughter who was 4 months old. I just put it on a Photo card with a Santa that read "HO HO HO".
By Angela
---
Perfect Tree And Other Ideas
We try to do a unique card every year too. We are a big sports family, so I dressed our oldest son in his football uniform with a Santa Hat, our middle daughter in her soccer uniform with a Santa hat, then our youngest son in his tee-ball uniform with his Santa hat. We sat basketballs, bats, gloves, baseballs, soccerballs all around. The caption was: "Merry Christmas from our HOME TEAM to yours!"
Last year, I took our Santa hats to the beach and had the Kids stand by the surf in their swimsuits. I put it in black and white and colored in the Santa hats. I ended up not using this one because I got an impromptu shot that was better. We went to the mountains to a Christmas Tree farm to choose and cut down our own tree. This was the first time we had ever done that. I took my camera just to document the day and snapped a pic of the kids by our choice of tree. I used the caption "We found the perfect tree. Hope you have a perfect Christmas".
By Lisa from Taylorsville, NC
---
Bubbles Of Fun
We did the bubble bath pictures and highlighted the hats and rosied up their cheeks. We typed "wishing you bubbles of fun this holiday season" We got a ton of great feedback!
By Maria
---
Lucky Shot
Sometimes you don't know you have the right picture until you look them over later. We had given up on getting our one-year old in a Santa Suit and our dog with reindeer antlers to pose and look at the camera at the same time. We tried everything including props such as a dog treats and a Christmas ornament for him to toss. After over 50 pictures of him pulling the dogs antlers, taking off his hat, falling over, and sobbing we decided to pack it in. The next morning we came across this gem - a little Photo enhancement and Voila!
By Amanda
---
Better Not Pout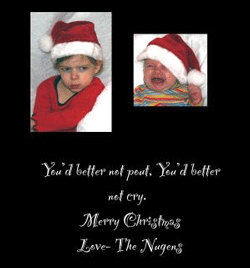 Last year we had a 3 year old and a new baby of 2 months. I thought posing them in Santa hats would be really cute but somehow it failed. Madeline the 3 year old was mad that she was having to pose and Max the baby was fed up and hungry as well. So, despite all efforts I ended up putting the picture of her pouting and the picture of him screaming together and titled it "Better Not Pout".
---
Be Mary
This year we took a picture of a neighbor's Nativity Scene and superimposed a picture of our daughter dressed as Mary. The Outside says "It's Christmas". The inside says "Be Mary".
By Kelly
---
Santa, I Can Explain
We did the "Santa, I can explain" one.
By Stacey
---
Under The Mistletoe
One of my twins was determined to catch the other under the mistletoe one way or the other!
By Debra from Alabama
---
The Incredibles
We wanted to do something different for our Christmas cards/picture this year. The outcome was "Incredible!" I made the costumes and had a friend (who happens to work for the local newspaper) come over and take the picture in our living room. We cleared out the furniture and just had a fun Photo shoot. Then I used my Photo editing software to add everything else in (and remove my living room wall!)
By The Eastman Family
---
Cut And Paste Incredibles
Cut your heads out in a paint program or Photoshop and paste them into a picture. We then added the Santa hats.
---
Santa's Boots
This idea came from one of your readers from a couple of years ago. We placed my grandson in front of the fireplace with his pajamas on. A pair of red velvet "pants" (really only 2 velvet tubes I sewed from left over fabric stuffed with fiberfill) were placed coming from the chimney. We placed old boots on the floor and tucked in the pants.
By peggie
---
Naughty Or Nice
This is the shot I used for my 2003 Christmas picture. On my card I wrote: " He's making a list, and checking it twice, gonna find out who's naughty or nice. Santa Claus is coming to town!" I thought it was so cute!
By mysixpack
---
Silent And Peaceful
Last year we used one of the ideas posted here - the silent, peaceful one :)
By Mia
---
Little Bakers
We used the little bakers idea last year. We got so many comments on the card! Thanks for the idea!
By Jen L
---
Baby Jesus
One of the cutest Christmas cards we did was take a Photo of my two girls dressed as angels (ages 8 and 10) and my infant son swaddled in a white blanket in a manger so it looked like baby Jesus with the angels looking over him. We just took the Photo at the church in front of the pulpit and used the candle lighter robes for the girls. The church had the manger from the nativity scene. I have gotten so many complements on this and have even been asked for the original so that an a friend could blow the Photo up and use it as decoration during the holidays!
By Nebraska Mom
---
Night Before Christmas
Here's our card from last year. We had my son, who was 7, reading The Night Before Christmas to his 18 month old twin sisters.
By Amy
---
Have Everyone Over For Christmas
Something I did with a little cutting and pasting last year.
By Tim
---
Have A Rockin' Christmas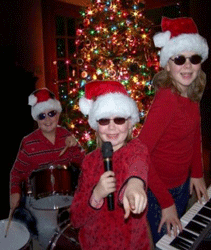 We've been trying to come up with new ideas for years now. We've done the snowman with the kids' faces in the snowballs, we've done the "Ho Ho Ho" with the faces in the O's. Last year, we set the kids up with some musical instruments in the basement with a white sheet as a background, then cut out the photos and superimposed them on a Photo of a Christmas tree I found on the web (our tree wasn't up yet). The caption read "Have a Rockin' Christmas!"
By Pete
---
Feet At The Beach
We were not at the beach, but at the library swingset. But we loved this picture of all of our feet in the sand.
By Nichole
---
Happy Mistletoes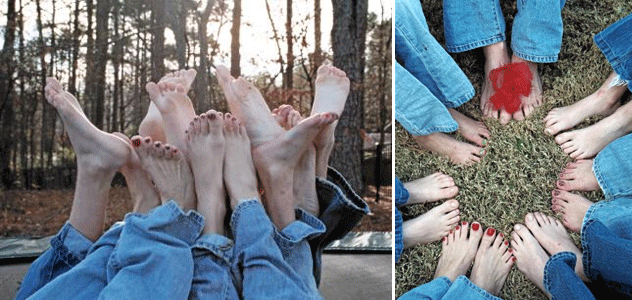 This was our card from last year. "Happy Mistletoes" It went over very well! We used the one with our toes up in the air, but the other one is cute too, shaped like a wreath.
By Julie