Solutions: Magic Wand Crafts
Read and rate the best solutions below by giving them a "thumbs up".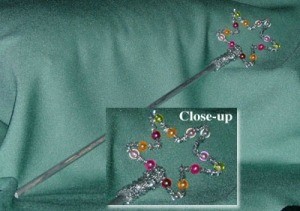 Supplies:
15 inch long, 3/8 inch diameter wooden dowel
silver paint
2-3 silver tinsel stems
1 package of beads
glue gun
Directions:
Paint dowel silver. Allow to dry thoroughly.
Glue 1 silver tinsel stem 2 inches from the top.
Wrap the silver tinsel stem the rest of the way to the top.
Place 2-3 beads on the silver tinsel stem.
Shape the tinsel stem into a star with 1 1/2 inches per side, arranging the beads in a pleasing pattern. Leave 1 inch for finishing.
Wrap the remaining 1 inch on the dowel and glue the end to secure.
Voila! A Magic Wand to charm the heart of any princess.
Also see the Beaded Terrific Tiara.
Here is an easy wand to make for a Halloween costume.
Materials:
Strong cardboard
Assorted Glitter or paint
30cm's of dowel
Instructions:
Take your cardboard and cut out 2 identical star shapes for your wand. Take your piece of dowel and using a strong wood or craft glue, adhere your two star shapes together and place your piece of dowel in-between the two shapes. Now, paint your wand and wand handle using a spray or acrylic paint. Gold looks great and pink is very pretty.
Once dry, coat your stars using craft glue or wood glue, then sprinkle glitter onto the glue and shake off any excess.
Allow it to dry, then give it an optional coat of spray varnish to help adhere the glitter.
By Craftbits
Magic Wand
I made matching wands for the daughter's dance class. Their costumes were bright green with boas. I took the cardboard portion of a wire hanger and hot glued a little fur to the top. They loved it!
By Wendy S from Coopersburg, PA
My niece (8 years old) wanted a magic wand after watching some Harry Potter movies. I found an old drum stick at a yard sale and painted it in colors that she likes and added glitter. She really likes it.
By Nightsong from Hay Capital of the World
Share Your Feedback:
Once you try any of the above solutions, be sure to come back and give a "thumbs up" to the solution that worked the best for you. Do you have a better solution? Click "Share a Solution" above!
Questions
Do you have a question related to this page?