Want some inexpensive picture frames for your decor, but don't want the expense? Save your calendars and select florals, scenes, etc. to accommodate your living decor. You may have to crop and cut them to fit behind the 5 x 7 and 8 x 10 inch opening mattes. Buy cheap frames and you have your own inexpensive artwork. Great in groups of three in a hallway, etc. You will be able to afford to change them with the seasons for a different look! These make nice little friendship, hostess, or housewarming gifts too.
Note: I would not suggest selling these for profit as there might be copyright laws involved.
By linn from Dartmouth, Nova Scotia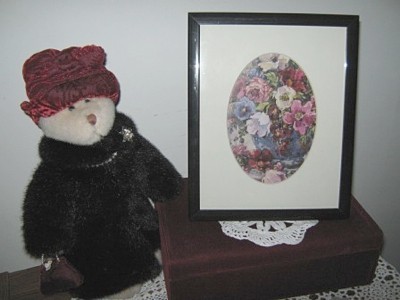 Add your voice! Click below to comment. ThriftyFun is powered by your wisdom!
March 12, 2011
0

found this helpful
Cute idea. I love the bear in the fur coat!
December 31, 2017
0

found this helpful
My husband worked for a paper company and got some beautiful samples of paper with artwork and calendars. I saved a really big calendar with a beautiful photo of flowers, lots of red in a black vase. I ordered a bunch of old gold wooden frames on ebay and found that one of them fit the photo just fine.
I painted it black and rubbed off some of the paint to let the gold shine through. Then I modge-podged the photo to give the illusion of an oil painting, so it didn't need glass. I did put it on a mounting board. It hangs in my entryway.
Add your voice! Click below to comment. ThriftyFun is powered by your wisdom!
Calendars are expensive, but some have very beautiful pictures in them. I wait until January and they instantly become half price, then choose one or two that I like for the beautiful pictures in them. I purchase very inexpensive picture frames (some even from local dollar stores) and cut out the best pictures and frame them myself for some very unique one of a kind art. Also if you wait until March, I find if any stores (like cards or book stores) will mark there calendars down to $1.00 each. Just remember that when you do wait until March, you're limited with what's left, fewer choices.
By Jo from Avenel, NJ
Comments
March 31, 2008
0

found this helpful
I have done this myself when my son left home & set him up into a flat. I managed to buy a calendar 'package' with a large & small calendar pack. They had been $20 for the pack before New Year, but down to $1 mid January!
They were of tropical fish & coral, so lovely colours. I mixed & matched the small & large pictures in a couple of groupings. I then used them as my decorating 'theme' ... & also used the colours for curtains, bedding, etc. It was a really great cheap way to decorate.
Wendy
March 31, 2008
0

found this helpful
The sad thing is that a lot of retail stores actually throw the old calendars away. It's not always the choice of the store though. The retail store where I work actually gets called by the supplier telling them to throw them away. I asked if there wasn't a way that we could donate them to a school or day care center or anything, but the company required them to destroyed, and the store could be fined, and the supplier would not sell to them the next year if they found out that they were not destroyed.
How sad and wasteful! And besides that, it was only Feb! All calenders, planners and appointment books -- destroyed!
By amomlearningmoreeveryday.blogspot.com (Guest Post)
April 23, 2008
0

found this helpful
My husband and I were just talking about re-doing our daughters room from the baby stuff to something a little more girlly. I love this idea. Maybe I will get lucky seeing that it is April.