14 Posts | 17 Comments
Active Since 2007
Featured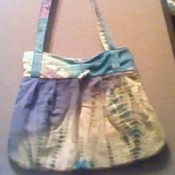 Craft: Easy Pleated Tote BagThey are easy to make and loads of fun creating your own design. I modified the original one by making straps wider and adding them to the top of the bag at the pleats instead of at the band.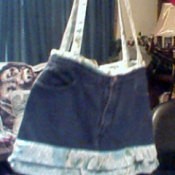 Ruffled Jean PurseThis is an idea I had for making a denim jean handbag. I had a pattern for a small fabric bag (McCalls 4885) so I used the pattern's pieces to make the ruffles. For the lining and handles, I used a pretty cotton print.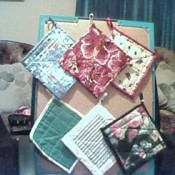 Potholders From Fabric ScrapsI have a lot of fabric and a lot of scraps leftover from my projects so I decided to make some potholders from the scraps. I have not been able to master the binding that goes around the edge so I tried something different.


Recent
Advertisement