Christmas Tree Care
Here are some very simple ways to keep your Christmas tree green and thriving through the Christmas season. Many of us are lucky enough to live in an area where you can actually buy a Christmas Tree permit and go and cut our own trees. But many of us just prefer to go to the Christmas Tree Lot and buy a tree. Either way you really need to know how to care for your tree when you get it home. Here are 7 easy tricks to care for your tree and make this the best Christmas ever.
Don't buy a tree that is losing green needles, or has dry, brittle twigs or a sour, moldy smell. Your tree should look and smell fresh. When buying your tree it is important to check that it is healthy by shaking it to check for excessive needle loss. When you bring your tree home if you don't plan to put the tree up right away, cut one inch off of the base, put the tree in a bucket of water and stand it in a shady place like your garage or under the eve of the house. Keep out of the sunlight, fresh trees can rapidly dry out .
When you are ready to bring the tree indoors, cut 1/2 to one inch off of the base of the trunk make sure that you make your cut straight across and don't allow the new cut to get dirty as this will make it more difficult for the tree to absorb water. Use a stand that fits your tree. Avoid whittling the sides of the trunk down to fit a stand. The outer layers of wood are the most efficient in taking up water and should not be removed. Make sure that you have a "fresh" tree stand that holds at least one gallon of water. As a general rule, stands should provide 1 quart of water per inch of stem diameter.
It is very important that you do not place the tree near a fireplace, heater vents or other heat sources. This will dry out your tree and can be very dangerous. Dried out trees can catch fire very easily. Always inspect light sets prior to placing them on the tree. If worn, replace with a new set. Do not overload electrical circuits.
Always turn off the tree lights when leaving the house or when going to bed.
It is very important that you always keep the tree well-supplied with water. Check the water level in the stand several times each day. Keep milk jugs filled with water near the base of your tree for easy watering access. Trees may need to be watered several times a day and may use several quarts of water a day. Never let the water level fall below the base of the tree. If this happens remove tree from stand and make a fresh cut to the base of the tree.
Adding aspirin, soda water, bleach or sugar to the water in the tree stand is no more effective in keeping the tree fresh than adding plain water each day. Cold water - Do not use hot water in the stand; it is of no benefit.
Always keep an eye on your tree for freshness. After Christmas or if the tree is dry, remove it from the house. Keeping your house cool it will save on your utility bill and will also keep your tree from drying out.
Always recycle your tree. Do not burn your tree in your wood stove or fireplace unless you have taken it outside and chopped it up and let it dry out for at least one year to season the firewood. Pine and Spruce trees have lots of sap and this sap can cause chimney fires. Many places are open right after Christmas to recycle your tree, The recyclers usual put the trees through a chipper to make mulch. Here in Colorado you can take your tree to the city and they turn it into mulch for the trees and flowers in city parks.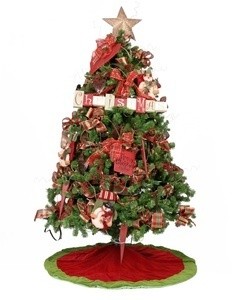 About The Author: Debra Frick is a mother of 5 and a grandmother to 8 grandsons and one granddaughter. She is a published author and poetress. Recycling and saving money are her passions. She also loves crocheting and cooking. She is also a pet rescue volunteer and has many pets of her own.
Add your voice! Click below to comment. ThriftyFun is powered by your wisdom!
Add your voice! Click below to comment. ThriftyFun is powered by your wisdom!