Although it may seem too early to think about the Holidays, they are just around the corner. There are always special recipes and favorite foods that are only prepared for these holidays. For the most part, the ingredients are not things that are normally found in my pantry. And some items are expensive, but it wouldn't be the holiday, if I didn't prepare that special item. So, here is how I purchase these ingredients, yet save a little.
Starting in October, the big grocery stores start stocking items for Thanksgiving, as well as Christmas.I can't afford to purchase each ingredient right before I prepare the dish. Here is what I do:
Gather up your recipes that you KNOW you will be preparing, make a master list of those ingredients. Keep this master list in your purse, or in your clipped coupons.
Now, each time you go to the grocery, you can purchase a few of those special ingredients on your list. By purchasing a few each week, and putting them in the pantry, by the time the Holiday rolls around, most of the ingredients will already be in the pantry. By adding a few more dollars to my groceries each week, it won't break the budget.
Also, start looking in the Sunday newspaper advertisements for those great coupons for Holiday ingredients. Some of these things I only purchase at this time of the year. I use a white mailing envelope, write the name of the dish/recipe on the outside of the envelope. Write the main ingredients on the envelope too, you don't have to write exact amounts. Just the ingredients. If you find coupons that fit that recipe, put them in the envelope. Then when you shop, you know there are coupons for flour, spices or cake mixes. Some stores still double coupons on certain days. So you can get more for your coupon.
For instance, if I purchased everything to make Chex Mix at one time, it would be costly. But by buying a box or two, or the nuts, and pretzels a little bit along, it does not cost as much all at one time.
Also, magazines have lots of recipes and the coupons for an ingredient or two in the Fall Issues. Use these too. I have discovered that Wal-Mart usually has the lower price for some of the ingredients. Wal-Mart will honor the other grocery store's advertisement prices.
Happy Holidays!
By Barbara from East Tennessee
November 23, 2008
0

found this helpful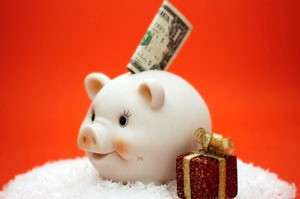 One way to prevent Christmas from being a financial burden is to plan ahead. Here are some tips from the ThriftyFun community to help you save money on Christmas by planning ahead.
Buy Gifts For Birthdays And Christmas Throughout The Year
I have saved so much time and money! Instead of waiting for holidays, I buy gifts whenever I see what I think a friend or relative will enjoy. I place the gifts in boxes and mark the outside of the box and just keep adding all year round. When birthdays and holidays roll around, I am always prepared. My budget is intact!
By Sandy
Avoid Buying Gifts, Except For The Kids
How about not buying gifts for folks? Christmas isn't about buying stuff anyway. When we do buy gifts, it's for the kids. We put $30 in a separate account per month for the kid's birthdays and Christmas. It's part of our budget.
By Allison Dey
Christmas Savings Account
I put back $50.00 to $100.00 a month into my savings account so that when Christmas rolls around I will have money. I have done this every year for the past 8 years and it seems to be doing really well. It also draws interest too.
By Big Saver
Use Shredded Wrapping Paper For Gift Bags
When you receive gifts that are wrapped, keep the pretty paper and run it through your paper shredder. You can use this festive fluff when shipping long distance gifts or use to fill gift bags (which we all recycle, right?) It's just a little thing, but it is something.
By Lisa from Lena, WI
Name Drawing For Gifts
Instead of buying gifts for everyone in your extended family, draw names so each person buys for only one and then set a dollar limit. You could even limit it to the children in the family. We do this and set a limit of $25 for each child.
By Linda
Wish Lists To Avoid Unwanted Gifts And Other Ideas
This year the adults are not buying gifts for each other, we are only buying gifts for the kids. Also, when we did buy gifts we would give a list of ideas of gifts we would want. Therefore, no standing in return lines the day after Christmas, everyone got what they wanted! We have not returned any Christmas gifts since around 1982.
Amazon.com has wish lists. It is free to get an account, and the wish list shows the multiple gift buyers if a gift has been bought or not, so you don't give the person duplicate gifts. When you buy a gift, go to the recipient's account and check it as "bought". By default, Amazon does not show the recipient if the gift has been purchased but they can view that field if they want. Also, the recipient can update their list all year round as they change their mind, and the list has a priority for each gift. So people can buy the gift they can afford, and the one the person wants the most from the list.
You can also try making a small gift. Try making origami bowls. They are relatively simple to make and look nice if made out of wrapping paper or colored paper. They can hold candy or other light items.
By Chuck R.
Buy Age Appropriate Gifts For Children
When buying gifts for children, remember they go through all kinds of stages. I've made the mistake of buying the wrong toys at the wrong times just because they had dirt low prices on them and I had fond memories of the toys and games myself. Children grow and as each year passes they can never be brought back! If they're not ready for the Lite Brite, then get them the Twister! Get them what they will be excited to have in their stage of life! There's nothing worse than seeing it sit in the closet or get torn apart and pieces lost before they grow into wanting to use and play with it. Let them enjoy the items they're into at the time. Otherwise it is spending money years sooner, sometimes, than needs to be. And that is a waste of money!
By Susan
Neighbor Decoration Swap
My next door neighbor and I are going to swap any unwanted decorations with each other. The decorations will be new to the other person and it will save us going out and buying something new just because we are tired of our old stuff.
Cover Cardboard Boxes For Gift Baskets
Food/Gift Baskets: Some years when I haven't either the extra money for baskets, or the time to go to the thrift store to find one, I cover a suitable sized box with wrapping paper. I have used anything from a small check box to the larger, tray-type boxes that canned goods come in (like at Aldi's). Make sure you cover the inside, too. Also, for filler, I have used white poly-fill - found in the craft department, it's intended use is for stuffed animals or pillows. It looks like snow, takes up quite a bit of room, cushions the baked goods, and is quite thrifty! One bag goes a long way.
Shop Sales Year Round
I always start my shopping the day after Christmas. I hit clearance sales all year round or just what ever I think would tickle someone's fancy as I see them. By Christmas all I have left to buy are the "in" toys for my children and it doesn't seem like I've spent so much!
By Kayla
Buy a Gift Card Every Paycheck
I started saving for Christmas with my first paycheck of the year by purchasing a gift card. Every two weeks I have been adding $20 to the card. This will work out great because I can do my shopping before December 24th and I will have a debt free Christmas!
By Tim
Watch Gift Card Expiration
Check the fine print on the gift cards. I had one that I did not use right away and found out that they deducted from the card if it is not used with in a certain time. Sorta like the Mission Impossible tape that self destructs.
By Lois
Use Card To Avoid Non Use Fees
I think it's great that you're getting a jump on Christmas, but read the "fine" print with the gift cards. If they are not used within a specified period of time, they may charge a non-use fee that can end up being pretty hefty. If you do like homeschoolin_mum and hit clearance sales (our Wal-Mart runs a clearance isle all year long) that will keep your card up to date and you'll be saving money, too! Keep up the thrifty shopping.
By Dawn Stover